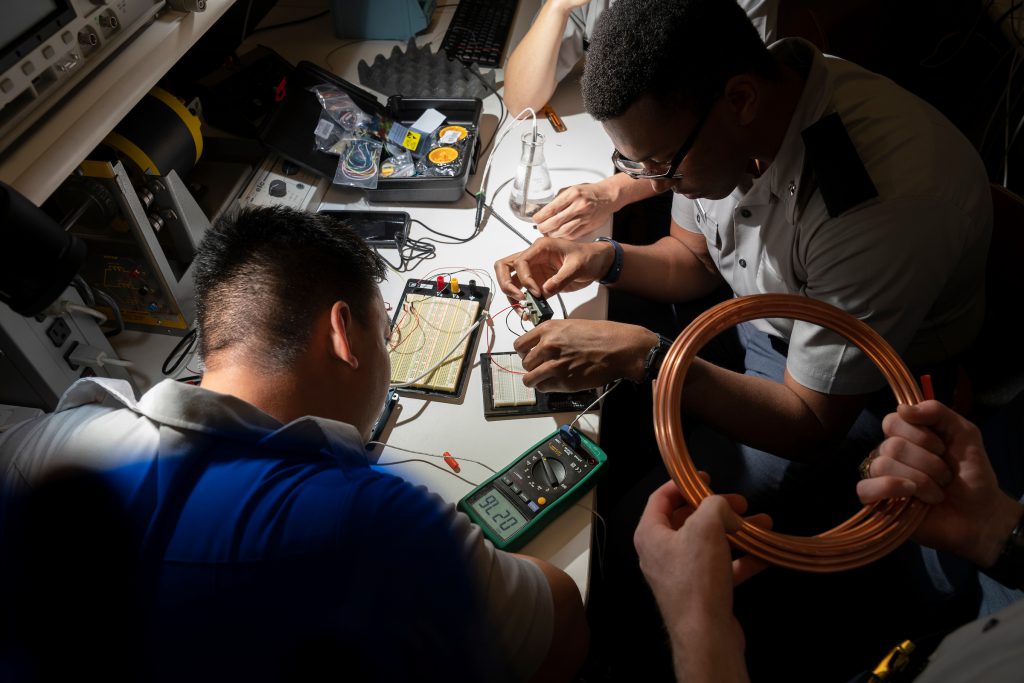 Photo above: mechanical engineering cadets in lab before COVID-19 in early 2020
Citadel engineering ranked the 17th best program in America by U.S. News & World Report, but why?
The Citadel School of Engineering is consistently ranked among the top 25 engineering programs in America by U.S. News & World Report. The newest list puts it at position 17.
But what makes it stand out above so many other programs? U.S. News & World Report uses a complex methodology to build the rankings based on data each college provides annually to the U.S. Department of Education. That's important, of course. But here are 17 reasons why engineering cadets, students, faculty, staff, alumni and the campus community think The Citadel School of Engineering ranks among America's superior programs:
Full-time doctorate level, faculty instructors only – no teaching assistants

Disciplined and dedicated cadets and students who are savvy about time management

Hands-on learning with advanced equipment on campus for real-world engineering practice

Industry-leading faculty members producing high-impact partnerships, change-leading research and publications while serving as leaders in professional associations and community STEM engagement

Low student to faculty ratio with student services team, providing tailored guidance to ensure each student's success

Innovation mindset: Engineering cadets won $10,000 for their idea the Baker Business Bowl in 2019

Freshmen stay, and return the next year; high freshmen retention rate

Ongoing collaboration between civilian, veteran, and active duty populations of cadets, students, and faculty

Consistent student success in engineering competitions

A hearty menu of options with five undergraduate degrees, four graduate degrees (some fully online) and 14 career-enhancing graduate certificates

Strong relationships with leading South Carolina engineering industry enterprises

High regard for program by deans and senior faculty at peer institutions

98% job placement within 2 months of graduation

Highly successful engineering alumni in leadership positions who are strikingly engaged in cadet and graduate support

Department of Civil and Environmental Engineering is ranked #9 in America by U.S. News & World Report, and has ranked in the top 10 numerous times

Producing principled, highly-trained engineers since 1842


Boost your potential: consider transferring to The Citadel to complete your engineering degree
The Citadel School of Engineering offers a non-cadet, evening program for degree transfer students who complete their first two years at Trident Technical College, or another regionally accredited institution.
South Carolina residents have flexible and affordable guaranteed access to the non-cadet, evening undergraduate degree options after meeting minimum admissions requirements. The college's 2+2 Transfer Program will save a South Carolina resident an average of more than $20,000 over the course of 4-years, when compared with the costs of completing a 4-year degree at a public university.
Applicants will work with Citadel admissions advisors to complete a 2-year associates degree, which includes engineering prerequisites (with at least a 2.0 GPA), at a regionally accredited college and then transfer to The Citadel to earn a Bachelors of Science in one of 5 engineering disciplines.
For more information, email transfer@citadel.edu or call (843) 953-5089.