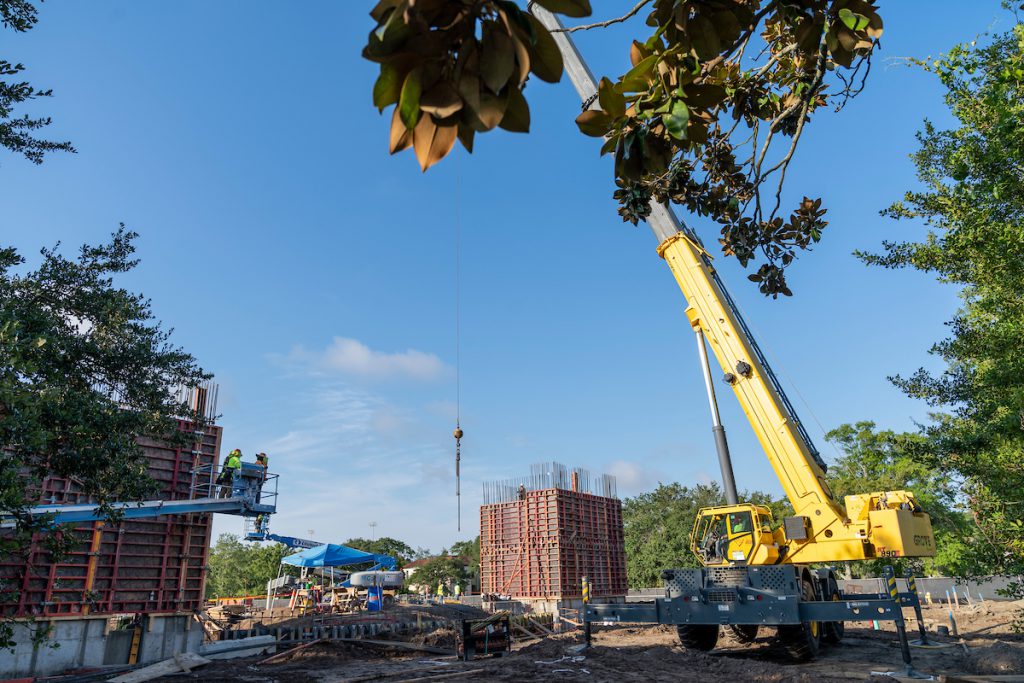 The first cadets to graduate with Bachelor of Science in Construction Engineering degrees are preparing to transition from The Citadel to the professional world. Eight are scheduled to graduate in May.
In 2018, The Citadel School of Engineering expanded, adding a construction engineering major to its robust list of engineering degrees. Some existing members of the Corps moved into that major right away. Cadet James Jennings was one of them.
Jennings should have a smooth transition after his May graduation, going directly to one of the engineering firms that has offered him a job. Jennings completed internships with three engineering firms and worked as an employee for a fourth the summer before his senior year.
Rewind to 2003 when Matt Cartwright, P.E., graduated from The Citadel School of Engineering. The construction engineering program didn't exist. His Bachelor of Science in Civil Engineering led him to a successful 17 year career as an engineer/project manager with the nationwide firm, Freese and Nichols. Cartwright was promoted to construction manager in their North Carolina operations in 2019.
Jennings (JJ) and Cartwright (MC) teamed up via email for a Q & A session intended to help guide students considering a career in construction engineering with some advice from alumnus to cadet.
Matt Cartwright, P.E.
The Citadel Class of 2003

Cadet James Jennings
Construction Engineering
The Citadel Class of 2020
JJ: Hello Mr. Cartwright. I have enjoyed learning about your career, experience and influence in the Raleigh area and across the southeast, through your work with Freese and Nichols. I'm excited for the opportunity to ask you a few questions concerning how you got where you are today and what advice you have for those wishing to follow your path.
MC: James, thank you for allowing me to share a few lessons I have learned throughout my career. There are many more alumni out there who are more deserving of this opportunity, but I am grateful to be able to help in any way. I would like to preface my answers to your questions by stating I was not the best cadet or student, but I like to think I have had some great experiences along the way to make up the difference.
JJ: What activities during your time as a cadet influenced your career the most?
MC: There are a lot of great opportunities at The Citadel that help direct cadets toward career goals. One for me was being able to attend professional conferences like the American Society of Civil Engineers Carolina Conference. I believe the thing that helped guide my career the most was an internship, though at the time it was not a requirement. Internships provide great opportunities to gain firsthand experience in different fields. I chose to complete an internship with a concrete construction company. During my internship, I was placed in the field as a concrete laborer and learned a plethora of information about concrete, mix designs and placement methods. It also allowed me to view a wide array of projects in various stages of construction and reinforced my interest in construction.
JJ: What leadership skills that were either developed or reinforced while at The Citadel have proven most valuable?
MC: We learn so many skills and develop characteristics at The Citadel that are used not only in construction project management activities, but in life overall. A couple of the lessons I use consistently are pushing myself to learn continually, and conducting myself with integrity.
Continual learning: The Citadel gives you a strong educational foundation, but your education needs to continue long after graduation. We must continually learn over the course of our career to better serve our clients and our communities.
Integrity: Integrity, much like the sublimest word, duty, goes hand-in-hand with a successful career. Integrity is the foundation that develops relationships with clients, internal teams and the communities that we serve.
JJ: What excited you about working in construction project management as an engineer and what surprised you once you started working? What continues to ignite your passion as you go to work each day?
MC: The title, project manager, is elusive because it means different things to different people at different companies. As I interview new graduates and young construction managers and engineers, it seems that most want to be a project manager. When I ask what it means to them, most respond with a pause then say, "It means that I will manage projects." I think most folks would agree that initially the most exciting aspect of being a project manager in construction engineering is being in charge and responsible, until you realize you are in charge and responsible for the success and failure of a project.

The biggest surprise — and what continues to drive me about what I do — is simply the people and the psychology of our work. The technical aspects of our jobs are pretty simple if you think about it: processing pay requests, processing change orders and interpreting drawings. Those duties have their challenges, but it's the soft skills that make the difference. How you treat people, how you treat your team, how you get folks to engage when they would otherwise disengage. Those leadership skills can make the difference between a successful project and a failure.
JJ: What are some of the most important areas an aspiring construction project manager can focus on to be prepared for success upon graduation? What do you wish you had known in 2003?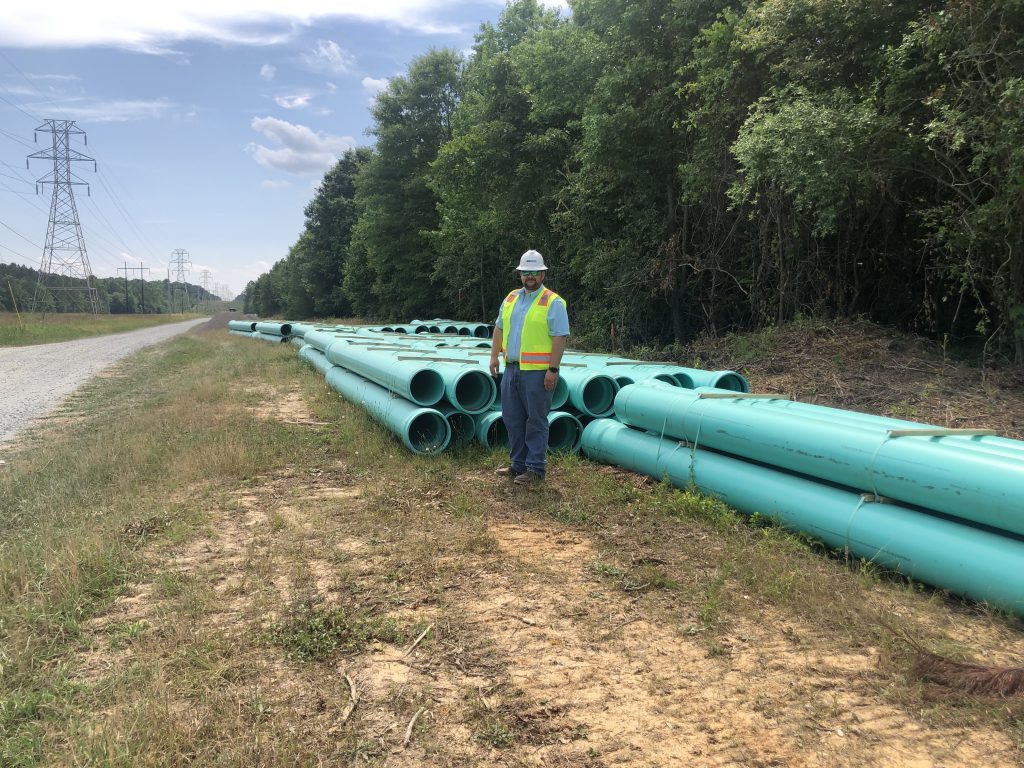 MC: Undertake self-study, read and find a mentor. While a B.S. degree gives you a strong foundation from which to start, it is just the beginning. Taking the time to study every week about the activities that will be happening the following week will help advance your skill set. A construction manager is often faced with interacting with a project superintendent with 20+ years experience, and it is difficult to gather the support of your team if you are not prepared.
Reading outside of technical specifications can give you an advantage if you choose the proper material. Books such as First, Break all the Rules by Buckingham and Coffman, and Good to Great by Jim Collins are great reads that can help improve your communication skills.
Lastly, finding the right mentor can help propel your career. Life in general can be difficult to traverse, so why go it alone if there are people out there who have been along your path who can help guide and possibly give you a leg up? Take advantage of The Citadel School of Engineering mentor match program and build a relationship that will last beyond college.
JJ: Students who graduate from the new construction engineering program are eligible to sit for their Fundamentals in Engineering (F.E.), and subsequently, their Professional Engineer (P.E.) licenses. How have you used your P.E. license while working in construction services?
MC: My path has been unorthodox, as I waited about 13 years to take my P.E. exam. I thought I would never need or use a P.E., which was true for 10 years. While construction services staff do not necessarily design projects, they sometimes act on the behalf of the engineers who do design the projects.
As construction managers, we must be prepared and bring a minimum level of experience and knowledge to fulfill our duties on the projects we are assigned. To me, having a P.E. does not make one a good engineer but it does carry the weight of the governing board that extends you the privilege of being a PE. I tend to agree with the great philosopher Colonel Dion Williams, "Don't worry about the scores, just worry about the material."
JJ: What three skills are most essential for the progression and advancement of a young assistant project manager (APM) aspiring to become project manager?
MC: Communication skills are the most crucial and the most difficult skills to learn and master. These are the skills engineer-leaders use in our day-to-day work and that can most strongly impact the outcome of projects.
Technical skills are often learned over the course of a career. Understanding the technical aspects of designs as well as the technical aspects of construction management will help you effectively manage projects.
The third skill would be learning how to anticipate the needs of your clients. This will help advance your career. Getting the folks who need and use information before they need it is a valuable tool to have in your arsenal.
JJ: What aspect of your role in the construction project process do you find most rewarding? Which aspect can be the most challenging?
MC: I feel the most rewarding aspect of my current job is really servant-leadership, exactly what all cadets at The Citadel are learning. I take pride in contributing to interesting projects that make the communities in which I live better. My jobs affect water storage and supply, wastewater supply, storm water and flooding. Such projects have a tremendous effect on the public's quality of life. It's rewarding to know I can assist in the successful completion of a project that has that kind of impact.
As for some of the most challenging aspects of our job — I'd go back to those soft skills again. The human element of interfacing with the client, engineers and the contractor can be cumbersome, but absolutely necessary.
JJ: What is one of the most valuable lessons you have learned working in construction since you graduated?
MC: "By failing to prepare, you are preparing to fail." – Benjamin Franklin
This quote is applicable to all stages of our work and industry, from completing site visit inspections to claims negotiation. The need to be prepared is one of my greatest lessons learned.
JJ: What is one thing that you thought would be extremely important while you were a cadet that turned out not to be?
MC: That's a great question. There are many lessons that we learn through our studies, but the one that stands out the most to me is mistakes. In school we are judged on the amount of mistakes we make. Throughout your career you will make mistakes, however most will be judged upon the mistakes we do not learn from.
JJ: What is one decision you have made which impacted your career the most?
MC: Work for an organization with values similar to your own. If the organization does not have the same high values, you may be asked, at some point, to adopt their values and compromise your own. I am fortunate enough to have found a home at Freese and Nichols, which has a long history of strong values and outstanding service.
Oh and one more thing, marry an engineer. Just kidding, we can't all do that. But I married Kristen Cartwright, P.E. She specializes in water and wastewater master planning. She is an APM with Freese and Nichols. We just had our first child and we learn from each other every day.
Kristen Cartwright, P.E, and husband Matt Cartwright, P.E.,
with daughter Bitsy, (possible future P.E.) Photographed January 2020.
The Citadel School of Engineering offers Bachelor of Science degree programs in:
Civil and Environmental Engineering
Computer Engineering (Fall 2020)
Construction Engineering
Electrical Engineering
Mechanical Engineering
For more information about these programs, contact the Office of the Dean at (843) 953-6499 or email derek.harris@citadel.edu.