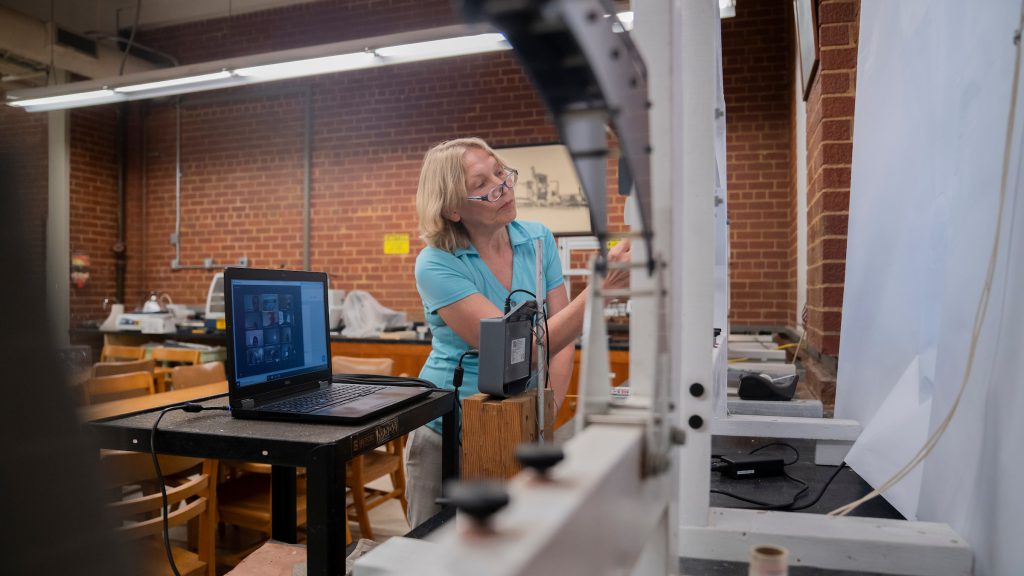 Photo: Olga Zeller, the laboratory technician for The Citadel School of Engineering, works with Dr. Simon Ghanat's students during a materials lab held via Zoom
There are perks — but also a lot of challenges — that come with virtual learning. There are even more challenges when it comes to finding a way to handle hands-on learning, when all the hands are made of pixels in a computer screen.
But that's where Citadel engineering professor Simon Ghanat, Ph.D., and the School of Engineering got a chance to show off a creative ability to overcome challenges, and to bring virtual learning directly to the students.
Instead of pre-recording the lab experience, or attempting to hold hypothetical experiments, Ghanat and the school decided to hold an essential Engineering lab via Zoom, with one technician working alone in the lab, going through the experiments — live — for the students.
"Labs are vital to putting what cadets and students learn in their coursework into action, especially in engineering and science programs so they can see the applications of what they are studying," said Ron Welch, Ph.D., P.E., dean of The Citadel School of Engineering. "With the leadership of Dr. Simon Ghanat and laboratory technician, Olga Zeller, we hope to develop a prototype, of sorts, for labs requiring specific equipment to still be available to those who need to learn remotely due to COVID-19, or other circumstances."
This interactive, virtual lab is currently being offered to evening students currently enrolled in the summer session of the civil engineering course, "Mechanics of Materials."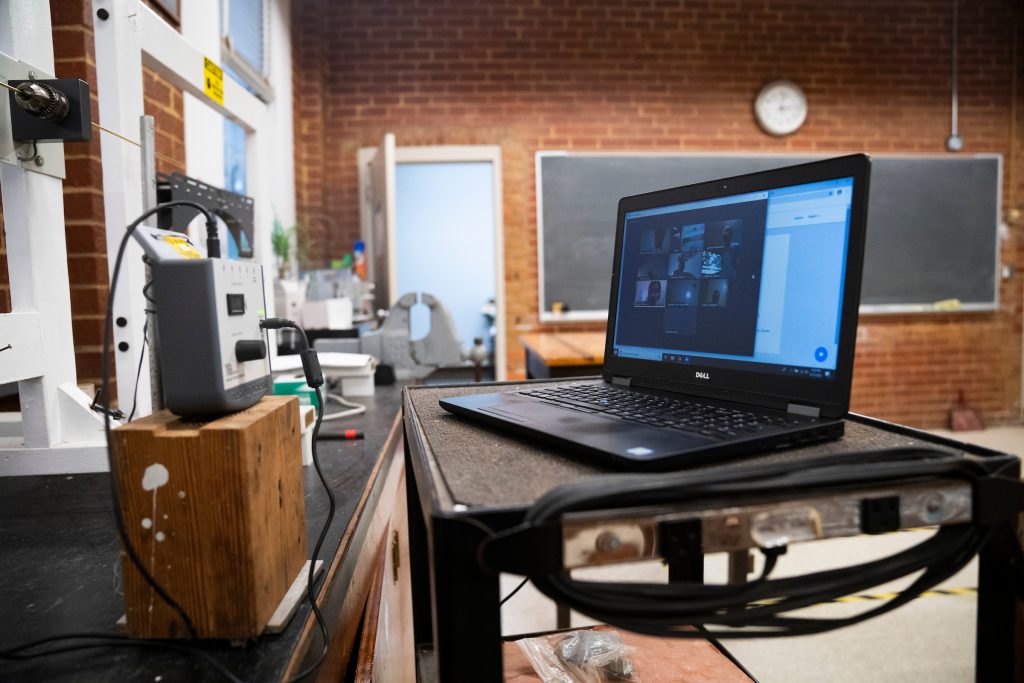 The course is essential to cadets and students studying mechanical, civil and construction engineering — operating as a foundation for the more advanced classes that come after. It introduces cadets and students to the practice of testing machines and equipment, as well as help them learn about the properties of engineering materials, as determined by results of tests in compression, tension, bending, torsion and more.
The unique idea first came to Dr. Ghanat during the emergency spring semester transition to online learning.
"I did demos and provided data for the students to analyze — but I noticed something was missing," said Ghanat. "Students were not able to engage with each other, with a lab tech or me — which led me to the thought process of working with Olga, our lab tech, to perform experiments remotely in the summer course. By doing the labs in this format, students are able to share data and photos, and analyze data remotely — which was not possible in the Zoom-only format."
It's the kind of first-hand experience and learning that can't be replicated without live demonstrations. And it's clear how well the new methodology is working.
"It's better than just seeing numbers," said Olga Zeller, the lab technician with the School of Engineering. "Students can communicate between themselves, while also seeing the lab happening at the same time, with a professor talking in real time. It gives them a chance to see how it's actually working, as well as a better memory and understanding of the material."
Ghanat is currently using the new lab format for two groups, comprised of about 12 students each. Not only do the smaller class sizes give the students a more individualized, personal experience — it also shines a light on the educators' dedication to teaching the next generation of engineers.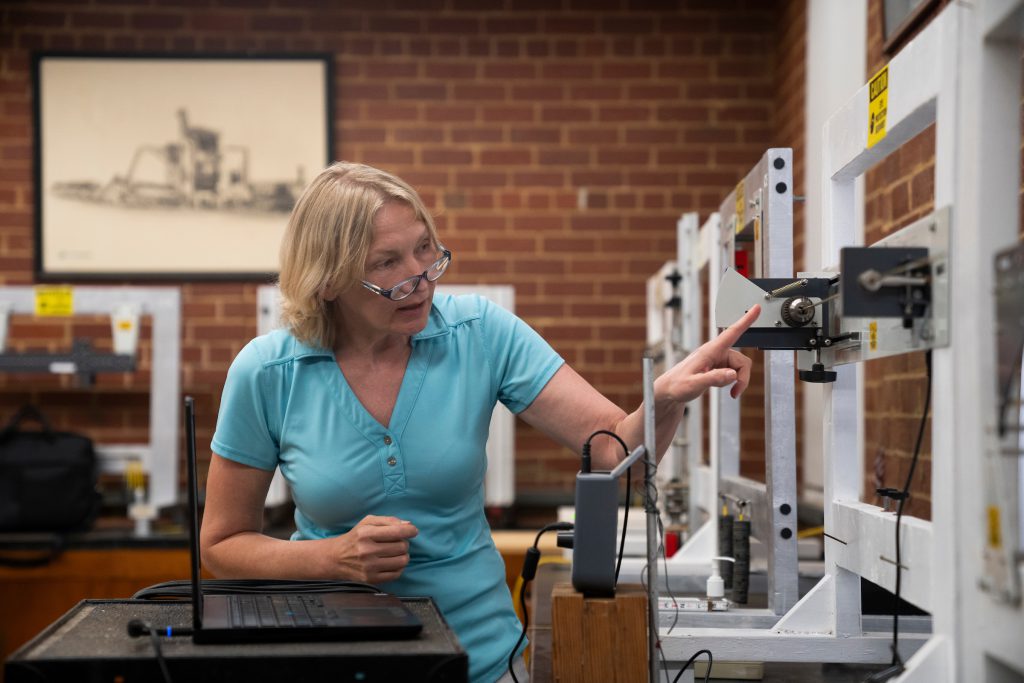 "Our faculty and staff's passion for creating effective learning environments, coupled with students' enthusiasm for their engineering education, works effectively through any medium," said William J. Davis, Ph.D., P.E., head of the Civil & Environmental department.
For more information about The Citadel School of Engineering, please visit the School of Engineering webpage, or call (843) 953-6499.