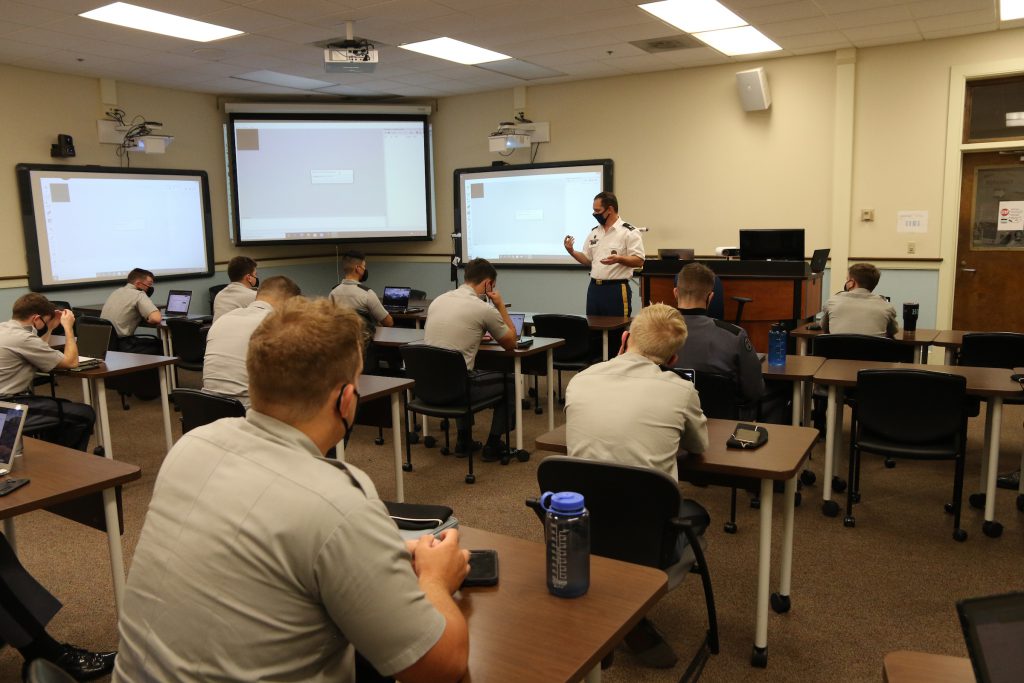 Photo above: Dr. James Bezjian leads a Baker School of Business class on innovation in Bond Hall on September 22, 2020. (Photo by Tom Thompson / The Citadel)
The Citadel's academic calendar for the spring 2021 semester is now available online. There are numerous adjustments due to the ongoing pandemic, including the elimination of spring break and study abroad engagements.
The South Carolina Corps of Cadets will return the week of January 10, with details forthcoming from the Office of the Commandant.
Students studying through The Citadel Graduate College (CGC) will return according to their course-type schedule as outlined below.
January 2021 key academic dates:
Jan. 6
Registration opens online at 9 a.m. :
For all cadets and students wishing to modify or add to the courses they already registered for before the winter break.
Jan. 10
Corps returns this week: Details TBD from Commandant's Office
Jan. 11
CGC compressed (8 week) courses begin.
CGC Joint Program courses begin.
Jan. 14
Last add/drop day: CGC compressed (8 week) courses
Jan. 18
No classes : Dr. Martin Luther King Jr. Day
Jan 19
Dedicated Corps advising day.
Last add/drop day: CGC Joint Program courses.
Jan. 20
Classes begin: Cadets, day-veteran and active duty, and regular schedule CGCs students
Jan. 26
Last add/drop day: Cadets, day-veteran and active duty, and regular schedule CGC courses.
Jan. 27
Last day to request audit/pass or fail: Cadets
View the most current academic calendar here. With questions about registering for courses, please contact The Citadel Registrar on weekdays at registrar@citadel.edu, or by calling (843) 953-6969.
Student Success Center ready to help
The Citadel Student Success Center is always standing by to help cadets and students studying in person, or remotely, every semester.
To make an appointment for subject-area tutoring, or writing assistance please call the center at (843) 953-5305 or email them at sscenter@citadel.edu.
Appointment requests are processed within 24 hours, sometimes more quickly. Requests are not checked on weekends or holidays. Once your appointment request has been processed, you will be contacted with your appointment date and time.