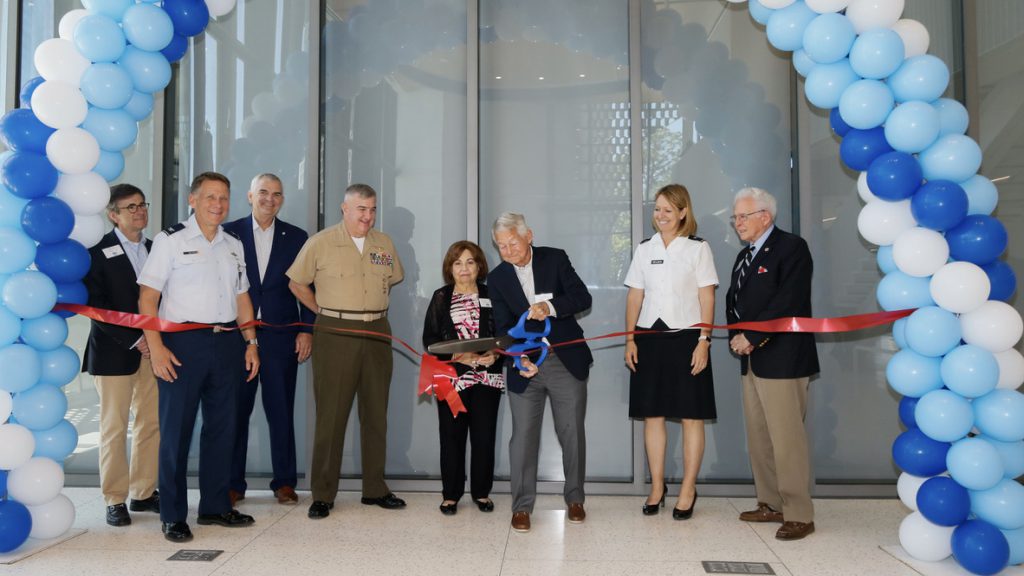 The Citadel Foundation recognizes the two primary donors for the new home of the Tommy and Victoria Baker School of Business
In a small, family ceremony — with limited attendance due to COVID precautions — The Citadel and The Citadel Foundation (TCF) recognized the efforts of Rick Bastin, Class of 1965, and his wife Mary Lee, that made the college's newest academic building into a reality.
Bastin Hall, a state-of-the-art academic facility, was made possible because of a $6-million gift from the couple.
On Friday, May 14, the Bastins attended a small ribbon cutting ceremony for the new building, held in their honor.
"I was a Mercedes dealer, and the CEO of Mercedes used to preach to us: 'We need to amaze and delight our customers.' Well, this building amazes and delights me, and it's beyond my greatest dreams that it would come out this well," said Rick Bastin during the ceremony. "If you look back at Bond Hall and if you look at Bastin Hall now — this is not your grandfather's Oldsmobile, this is something else."
The new home for the Tommy and Victoria Baker School of Business is located on Hagood Avenue, near the football stadium. The building officially opened for classes in January 2021.
"It's going to last — it's not something that we did for one year. It was a project, and everyone will get the benefit of it. The building will be here for a long time" said Mary Lee Bastin. "We've been coming here forever, and the place has really grown. The quality of the students is just magnificent."
In addition to the Bastins, more than 50 other individuals, families, businesses and Citadel classes stepped forward to name spaces within the building, providing the substantial donations needed to fully realize the vision for the building through TCF. In all, more than 450 donors contributed to the project at some level.
Once circumstances allow, this small ceremony will be followed by a larger, more public event to celebrate all those who contributed to the building's construction.
In addition to the upcoming event, plaques located throughout Bastin Hall recognize the areas funded by individual gifts, such as the Darby Family Lobby, in recognition of the Georgia and John Darby Family, '85; the Jimmy Kerr, '65, and Bunny Kerr Family Rooftop Terrace; and the Class of 1977 Great Lawn.
About the Tommy and Victoria Baker School of Business
The Tommy & Victoria Baker School of Business develops innovative leaders of principle to serve a global community. The school is accredited by AACSB International and is a recognized leader in business education.