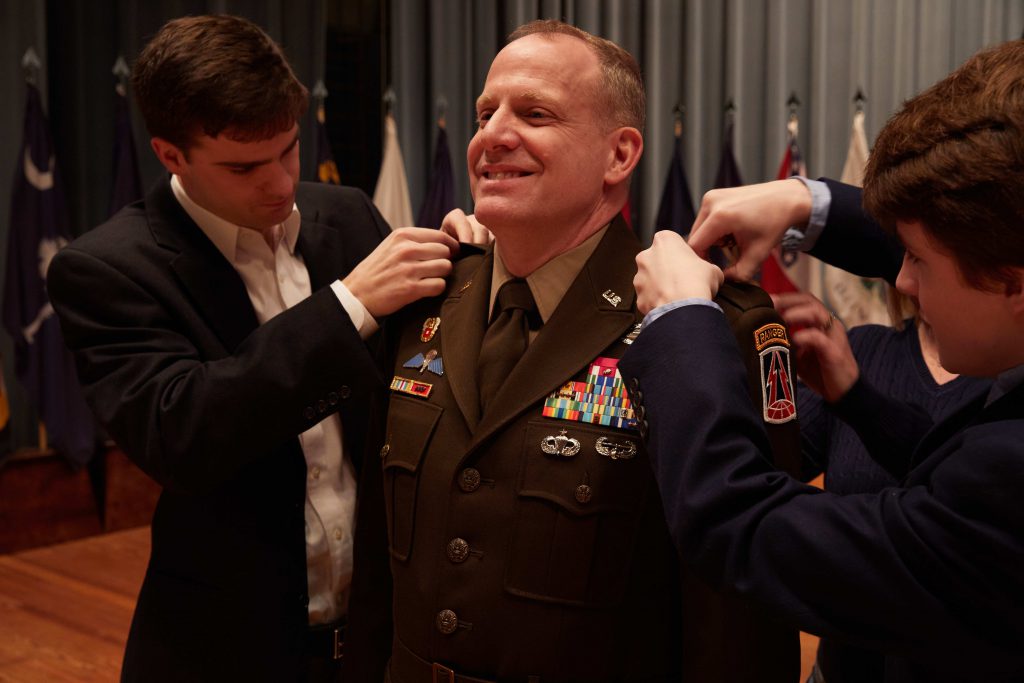 Note: Maj. Gen. John H. Phillips graduated from The Citadel School of Engineering in 1990 with a Bachelor of Science in Electrical Engineering.
As seen on Defense Visual Information Distribution Service (DVIDS)
FORT GORDON, Ga. – Maj. Gen. John H. Phillips was promoted to his current rank during a ceremony here Feb. 9, just before assuming command of the 335th Signal Command (Theater), headquartered in East Point, Georgia.

Retired Maj. Gen. Lawrence Wayne Brock III hosted the ceremony. Brock's final assignment was as commanding general of the 311th Signal Command (Theater), from 2014-2016. He also commanded the 335th Signal Command (Theater), from 2012 -2014.

During his remarks, Brock noted Phillips' five tours to Southwest Asia, including Afghanistan, Iraq and Kuwait; multiple trips in Europe; and a decade of active-duty service before his transition to the Army Reserve after more than 10 years.

"He has truly been a Soldier who brings a unique perspective, as someone who understands both the role of the active duty and that of a Reserve Soldier, and the balance that has to come with that – from both the family perspective and the personal perspective," Brock said.

In attendance were Phillips' wife, Sherrie and two sons, as well as mentors, peers and friends from The Citadel, The Military College of South Carolina, from which Phillips commissioned as a second lieutenant in 1990. He shared anecdotes from his time there, noting many of his classmates also went on to achieve success in the Army as general officers.

"I'm humbled, graced and blessed by this crowd. With the exception of a battalion from the 82nd [Airborne Division], there is someone in this room I've served with at every step along my career. These are friends who cannot be replaced," Phillips said.

The ceremony was bittersweet for the Phillips family, as the general noted that he and his siblings had lost their mother a mere month prior. His father had passed away just three weeks before Phillips reported to Fort Bragg, North Carolina, as a junior officer. He paid tribute to two men who'd stepped in as surrogate father figures, both fellow Citadel graduates.

Phillips then mentioned how his last assignment as the G-6, United States Army Europe, brought him back to his roots. The position, located in Wiesbaden, Germany, is typically filled by an active-duty general officer.

"This assignment focused me back to the reasons why I joined the Army in the first place. Going back to the basics, we exist to deter war, and the best way to show the enemy we are swift is to be globally postured and ready to deploy at a moment's notice," Phillips said.

From 2017-2018, Phillips was the commanding general of the 335th Signal Command (Theater) (Provisional) in Kuwait. He also served as the provisional command's deputy commander from 2015-2016.

The provisional command operates under U.S. Army Central and consists of Army Reserve, Regular Army and DOD Civilians who plan, engineer, install, operate, maintain, secure, and defend the Army's portion of the Department of Defense Information Network throughout Southwest Asia.