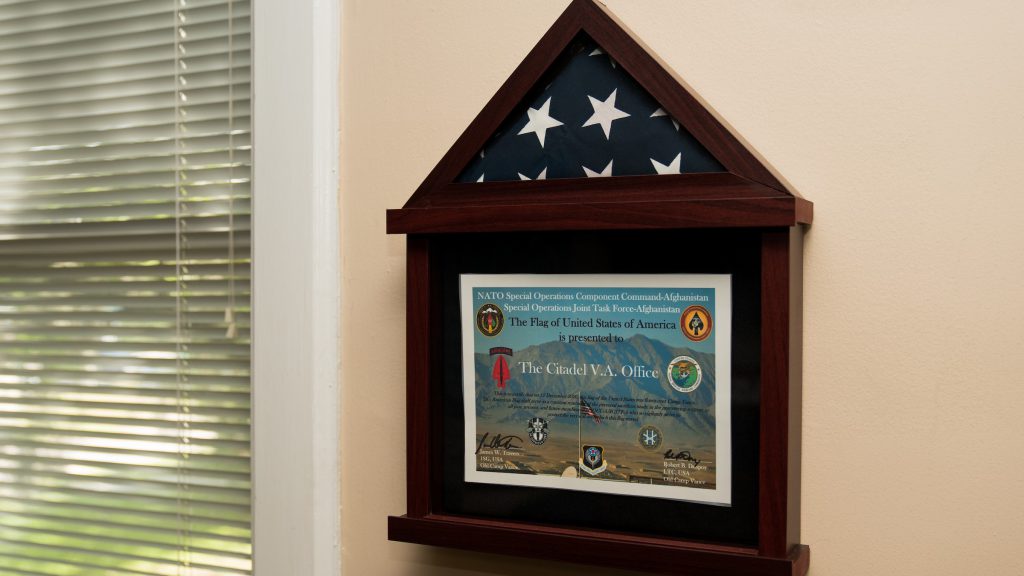 There are two new flags in The Citadel's Veteran Student Success Center that highlight the college's strong support and connection with the military.
It started with a simple overseas request in late 2020.
U.S. Army Staff Sgt. Joshua Powell was based in Old Camp Vance in Afghanistan when he realized that he wasn't the only person with a Citadel connection.
Powell, a student in The Citadel's College Transfer Program, enrolled in 2019 after completing three deployments. He studied criminal justice for a year before taking a break to go on his fourth deployment.
While stationed at Old Camp Vance, Powell met six Citadel alumni, as well as many supporters of the college. With the strong Citadel presence in mind, he reached out to Sally Levitt, assistant director for veteran services, to ask for a Citadel flag for the service members to sign and return.
In addition to a Citadel flag, Levitt and other members of the campus community sent care packages to the troops. Then, a few months later, the signed flag returned, accompanied by an American flag that had flown over Old Camp Vance.
"I always want to encourage people that help me and show them support as much as I can," said Powell.
Both flags are now proudly displayed in the lounge area of the Veteran Student Success Center.
"Being able to provide services, both on campus and abroad, for military connected students is an truly an honor," said Levitt. "I could not be more proud of our veteran and active duty students. Through their challenges and sacrifices, they epitomize what it means to be a principled leader."
Powell has completed his fourth deployment and returned to South Carolina. He will resume his studies at The Citadel in the fall.
"I've always regretting not going to The Citadel directly after high school – I went in a different direction and joined the Army," said Powell. "But I'm trying to circle back now and graduate from The Citadel."