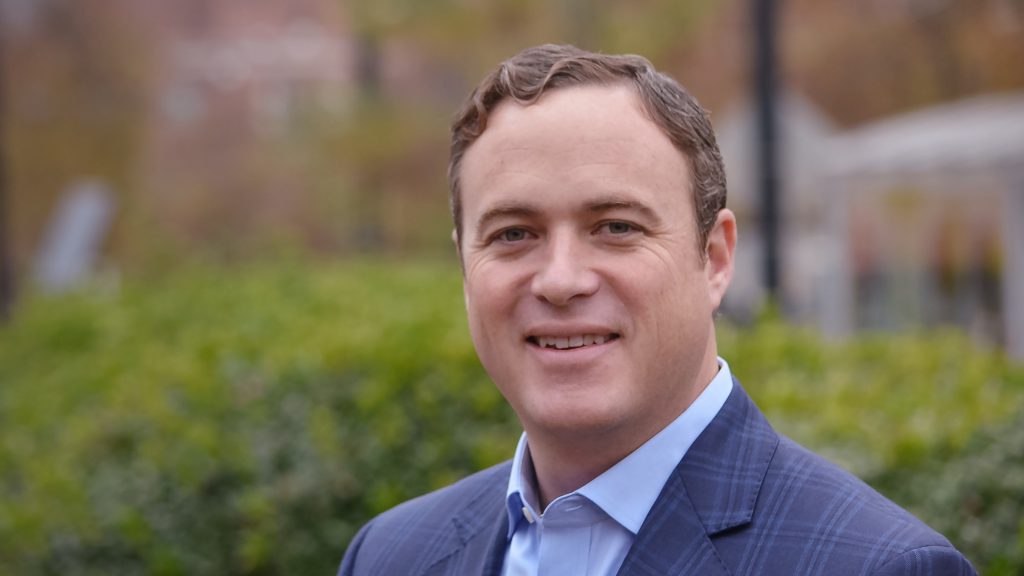 Note: Dave Brown, photo above, earned a degree in Civil Engineering from The Citadel in 1996. The college recently asked him to reflect on the value of his education from the Military College of South Carolina.
"The Citadel prepared me very well by instilling leadership skills and a solid understanding of how to build a 'team first' culture. The organizational leadership skills I learned as a cadet at The Citadel have significantly contributed to my ability to lead both military and civilian organizations through challenging times."

Dave Brown, Citadel Class of 1996, founder and CEO of ROVE
After a year of dynamic changes in the workplace and marketplace, hiring managers are looking for employees ready to react and respond.
Veterans are likely to lead the pack in understanding how to gain situational awareness and flex to the situation.
"Sometimes you just have to work out of your Humvee," says Bernie Funck, president and founder of Ranger Construction. "Veterans are not scared to exit the moving aircraft," Funck says. "They are not afraid of change. They just adapt to the situation. And they can command from anywhere."
Funck spent 21 years in the Army as an artillery officer, 6 years active duty and 15 in the National Guard, and he values the leadership and decision-making skills he sees in the veterans he hires.
Funck made his comments as part of a panel discussion sponsored by Veterans Bridge Home and presented by the Charlotte Business Journal. Joining Funck on the panel discussion veterans in the workplace were Dave Brown, Founder and CEO of ROVE, a technology systems integrator, and Arnold Evans, enterprise ethics officer for Truist Financial.
Blake Bourne, executive director of Veterans Bridge Home and a former captain in the US Army, moderated the event. The discussion was held at Veterans Bridge Home's new office at 5260 Parkway Plaza Boulevard, near the South Charlotte VA Center. The new location offers more space for the transition center, training and operations.
On joining and exiting the military
A family history of military service was common among the panelists.
Funck's grandfather served in World War I and his father in World War II. While they were both Navy veterans, Funck joined the Army after joining ROTC in college. His service included a tour in South Korea/DMZ, the 82nd Airborne Division and command of a Field Artillery Battalion. Today he is a Lt. Colonel in the Inactive Ready Reserve.
Evans grew up in north Georgia and then attended West Point, where he hoped to continue his family's strong military legacy and distinguish himself by serving others. Evans was on active duty from 1988 to 1993, serving in Air Defense Artillery and earning the rank of Captain. His service took him to El Paso, Texas, Germany and Saudi Arabia. After his service, Evans attended both law and business schools at the University of Virginia before pursuing a career in investment banking. He has been with SunTrust – now Truist – since 2005 and serves as the bank's enterprise ethics officer.
Brown is a fifth generation military officer who knew from a young age that he would serve in the military. Brown attended The Citadel on an Army ROTC scholarship. He was an Army captain for six years, served in Special Forces as a Green Beret. Brown transitioned into the civilian marketplace selling technology on Wall Street. He started ROVE, a systems integrator, in 2016.
On what experience translates to business
While all the panelists have college degrees, their path from college to the military to business was not direct. Brown majored in engineering but leads a technology company. Evans majored in engineering and then earned multiple graduate degrees before entering finance. And Funck majored in communications and later an MBA when he left active duty.
"Basic organizational leadership skills are really what helped me transition fairly well into the civilian workforce," Brown says. He was initially in sales and business development so while he did not have people working for him, he had to be able to craft campaigns and lead people through the sales process. He eventually moved up into sales leadership roles and executive management roles.
"I look back to my time in the military, and I've applied the basic leadership skills that I learned as a brand new Lieutenant in Army, to the more strategic skills I honed as a Special Forces Captain, that have assisted me in founding, growing and thriving in entrepreneurial business endeavors." said Brown.
Funck says his role in artillery direct support meant he was always supporting others, and that experience providing support taught him how to serve customers.
"We work for developers and do everything from construction, mechanical, electrical and plumbing. It's shoot, move, communicate and survive," Funck says. "We still do those same things."
As the ethics officer for Truist, Evans focuses on ensuring that the bank's operating practices and processes are fully aligned with the company's purpose to inspire and build better lives and communities. While it may sound straightforward, converting that description into practical activities has been more complex.
"My newly created role was a bit amorphous when I first took it on at SunTrust," Evans says. "The most critical success factor has been my ability to shrug off failures, reset based on experience and then guide my team forward until we achieved our objectives. I learned persistence in the Army and believe every successful veteran brings some version of that drive to the table."
On military skills valued in private sector
Even the disruption of a pandemic didn't derail veteran employees who understand how to adapt quickly to change, panelist say.
Evans says the skills he gained around situational awareness have also served him well in a large, global corporation.
"You have to understand the facts on the ground, then plan properly and execute," Evans says. "If the facts change, the sooner you pick up on that, the greater the chance of success. We pick up a high level of attentiveness in the military that helps us execute successfully in the private sector."
On roles where veterans succeed
At ROVE, 30% of the employees are veterans from different branches of the military, a rate four times what is typical in a company. Some have come directly from military service and others were in the private sector before joining ROVE.
Brown says veterans have the communications skills needed to serve clients. All of ROVE's project managers are former Army Captains.
Because the business is so heavily veteran, Brown says the culture of the company is very patriotic and mission driven.
"The accountability level for everyone is increased because it is built into our culture now," Brown says.
At Truist, Evans says veterans are valued for their trustworthiness.
"You know they are going to get it done the right way," Evans says.
Veterans with technical cyber security skills easily translate those skills to the private sector. Veterans serve in a number of client-facing roles, from retail banking, private wealth, commercial banking and investment banking.
"They are valued because they just know how to get things done," Evans says.
On negative perceptions of hiring veterans
Evans says he has previously heard that some organizations may have concerns about hiring veterans, given the potential of stress-related disorders.
"As a practical matter, we know suicide rates for veterans are materially higher than for non-veterans, given the amount of trauma they have experienced—whether it's a result of serving in long-term wars, being separated from families, experiencing isolation, or not having access to health care," Evans says.
However, Evans also points out that veterans are no different from broad swaths of society that dealt with stress, anxiety and depression—especially during the global pandemic.
"Employers need to understand that while veterans may seem to need unique assistance, they are a microcosm of our broader society," he continues. "If anyone does deserve the extra assistance, veterans who served our country are an extremely important focus. In exchange, you benefit from extraordinarily loyal and hardworking teammates who are committed to helping you achieve your organization's objectives."
On balancing National Guard duty
National Guard duty or Reserves is widely advertised as a commitment of one weekend a month and two weeks a year. Veterans know the reality is a much larger commitment.
"You have to support them and their family," Funck says. "People don't realize that the National Guard deploys to hurricanes and floods. You can be gone for three months on a hurricane. In the National Guard, you have to literally keep your bags packed."
In return, Funck says, those service members have an obligation to minimize the impact of their service on their employer as much as possible.
"There are benefits of having National Guard and Reserve members on your team, and if you don't support them, they will leave if the job is not compatible with their service," Funck says.
On small businesses hiring vets
The number of veteran-owned businesses has declined in recent decades. Only 4.5% of veterans have opened businesses since 9/11, according to a study by the New York Federal Reserve Bank and Small Business Administration. But close to 50% of World War II veterans and 40% of Korean War veterans opened businesses.
Brown says being a certified small business by the Department of Veterans Affairs opens opportunity to ROVE. Larger companies with supplier diversity programs provide business opportunities. ROVE has gained relationships with aerospace, banking and manufacturing companies and grown with those sectors.
"As a small business, getting through the pandemic was tough," Brown says. "We did some pay reductions and headcount reductions and had to tighten the books. But we survived it. Our team is tighter now than ever having gone through this experience together."
Funck says Ranger Construction survived the pandemic just fine given that construction was allowed to continue. But he says he looks out for subcontractors who are veteran-owned businesses.
"We have been known to loan money or 'pay forward' to those that we know, subcontractors and others, trying to get into the business."
Panelists
Dave Brown, CEO, ROVE
As CEO of ROVE, Dave guides the company's vision to become the fastest growing IT Systems Integrator in the region—with specific expertise in helping clients navigate the changing digital landscape via the strategic deployment of Cloud, Networking, CyberSecurity & Hybrid Workplace solutions.  Headquartered in Charlotte, NC, ROVE is a certified Veteran Owned Small Business, and services Enterprise, Commercial and Public Sector clients across the Southeast region.
Prior to founding ROVE, Dave served as the President of CDI Southeast and Area Vice President at EMC Corporation, where his responsibilities included building and leading sales, solution architecture and professional services teams who delivered virtualized cloud, unified communications and security solutions.
Dave began his career as an officer in the United States Army, where he achieved the rank of Captain in Special Forces (Green Berets). David earned his Bachelor of Science in Engineering from The Citadel in Charleston, South Carolina.
Bernie Funck, President, Ranger Construction
Bernie Funck is the owner and President of Ranger Construction Company, a commercial general contractor specializing in industrial, office and healthcare upfits in North and South Carolina. Bernie started Ranger Construction 21 years ago and the company has grown to over 40 employees.  Ranger Construction is a trusted partner for many developers and businesses in the area. Bernie's career began over 30 years ago in commercial property management at Trammell Crow, where he later became a partner running the Charlotte construction division. Starting his career in real estate development, management and leasing gave Bernie a uniquely qualified understanding of the business needs of Ranger's clients. His background in the Army gave him the sense of mission he and his team bring to all of Ranger's jobs. In 2003, Bernie retired from the Army National Guard as a Lt. Colonel, having served as the Commander of the 1/113th Field Artillery Battalion. His active duty years included service at the DMZ in South Korea, in the 82d Airborne Division, the Ranger Brigade, and certification as Jump Master and Air Assault training. Bernie has an MBA from the University of North Carolina Charlotte, and an undergraduate degree from Indiana University. He serves on the Board of the Carolinas Freedom Foundation, which promotes patriotism and supports soldiers and veterans.  Bernie has also had leadership roles in the community as a Boy Scout Scoutmaster and a youth football and rugby coach.  
Arnold B. Evans, Executive VP / Enterprise Ethics Officer, Truist Financial Corp.
Arnold Evans is the Enterprise Ethics Officer for Truist Financial Corp. He is responsible for ensuring that Truist's operating practices and risk culture are consistent with the Company's Purpose, Mission and Values. To do so, he and his team own and provide oversight of a series of programs receiving heightened regulatory scrutiny, including: business/sales practices, client complaints, teammate concerns, incentive compensation and reputational risk. Prior to the merger, Mr. Evans served as the first Enterprise Ethics Officer for SunTrust Banks, Inc.
Arnold's prior financial services experience includes three years as a Division and Region President for SunTrust, and 17 years as an investment banker at SunTrust Robinson Humphrey and J.P. Morgan. He is also a former commissioned officer (Captain) in the US Army.
Arnold earned a BS from The United States Military Academy. He also earned both MBA and JD degrees from The University of Virginia.
Moderator
Blake Bourne, Executive Director, Veterans Bridge Home
Blake Bourne, a former Army Infantry Officer who is passionate about the opportunity to strengthen local communities by engaging and empowering our veterans.  Blake joined Veterans Bridge Home (VBH) in 2013 and was named the Executive Director in 2016.  Leaving at the rank of Captain, he served from 2006-2012, was Airborne and Ranger qualified with two deployments to Iraq.  Prior to his military service, Blake worked on Capitol Hill. In addition to administrative oversight, strategy, and sustainability, Blake has been directly involved with the design and implementation of VBH's programs.  In 2019 Blake was recognized as one of Charlotte's 40 Under 40 by the CLT Business Journal.  Founded in 2011, VBH was a small Charlotte based non-profit organization connecting military & veteran families to community-based resources to assist them in achieving their unique goals.  VBH is now a regional leader in Veteran services, operating across NC & SC, and a model nationally of Veteran Community Integration.  Focused on achieving outcomes which build "A Stronger Community, one Veteran at a time."  VBH has demonstrated impact, leadership and advocacy on how to empower communities to collectively identify, engage and support Veterans where they live, work and play.