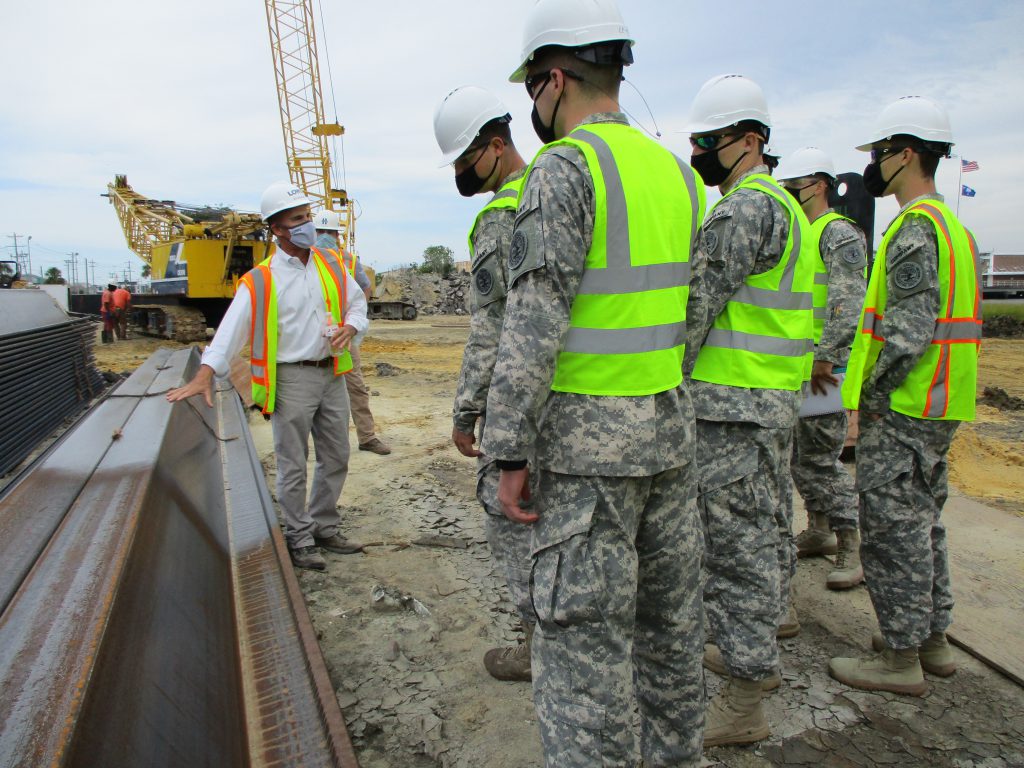 Photo above: Citadel engineering cadets and students tour The Cooper Hotel construction site in Charleston courtesy of Lowe, a real estate development company
On September 23, Lowe announced its partnership with The Citadel to launch a construction educational program, featuring an in-class lecture series with Lowe executives, on-site project tours and an internship program at Lowe's Southeast regional office in Charleston for students enrolled in The Citadel School of Engineering. The program aims to provide cadets with real-world construction analysis and experiences to supplement classroom learning.
Beginning in spring 2021, Lowe's internship program will be offered to juniors and seniors within the School of Engineering. The internship will provide participating cadets and students with real estate and construction management experiences. Interns will also work closely with Lowe senior project managers, attend construction team meetings and experience real-world construction activities with tours of active construction sites.
"This is a tremendous opportunity for these young adults to learn meaningful life skills and experience first-hand the many different components that are involved in successfully managing a multifaceted construction project," said Mike Mansager, vice president of Lowe. Mansager adds that "through classroom lectures and in-field learning, Lowe will provide unmatched opportunities for students to learn about our local projects and take away real-world applications that will help them find great success in their careers after graduation."
In early September, Lowe hosted a group of Citadel cadets from professor Rebekah Burke's Construction Engineering Materials and Methods class at the company's construction site for The Cooper Hotel, downtown Charleston's new full-service waterfront hotel, which broke ground in February 2020. The site tour was used to illustrate the construction process and discuss the challenges associated with building foundations for large waterfront developments.
"In talking with Mr. Mansager and the Lowe construction team, the cadets and students experienced firsthand the application and execution of technical engineering topics discussed in class," said Burke. "As a result of this partnership between industry and academia, the students commonly described profound realizations about their career path in construction and engineering in their site visit reports and guest lecture reflections."
Lowe is also currently hosting in-class lectures as part of a reoccurring, visiting lecture series at The Citadel School of Engineering. The most recent educational lecture, led by Mansager, focused on the topic of construction contracts. In his upcoming lectures, Mansager will discuss a variety of topics to assist cadets in better understanding how what they are learning in the classroom applies in real world applications for construction and development.
For more information about the Construction Engineering Program at The Citadel, please call (843) 953- 5083, or email sfye@citadel.edu.