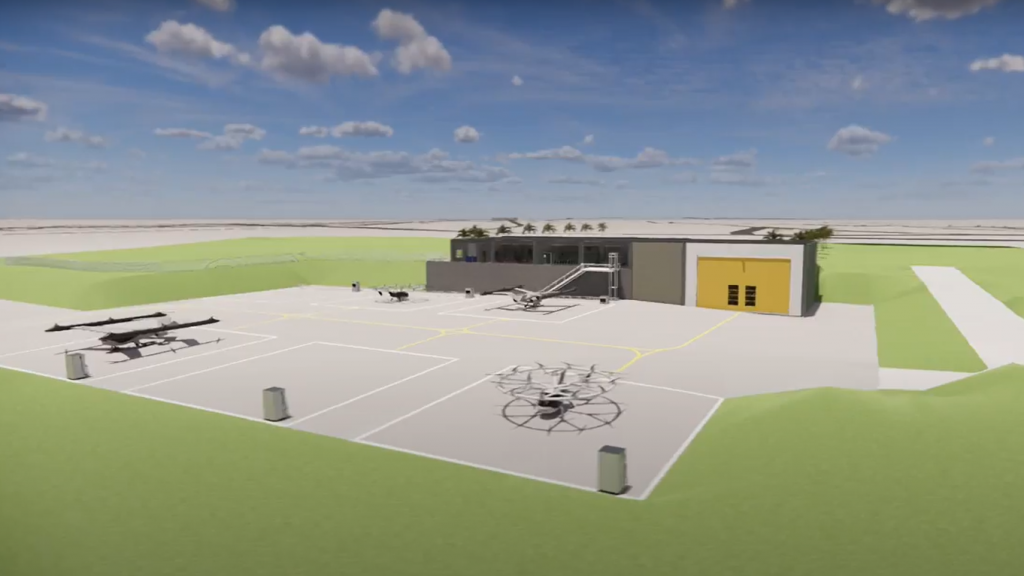 Photo: An image from the eVTOL vertiport fly-through design video prepared by the winning team.
eVTOL engineering capstone designs successfully delivered to the South Carolina Aeronautics Commission
Someday, when electric vertical take-off and landing (eVTOL) vehicles approach an airport needing to efficiently deliver cargo or passengers, the "vertiport" could be inspired by designs developed by engineering cadets and students from The Citadel.
Think of the movement of an eVTOL like a car-sized drone — lifting off straight up, rather than needing a runway for takeoff and landing. Lightweight, composite, battery-powered prototypes of passenger and cargo eVTOLS are being developed and tested around the world, and existing airports will need new infrastructure to accommodate this rapidly emerging Advance Air Mobility (AAM) travel mode.
Nine teams of senior cadets majoring in both Civil and Environmental Engineering, as well as Construction Engineering, were engaged in determining specific airfield and terminal infrastructure needs for the promising eVTOL aeronautical industry at Rock Hill-York County Airport, selected as an illustrative South Carolina case study location. Students began evaluating operational parameters and possible design solutions in the fall of 2021 and delivered final recommendations to the South Carolina Aeronautics Commission and an advisory panel of national experts in May 2022.
"Project designs developed by The Citadel students turned out far better than I could have ever imagined and have helped advance the professional dialog in our state on this coming aviation innovation," said Gary Seigfried, PE, South Carolina Aeronautics Commission.
The Designing Advanced Air Mobility Infrastructure: Multidisciplinary Capstone Project is getting attention, earning a national Engineering Education Award with a $10,000 prize from the National Council of Examiners for Engineering and Surveying (NCEES). U.S. Representative Nancy Mace, a 1999 Citadel graduate, visited campus to learn about eVTOL infrastructure during a student-led technical briefing in 2021. Some of the students competed in The Citadel's Baker Business Bowl, earning second place, and others served as keynote speakers to an audience of 250 engineers and airport professionals at the 2022 South Carolina Aviation Association (SCAA) Annual Conference held in Myrtle Beach.
Final designs prepared by student teams included:
Travel demand forecasting
Airfield operations and design
Ground transportation and traffic engineering
Environmental engineering
Airfield right-of-way, security and site restrictions
Terminal structural design
Terminal geotechnical and pavement design
Airfield storm water drainage design
Project value engineering
Construction impacts and site safety
Project phasing and scheduling
Project cost estimating
Numerous organizations supported this high-impact learning experience, including Heliplanners, Beta Technologies, U.S. Army Corps of Engineers, South Carolina Aeronautics Commission, Rock Hill-York Co. Airport, Charleston International Airport Authority and Mead & Hunt Engineers, with representatives explaining complex engineering design procedures and serving on the project advisory panel.
"Students who completed this successful capstone project are now serving in the military, working as engineering professionals or headed to graduate degree programs," said William J. Davis, Ph.D., PE, department head of Civil, Environmental and Construction Engineering at The Citadel. "Our graduates are exceptionally well prepared to contribute to planning, engineering and design of advanced air mobility infrastructure such as heliports, vertiports and high-density vertiplexes."
The Aerospace Industries Association forecasts a $115 billion annual impact from the U.S. Advanced Air Mobility (AAM) sector by 2035, adding 280,000 new jobs and $20 billion in exports by 2033.
The Citadel's Civil, Environmental and Construction Engineering class of 2022 stats:
67 cadet and student graduates
52 directly hired into professional engineering and construction industry positions
Nine serving as officers in U.S. Air Force, Army, Marines or Navy
Six entering graduate degree programs at: The Citadel, Clemson, Georgia Tech or Virginia Tech
Learn more about The Citadel School of Engineering here.