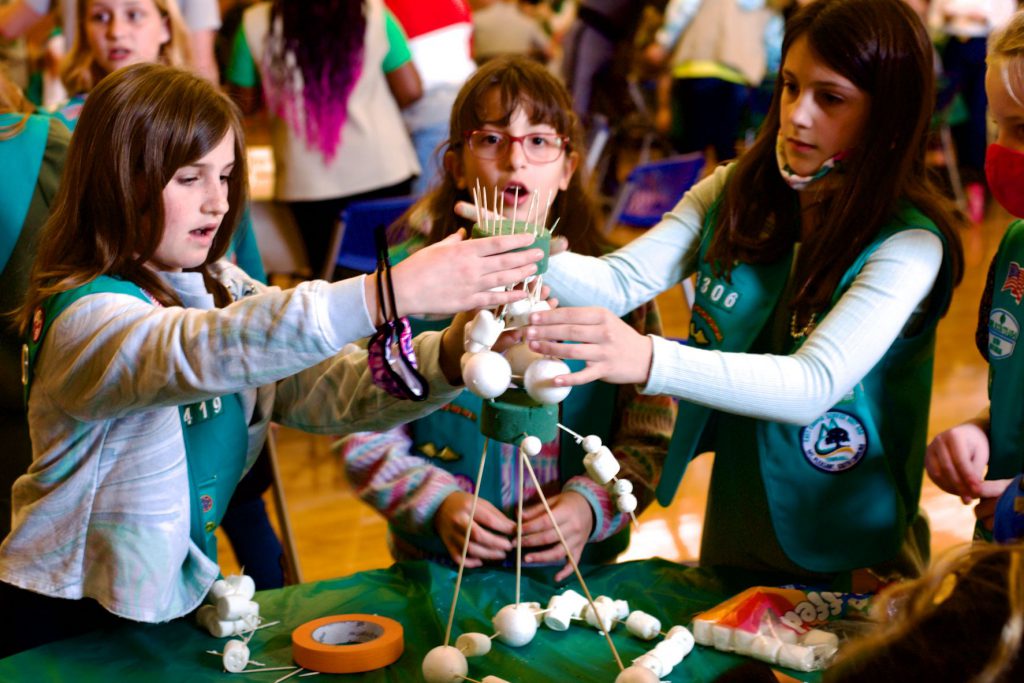 The Citadel Society of Women Engineers chapter is on a mission to expand girls' interest in engineering
Within The Citadel School of Engineering there is a highly engaged chapter of the national Society of Women Engineers.
"The reason I joined our SWE chapter is because I am in such a male-dominated career field and also attend a male-dominated college. I wanted to be able to connect with more women who are engineers and see what it is like for them in their career fields and be able to see all the amazing things that they have achieved and accomplished In their careers," said Cadet Madison Locklear, a Mechanical Engineering major from Lugoff, South Carolina, who serves as the chapter's treasurer.
According to The Citadel Office of Institutional Research, about 11% of women undergraduates attending the college are engineering majors. Of the total number of engineering undergraduates, about 6.6% are currently women.
Whether studying Mechanical, Civil, Computer, Construction or Electrical Engineering, women cadets and students in the chapter make it their mission to introduce girls to a non-traditional career path that could change their lives.
One way they do this is by holding events, such as this one just prior to Women's History Month, to serve as a resource to the community's girl scouts who are beginning to consider careers.
This year's Introduce a Girl Scout to Engineering event on February 27, brought 100 girl scouts to campus from troops around the Lowcountry.
"I want to some day be a designer for projects in sustainability for the power and energy industry," added Locklear, something she shared with the girl scouts to provide an example of the many careers fields that exist for engineers.
"Our theme of space exploration was a hit, providing an incredible opportunity to see three generations of women and girls exploring creative ways to solve engineering problems, such as building a space elevator, a rover, and a moon communication system," said Rebekah Burke, Ph.D., P.E., a professor of Construction Environmental Engineering at The Citadel, and the SWE chapter advisor.
Burke explained that "teams of girl scouts were partnered with a Citadel cadet or student, and an engineering professional or Citadel professor in a model of informal mentorship to encourage girls to pursue a career in a STEM career such as engineering."
Cadet members who hold leadership positions with the SWE chapter on campus planned and directed the event. They include Locklear, Alicia Brewington, Elizabeth Lockridge and Rachel Short.
"I also want to thank the 15 engineering professionals from our community, and my colleagues in the School of Engineering, who gave their time on a Sunday to help support this important community event," Burke added.
Cadet and student servant-leaders who volunteered at the event:
Thomas Aycock
Noah Axtell
Louise Bonnimond
Daniel Camp
Mark Clement
Campbell deHoll
William Dinsmore
Garrett Drew
Andrew Finkle
Jackson Fuller
Jordan Glowacki
Kevin Haddad
Charles Heaton
Carson Holroyd
Pei Hsuan Lu
Samuel LaFrage
Heidi-Camille R Johnson
Malupeaua Khine
Erik Liebal
Kincaid McCammon
Sullivan Newsome
Griffin O'Shields
Timothy Overend
Jacob Simonelli
Matthew Smith
Brandon Welch
Luke Wiggins
Donaven Wiliams
Sophia Woody
Jeremy Wilkes
Learn more about The Citadel School of Engineering
The Citadel School of Engineering is consistency ranked as one of the top 25 programs in America by U.S. News & World Report. In addition to cadet programs, there are offerings for non-cadet students in the evenings and online. Veteran and active duty military students also find programs convenient for balancing their busy schedules while earning undergraduate or graduate Engineering degrees. To learn more, go to this weblink.