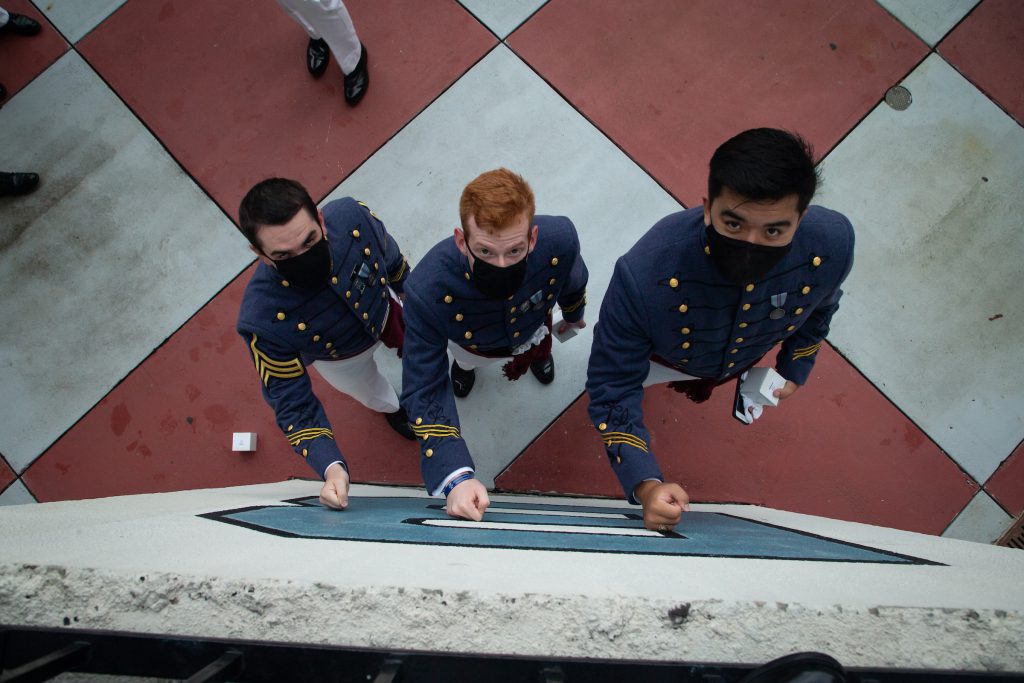 College's mission focus overcomes pandemic
Operation Fall Return, a campus-wide effort encompassing every member of The Citadel campus community, set the conditions to accomplish the mission of completing fall semester in person, despite the COVID-19 pandemic.
"It is our duty to protect ourselves and others from COVID-19," became the mantra, based on the college's core values of honor, duty and respect.
College and Corps leadership — along with support teams — collaborated to set, adjust and maintain conditions allowing cadets, students, faculty and staff to be on campus beginning in mid-August, until the Corps started winter furlough Nov. 24 and faculty and staff depart for the holidays December 22.
There would be no break in the South Carolina Corps of Cadets' Long Grey Line.
I write today as the Corps prepares to depart on winter furlough after one of the most unusual periods in Citadel history. I could not be more pleased with the performance of the Corps. We asked much of you, and you delivered in an environment unique in our 177-year history. Our students, faculty, staff, and alumni showed what a united campus community can do—it's inspiring watching everyone doing their part. The success we've achieved is only possible with everyone adapting and overcoming.

The Citadel President, Gen. Glenn M. Walters, USMC (Ret.) in a letter to the campus community, November 20, 2020
Staging the base of fire
The objectives centered on the delivery of top-quality instruction coupled with continuing the in-person military training required for all cadets. The in-person training is mission critical for freshmen, who could not be recognized as members of the Corps in the spring without completing rigorous training objectives designed to develop them to assume leadership roles later in their cadet careers.
Strict protocols were put in place for cadets and for all members of the campus community to protect the health of The Citadel family.
Examples of operational elements include the following, some of which remained in place all semester:
Face coverings required at all times
Cadets tested for COVID-19 upon returning in August plus weekly random testing of four cadets from each of the 21 companies
Cadet population segments housed together to limit cross-exposure
Limited leave for cadets set weekly by Cadet Col. Nick Piacentini, the regimental commander, based on conditions in the community
Hybrid-learning academic settings to limit population density
Specialized cleaning by Budd Group experts, with proctors in high traffic locations continuously disinfecting touchpoints
A consistent flow of information to keep constituents informed through an Operation Fall Return web portal, a COVID-19 case tracker, virtual town halls, a frequently asked questions web page, an easy-email form for questions from cadets, students, parents and alumni, plus regular reports on campus activities and adjustments on The Citadel Today and via social media.
Matriculation Day, August 8
The Matriculation Day process is usually completed in about two hours, but was stretched out to twelve to ensure social distancing.
Members of the Class of 2024 arrived on campus, said their goodbyes to their family at the curb, and had their temperatures checked before processing.
Approximately 700 knobs matriculated, a class size mirroring those in non-pandemic years.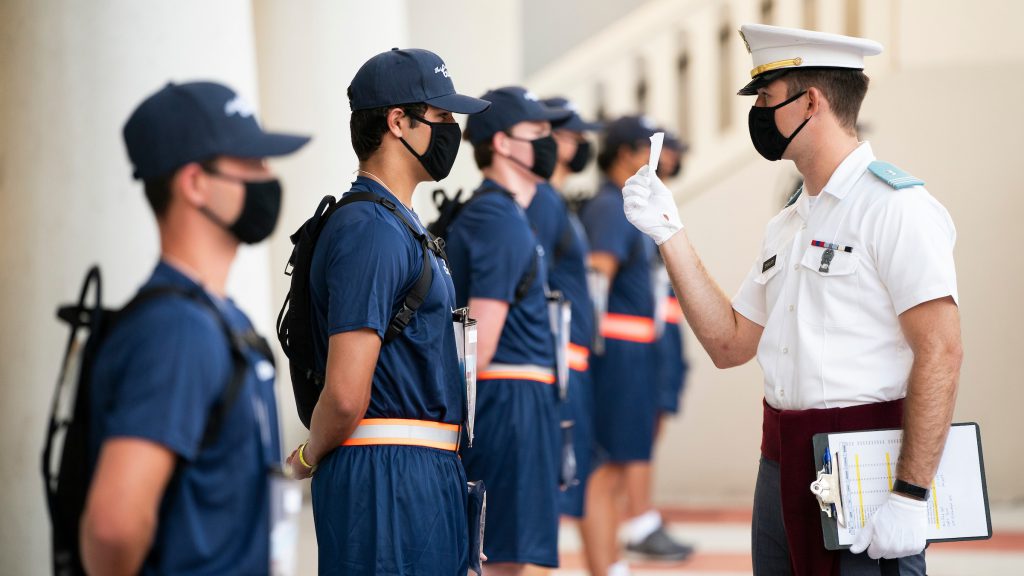 Class of 2024 Oath Ceremony and Challenge Week
An especially poignant Oath Ceremony was held on Summerall Field for the freshmen — with drone footage from above — showing the many people watching via livestream one of the first groups of college students safely gathered en masse since the pandemic took hold of America in the spring of 2020.
Challenge Week training was underway, with Cadre — the group of upperclassmen tasked with training the knobs — working efficiently to complete all necessary components. They also lived in the same barrack with the freshmen, reducing possible virus transmission from intermixing large groups of cadets.
Academics: Flexible and focused
Back to class for cadets and students meant alternating in person and remote class days, with many courses divided into two groups to allow for distancing in the classroom.
Led by the Office of the Provost — faculty, cadets and students leaned in, adapting to new technology for teaching and learning.
"We are so impressed with our faculty, cadets and students and their commitment. They continue to grow and improve within our new hybrid learning model," said Diana Cheshire, Ph.D., director for the college's Center for Excellence and Innovation in Teaching, Learning and Distance Education."
High profile academic engagements for cadets and students continued, including the Baker Business Bowl and competitions for the Citadel Cyber Security Team which "smoked the competition" in one event according to the organizer.
"The students learn a lot when they apply their skillset in a contest environment that simulates a situation from real world," said Shankar Banik, Ph.D., professor and head of the Department of Cyber and Computer Sciences and student advisor of The Citadel Cybersecurity Club. "They won the Capture the Flag contest at the National Cyber Range Complex which was a big opportunity for our students to practice their skills in a cyber simulation based on the Department of Defense infrastructure and control systems."
Demonstration of unity and respect
Five rings on Summerall Field — made of members from The Citadel community, linked together — were a visual representation of what unites members of the South Carolina Corps of Cadets. In October, cadets, faculty and staff gathered, connecting themselves with spirit T-shirts, to stay safely distanced.
The event was conceived by Cadet Hayden Brown, captain of the basketball team, in response to the emotions filled, race-related activism and turmoil the nation saw for many months in 2020.
Despite all of the national attention and conversations surrounding inequities in our country, many remain apathetic. As the South Carolina Corps of Cadets, we are unified in our belief that no member of the Corps is any more important than another.

Cadet Ruby Bolden, regimental public affairs officer, reading the statement of unity on behalf of attendees
ROTC: Advancing future officers
ROTC training and labs moved along in a fashion similar to normal semesters, just in smaller, masked groups with more outdoor activities.
Marine Corps ROTC lab
"I continued to be impressed by our Army ROTC Cadets at The Citadel whose performance this semester, in spite of the challenges they and all students face, has been exemplary," said Col. John Cyrulik, professor of military science at The Citadel, in a statement. "These Army ROTC Cadets are mentally and physically tough, disciplined, and highly motivated. We have trained hard all semester to ensure we remain on-track to commission next year the largest cohort of Army officers from The Citadel since the Vietnam War."
Senior ring celebrations
Though there was not a crowd to cheer them on, the significance of The Citadel Ring Presentation was not diminished for seniors. A livestream provided parents and loved ones the opportunity to view this cherished tradition, and the seniors were celebrated after with a private, outdoor reception.
And the juniors, less that a year away from their Ring Day, were able to be sized for their rings in late November to receive next fall.
Athletics: Committed to the game
Their commitment to their sport and their teammates meant enduring more than 30 nasal swab COVID-19 tests for each member of the Bulldogs football team — required by the NCAA — as they practiced, traveled and played a limited game schedule with one of the highlights being the game against West point. Plans are underway to play a more complete season in the spring.
The other cadet athletes playing indoor sports with contact also endured, and are enduring, numerous coronavirus tests. That isn't discouraging the basketball team, on a five game winning streak at the time this was published.
Finding the fun
To keep the campus community and the Corps energized, a number of COVID-safe activities were held.
Intramural practices and competitions were increased.
Food trucks and games were brought in on the weekends that the Corps didn't have leave.
And G3, the college's new bulldog, made his debut.
G3 has a new house he shares with the first team of cadet handlers to hold rank positions related to caring for the beloved mascot.
G3's official name, Gen. Mike D. Groshon, will be familiar to many in The Citadel family and in Charleston. He was named for Coach Mike D. Groshon, Citadel Class of 1976, who passed away in 2016, after caring for several generations of mascots.
Servant leadership continuum
Servant leadership looked a bit different throughout the semester, but it did not stop. There was not a traditional Leadership Day…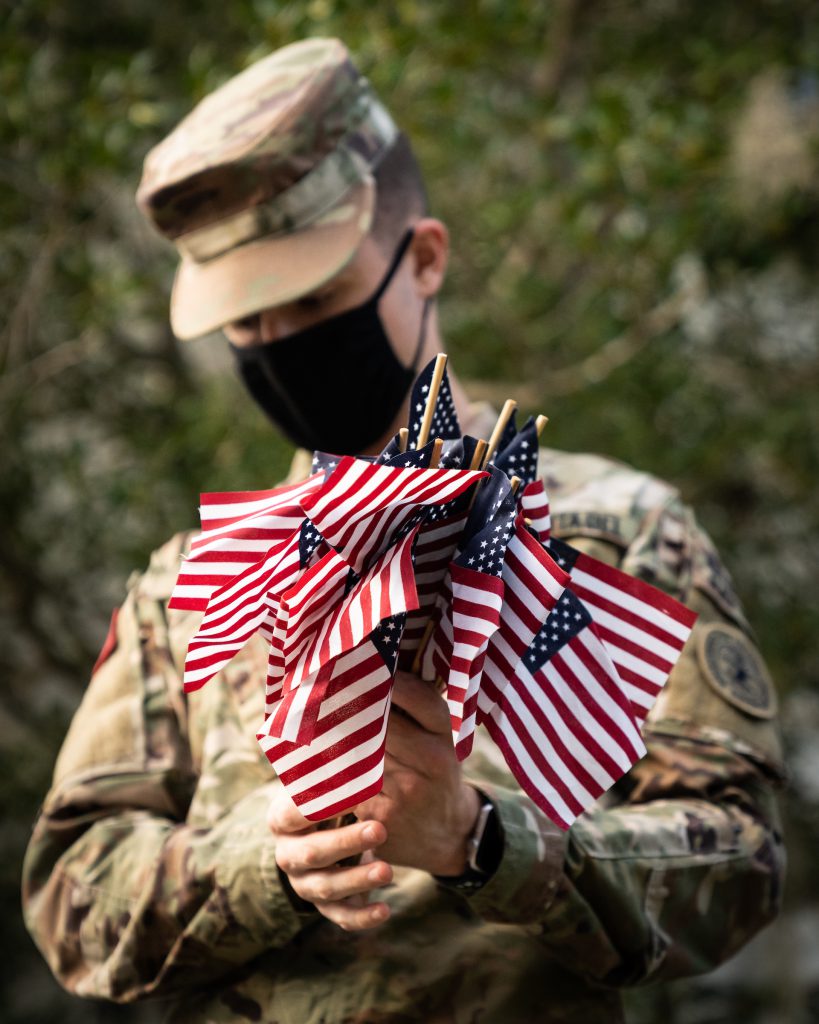 …but there was plenty of volunteer service.
The Citadel Health Careers Society turned out to help veterans in need, for example, and the Krause Center of Leadership and Ethics grew its children's reading initiative and continued organizing COVID-19 safe ways to help the college's community partners.

Launching three major developments
1. Our Mighty Citadel 2026 strategic plan
The Citadel's new strategic plan, Our Mighty Citadel 2026, is now in place to serve as the guideline for the college's evolution. The Citadel Board of Visitors (BOV) voted to approve the plan in September. Academic programing, how the college interacts with the region and the community, and the campus infrastructure are at the center of the plan.
"The Citadel has played a large role in shaping Charleston and South Carolina since its creation 177 years ago, and its new strategic plan is an encouraging sign that will continue to be the case."

The Post and Courier Editorial Staff
2. Lt. Col. James B. Near Jr., USAF, '77, Center for Climate Studies Climate variability, risks and the advancement of solutions will be the focus of a new, interdisciplinary Center for Climate Studies being established at The Citadel. The Center's mission will be to promote climate science through education, research, outreach and the development of public-private partnerships, according to Scott Curtis, Ph.D., recently named the Dr. John Lining Professor of Physics and director of the Lt. Col. James B. Near Jr., USAF '77 Center for Climate Studies.
3. Swain Boating Center
The Swain Boating Center at The Citadel is restoring the campus water culture with some major upgrades, thanks to a generous donation from Dr. and Mrs. Christopher C. Swain, Class of 1981. New docks, a picnic pavilion and new equipment including motor and sail boats, kayaks, canoes, paddleboards and fishing gear are being used by cadets, faculty, staff and alumni.
Gospel Choir stays united with virtual performance to close out semester
One last, revered annual tradition of each fall semester, the Citadel Candlelight Services, cannot take place this Christmas season, but The Citadel Gospel is finding a way to bring joy to others.
The choir, a group that normally performs during the heavily attended Candlelight Services and around the city and state, didn't let the pandemic stop them. Though their live engagements were cancelled, the devoted members of the choir gathered – with safe distancing – to record a variety of songs. The recordings will be played at events where the choir cannot safely perform.
Cadet Col. Nick Piacentini: maintaining lines of resistance to coronavirus
Almost last because that's where he'd ask to be, but not least, is a regimental commander leading his 2,300, 18 – 21 year old classmates through their Citadel experience during an unprecedented, sweeping pandemic.
"I am extremely proud of how the cadets have really led themselves when it concerns their duty to follow our COVID-19 protection protocols to keep themselves and others safe. We have a strong team of regimental officers, staff and NCOs and everyone worked to maintain the conditions needed to keep us on campus this fall. We are striving to be an example of what 'right' looks like.

To me, being able to complete a face-to-face fall semester shows the kind of person a Citadel cadet is, someone with the grit needed to push through our mission together."

Cadet Col. Nick Piacentini, Regimental Commander, South Carolina Corps of Cadets
Watch a news report with Piacentini here.
#1 for the 10th year!
And in the midst of it all, The Citadel was ranked #1 Top Public College in the South for the tenth consecutive year by U.S News & World Report.
"We want prospective students to know why The Citadel experience is superior. We encourage high school students and their parents to contact us to discuss what the college offers for their areas of interest in a specially tailored, one-on-one conference, "said Sally Selden, Ph.D., SPHR, provost and dean of The Citadel.
Fall 2020 Photo Gallery