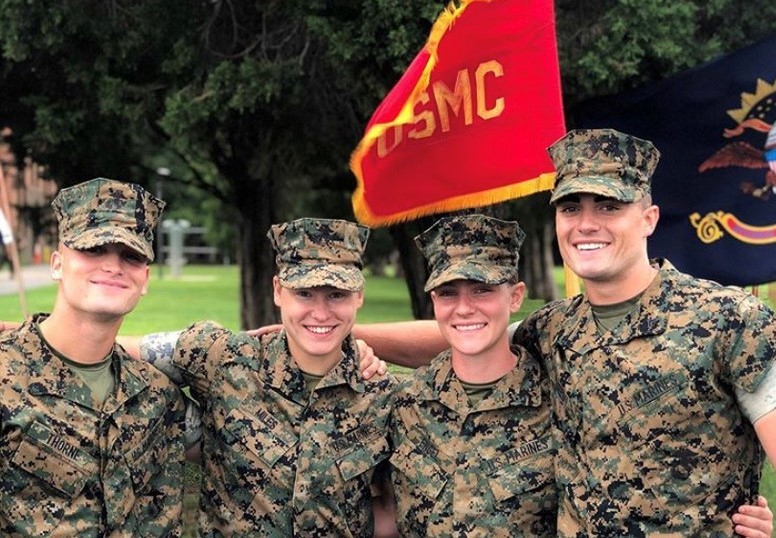 Meet Regina Amber Miles, Aiken, South Carolina, '21
Photo above: Cadets in order of appearance are Thorne, Miles, Engel and Reen. This picture was taken right after they graduated from Marine Officer Candidate School.
Who or what inspired you to attend The Citadel?
I read Pat Conroy's Lords of Discipline and In the Company of Men, by Nancy Mace, and that was what initially intrigued me. I also knew people who went here. But, the real selling point was when I attended a pre-knob overnight and just had this overwhelming feeling that this is where I belonged.
What was the most difficult obstacle you conquered that made you feel you earned the honor of wearing the ring?
I'd say just having the endurance to uphold your commitment to this school, no matter what personal hardships you're going through, is reason enough to wear the ring. It can be very tempting to give into an easier alternative, especially after knob year, but this institution was not made to be easy or to become easier; that in itself is the whole point of The Citadel.
No one can better themselves by being complacent. There should never be a point in anyone's life where they can say they "have made it." One should always seek self-improvement whether they are a private or a general. That is the mindset The Citadel instills within us.
In what ways has this institution impacted your life?
This institution forces you to grow up in some ways, and I mean that in the best way possible. Self discipline and accountability are drilled into our heads from the start. If we fail, it is completely on us. We have to take responsibility for it, learn from it, and move on.
Why do you think it is important that cadets and/or people in general understand the symbolism and weight that the ring holds?
I don't think that people outside of the Citadel – other than the alumni, will ever truly understand the magnitude of what the ring means to us because they have not experienced what we have endured. The ring symbolizes four years of pure sacrifice, I hope they understand that, at least.
What is inscribed on the inside of your ring and what is the significance?
"No one can make you feel inferior without your consent." Eleanor Roosevelt. I live my life by this quote. Essentially, it just means your worth does not come from others nor should you let it be influenced by others.
What is a song that describes your emotions leading up to Ring Day?
"Humble Beginnings by Bazzi." The chorus reflects how I imagine I'll feel when I get my ring. We have been looking forward to this day for so long and it's going to feel surreal when we have finally earned it: "Can't believe that we made it, can't believe that we made it. We was broke, we was breakin'…now I'm here and I'm stayin'…"
"We wear the ring" is a repeated phrase amongst Alumni. What does it mean?
It's a really moving concept, honestly.
To "wear the ring" means that The Citadel is a unique and shared experience. The Ring also means that we have earned our right to be alumni in the Long Grey Line when we graduate. Historically speaking, every cadet does not undergo the exact same Citadel experience, but we are all connected in having been part of the Corps of Cadets. We will always have each other's backs because we have that mutual respect.
Miles is a part of the mascot cadet handing team. She is the senior dog handler and team captain. Miles will commission as an officer in the U.S. Marine Corps upon graduation. She was included in this local news story about the mascot handlers.