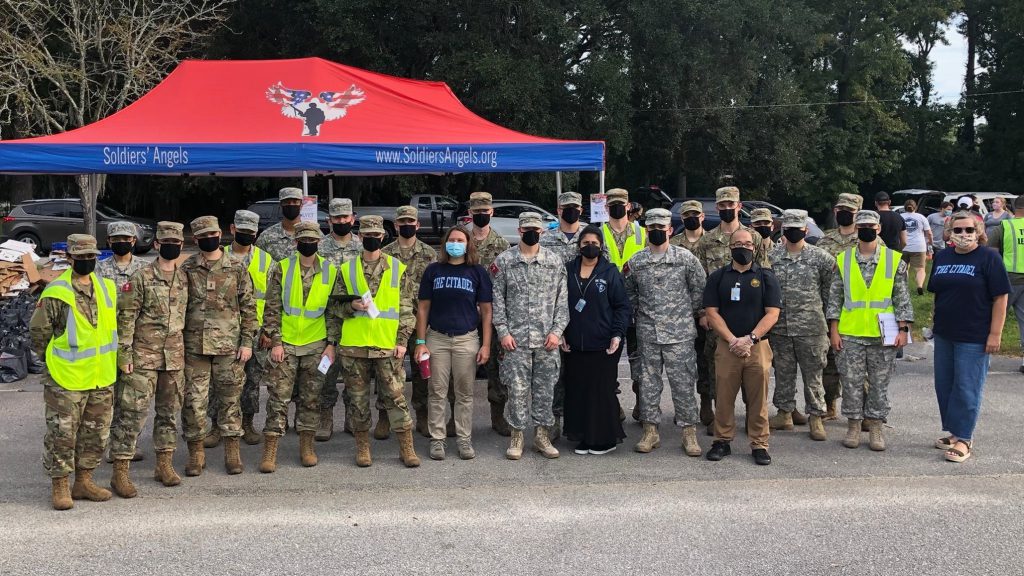 The Citadel community is always looking for opportunities to give back to those who have served and sacrificed for their country.
That's why The Citadel Health Careers Society, joined by others from the college, spent their Friday morning volunteering with Soldiers' Angels, supplying low-income veteran families with food assistance.
About 250 veterans were served, and each received about 70 pounds of food — including fresh fruit and vegetables, grains, frozen chicken, many varieties of frozen meals and canned goods, as well as drinks.
"We simply have the best at The Citadel, said Sarah Imam, M.D., faculty administrator for the society and a professor in the Department of Health and Human Performance. "Not only did this group of cadets and students volunteer, they did so wholeheartedly and with enthusiasm. They interacted with the veterans, addressed them with courtesy, asked them about their branch and thanked them for their service.
In total, 25 cadets, one veteran graduate student, and three members of the faculty and staff were on site to help those heroes who are in need.
"I had students from across the school from all majors — not just those that are pursuing a health career — who joined in with The Citadel Health Careers Society event today," continued Imam. "These students genuinely care about our community and our veterans."
The Citadel Health Careers Society is a student-led organization, for cadets and students — from any major — wanting to pursue any career within healthcare. The society helps members be more competitive applicants for postgraduate studies.
The volunteers from The Citadel worked at the Elks Lodge in Charleston from 8 a.m. – 12:30 p.m. on Friday, October 9.
Soldiers' Angles has a global network of volunteers — representing all 50 states and 12 countries abroad — who work tirelessly to ensure that those who serve or have served are supported, uplifted and remembered through a variety of support programs.