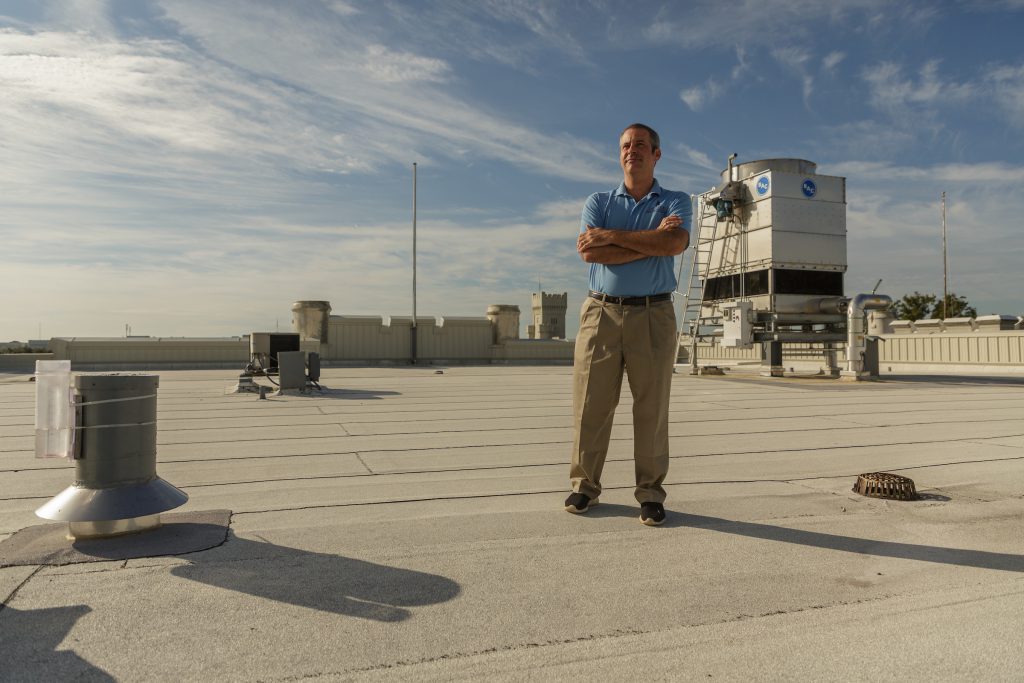 Lt. Col. James B. Near Jr., USAF, '77, Center for Climate Studies under development
Photo above: Dr. Scott Curtis, director for the new Center for Climate Studies, surveying atmospheric conditions from atop Grimsley Hall.
Climate variability, risks and the advancement of solutions will be the focus of a new, interdisciplinary center being established at The Citadel. The official name: the Lt. Col. James B. Near Jr., USAF '77 Center for Climate Studies.
Near, a member of The Citadel Class of 1977, career meteorologist for the Air Force and dedicated professor of Physics at the college, passed away in March of 2020.
"Lt. Col. Near knew the importance of climate science work firsthand. He demonstrated extraordinary generosity by providing the college, through The Citadel Foundation, a $1.865 million gift to initiate the Center. Ever humble and not wanting to receive any recognition for his donation, Jim specified that his gift remain anonymous until his passing," said Darin Zimmerman, Ph.D., dean for The Swain Family School of Science and Mathematics at The Citadel.
The mission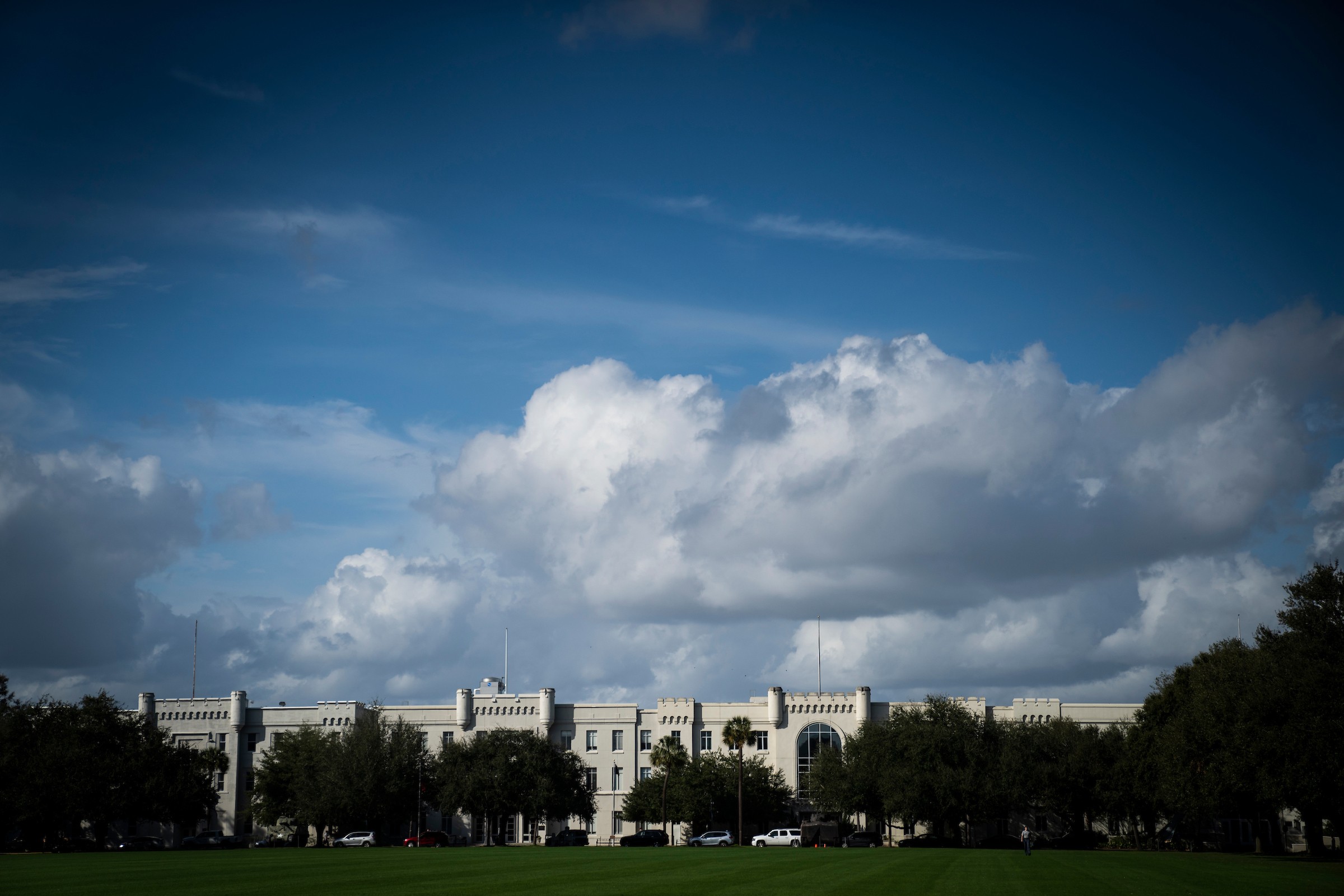 The Center's mission will be to promote climate science through education, research, outreach and the development of public-private partnerships, according to Scott Curtis, who holds a Ph.D. in Atmospheric and Oceanic Sciences. Curtis was recently named the Dr. John Lining Professor of Physics and director of the Lt. Col. James B. Near Jr., USAF '77 Center for Climate Studies.
"There is a critical need for expanded climate work of this nature in the Lowcountry, coastal areas and around the country as evidenced by flooding, increasing storm magnitude and climate driven wildfires," said Curtis, who will teach atmospheric and oceanic physics in addition to directing the Center. "Once activated, the Center will be unique in South Carolina higher education. There are several centers that focus on water, the environment and hazards, but none have climate as their central mission, like The Citadel's new Center will."
The Citadel is placing such importance on the Center that its establishment appears as Objective 6.3 within The Citadel's strategic plan, Our Mighty Citadel 2026: Advancing Our Legacy of Leadership.
In his first month as director, Curtis met with several climate stakeholders in the Lowcountry, including the Chief Resilience Officer for the City of Charleston, Mark Wilbert, and Mount Pleasant Mayor Will Haynie who graduated from The Citadel in 1983.
Curtis also recently released the 2nd annual Climatological Research Studies Grant (CRSG) competition. The CRSG will fund up to $60,000 in research projects related to climate science. In addition, Curtis is preparing a proposal for the Center to the South Carolina Commission on Higher Education, to be reviewed in early 2021.
The Center will:
Inform and promote the design of sustainable, scientifically sound, technologically feasible, economically efficient and ethically defensible climate risk management strategies.
Guide curriculum development in atmospheric and climate science.
Conduct place-based research with undergraduates.
"We hope the Center will be readily recognized as an entity that will not only serve campus, but our Lowcountry neighbors, the citizens of South Carolina and beyond," said Curtis.
Research activities
Planned research activities within the Center will include the relationship of climate and variability to:
National security

Climate effects are a critical issue facing the nation's military and citizenry into the foreseeable future. In the 2019 "Report on Effects of a Changing Climate to the Department of Defense," 79 mission assurance priority installations were experiencing some effect of climate or would realize vulnerabilities within the next 20 years.
Coastal environment and infrastructure
Recurrent flooding is also a priority issue for policy makers in the Lowcountry of South Carolina. According to the Charleston NWS, coastal flood events in Charleston occurred 89 times in 2019, which far exceeded any other year in the record dating back to 1980. Nuisance flooding is costly to coastal communities through loss of revenue and degradation of infrastructure. Severe heat waves are detrimental to tourism, rising sea surface temperatures affect fish populations and acute drought events can decrease freshwater supply and increase salinity levels, which affects agricultural productivity and ecosystem services.
Public health and welfare
The COVID-19 pandemic has underscored the necessity of science literacy. Like public health science, climate science is inherently global, involves many feedback loops and requires the critical analysis of data trends. Climate extremes also can be linked to health disparities. For example, The Post and Courier recently reported that in Charleston "flooding can cause transportation hardships that lead to lost workdays and health risk for those who have to slog through water teeming with E. coli and toxic chemicals." In addition, temperature and humidity extremes contribute to heat stress for field workers.
For these reasons, from 2020 to 2023 the Center will be a collaborator on an EPA grant: "Predicting Drinking Water Contamination from Extreme Weather to Reduce Early Life Contaminant Exposure."
For more information, contact The Citadel Department of Physics at (843) 953-5122.