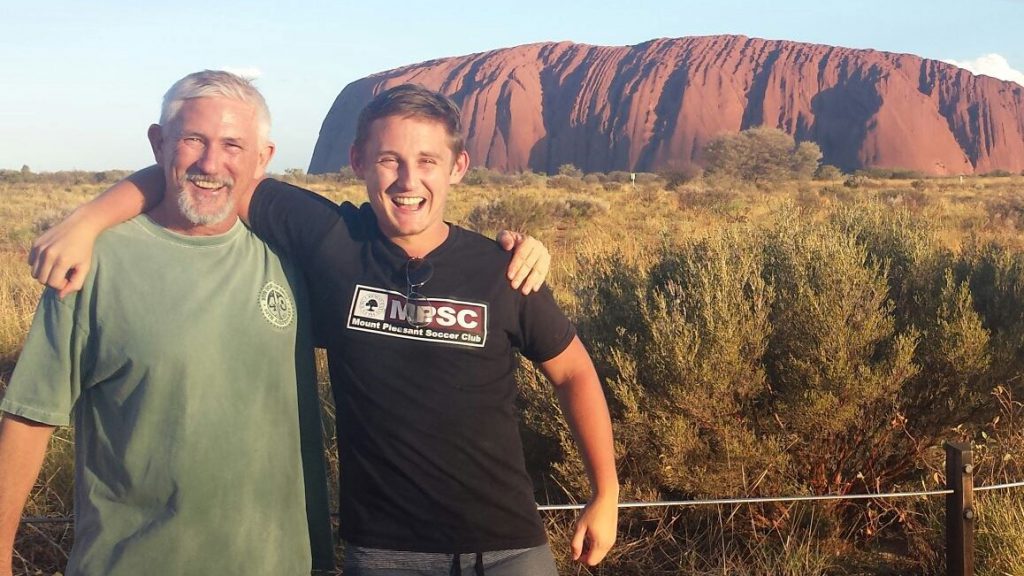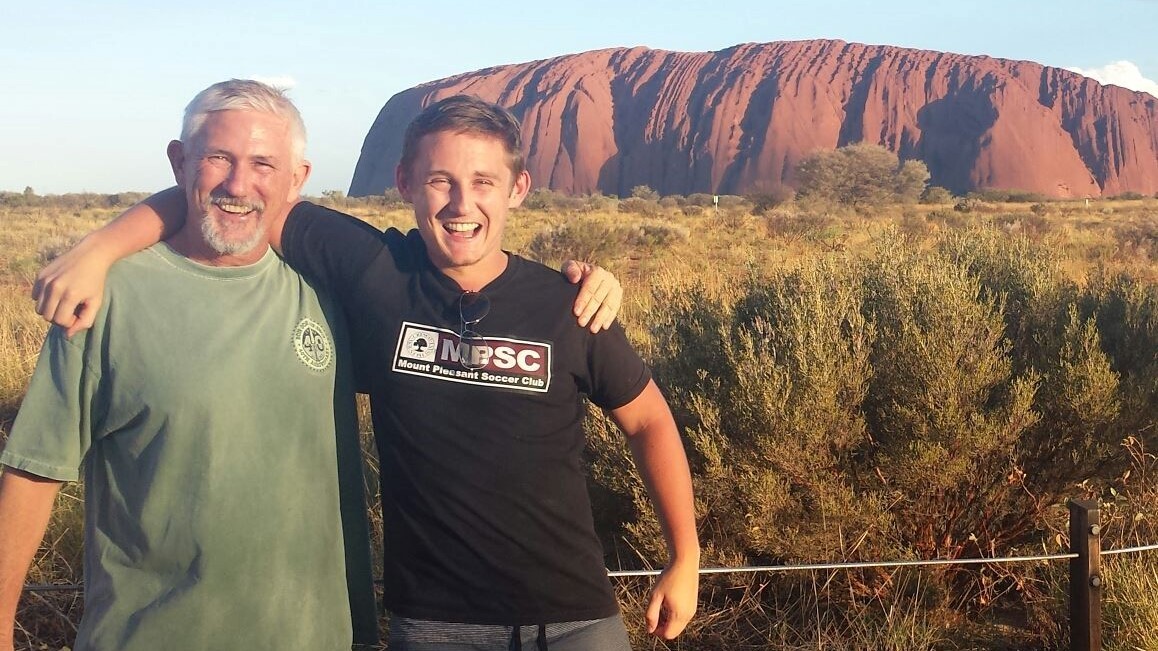 Photo: Lt. Col. James Near Jr. with son in the Australian Outback, near Ayers Rock. (Provided by the Near family.)
Lt. Col. James "Jim" Byron Near Jr., USAF (Ret.), a member of The Citadel Class of 1977, passed away on March 3, 2020 after an extended battle with cancer. His passing left a distinct void in The Citadel Physics Department. Jim graduated from The Citadel in 1977 with a B.S. in Physics and earned an M.S. degree in Atmospheric Science from North Carolina State University in 1983. He served 20 years in the United States Air Force as a meteorologist working on advanced projects and as a crew member of the Typhoon Chaser. Upon his retirement, he served as a real estate salesman and real estate company owner in the Charleston market, ending this career as the Operating Principal for Keller Williams Charleston.
In fall of 2014, Near returned to The Citadel Physics Department as an adjunct professor — however, he had volunteered his time for the entire year prior, refusing to be paid. (Joel Berlinghieri, Ph.D., finally convinced him that he could only continue working if he was paid as an adjunct.) To say that he made a positive difference in the department and in the delivery of courses to The Citadel cadets would be a major understatement of his impact. When he returned, The Citadel Physics Department was beginning to emphasize undergraduate research as part of its core mission. Near leveraged his experience in applied research and his expertise in microelectronics, to make an immediate and forceful impact on departmental culture. His innovative work with electronics students and in the Physics 101 class set a goal for each of our students to imagine applications for every topic addressed. He assumed leadership of the department's weather balloon project and guided two ambitious and successful projects about solar effects on cosmic rays in the stratosphere. He guided another student to complete a project for the state climatologist office which studied the influences of the frost/freeze period in South Carolina and was recently participating in an ongoing project to gather tidal and environmental data from multiple sites along the Ashley River.
Most recently, Near demonstrated extraordinary generosity by providing The Citadel Foundation (TCF) with a $2.5 million gift to initiate The Citadel Lowcountry Climate Center. Ever humble and not wanting to receive any recognition for his donation, he specified to TCF that his gift remain completely anonymous until his passing. Thus, without fanfare, he worked closely with the Swain Family School of Science and Mathematics dean, Darin Zimmerman, Ph.D., the Physics Department head, Joel Berlinghieri, Ph.D., and many others on the preliminary work to launch the Center. A portion of his gift established an endowed professorship in the department of physics, which will be renamed the Lt. Col. James B. Near Jr. Professorship in Physics, in his honor. The individual hired into this position will also serve as the inaugural director of The Citadel Lowcountry Climate Center.
Near's passion for inspiring students to understand and practice science as an active and vibrant endeavor has given every one of the students he touched the confidence to harness their creativity and acquire the skills to do high-quality research. Through his time, talent and treasure, he leaves an enviable legacy and will be remembered by the faculty, students and friends of The Citadel for many generations to come.
A memorial service for Near will be held on Monday, March 16 at 3 p.m. in Summerall Chapel, on The Citadel campus. For more information, or to express condolences, click here.