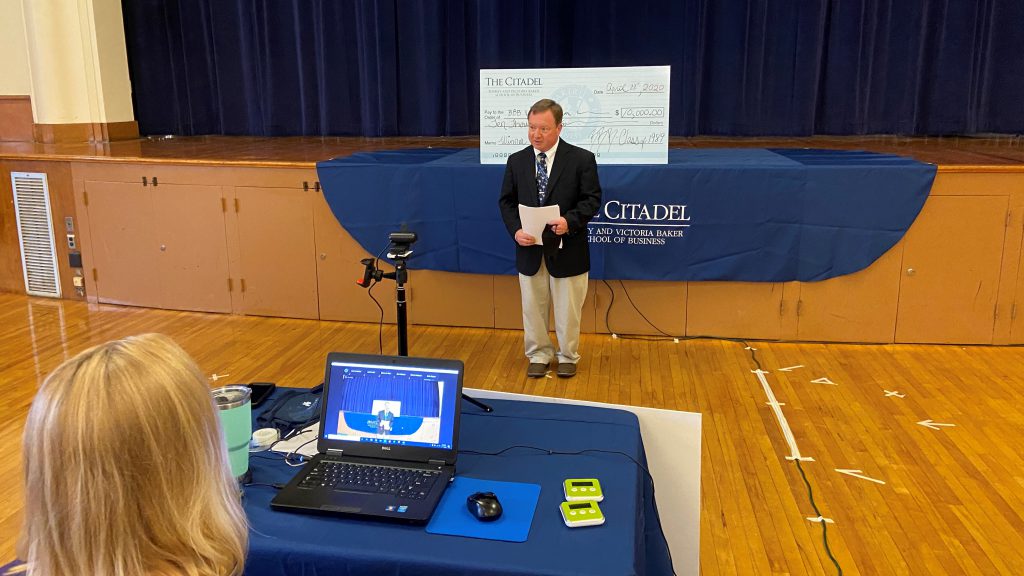 Photo: Shawn Swartwood, director of the Baker Business Bowl, introducing the teams on Zoom before the semifinals
The final round of the Business Baker Bowl VII will be held in April
Five groups of Citadel cadets and students will spend their winter furlough and the beginning of the spring semester working on a business idea that could turn into their future career — and also a hefty check.
In early November, 9 teams — from multiple and various majors — squared off to earn a spot in the final round of the Baker Business Bowl VII. The competition was broadcast on Zoom to allow for social distancing.
In the end, the judges chose five teams to compete in the finals.
The final business ideas include: designing and building an off-road BAJA vehicle, a 3D printing filament recycler that can also convert used bottles into filament, a one-handed Xbox controller, a solar-powered dehumidifier, and an app that allows you to schedule hair stylists to visit you at home (much like Uber Eats).
The first place prize is $10,000, meant to help them start their business; the second-place team will receive $5,000. The prize money is made possible by The Citadel Class of 1989.
Each team was given five minutes to present their business ideas to a panel of business experts. After the teams pitched their ideas, the judges were given ten minutes to ask questions.
The teams that will compete in the final round of the Baker Business Bowl are:
BAJA SAE
A single-seat, all-terrain sporting vehicle — designed and constructed by the team — which is capable of being produced on a mass scale.
Team members include:
Zachary Adkins
Stephen Channell
Dusty Jones
Jeff Kidner
Marshall McKee
Tyler Nathan
Joseph Pham
Mike Sanada
Giselle Shapiro
Kenneth Spurlock
John Stork
Sara Surrett
Clifford Swindel
Phil Wellons
Maxwell Whalen
Extrusionaire
A device that melts down 3D printed parts and scrap, and then reforms it back into filament to be reused by a 3D printer; also allows used water bottles to be melted down into filament.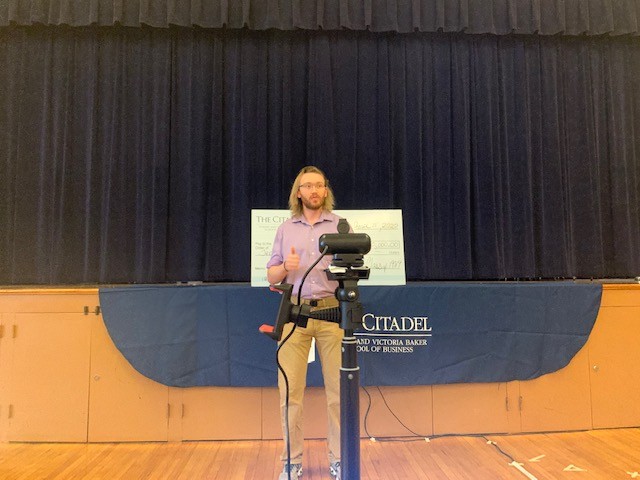 Team members include:
Luis Garcia
Mateo Gomez
Craig Niswender
Benjamin Perry
Tiernan Van Dyke
Helping Hands Gaming
A one-handed Xbox gaming controller, with designs for both left- and right-handed users, that retains full functional capabilities like buttons and joysticks; the controller will include a wrist strap and the option to use with foot pedals.
Team members include:
Jordan Cavender
Daniel Esteban
Jason Flowers
Fuller Prickett
Solar Suck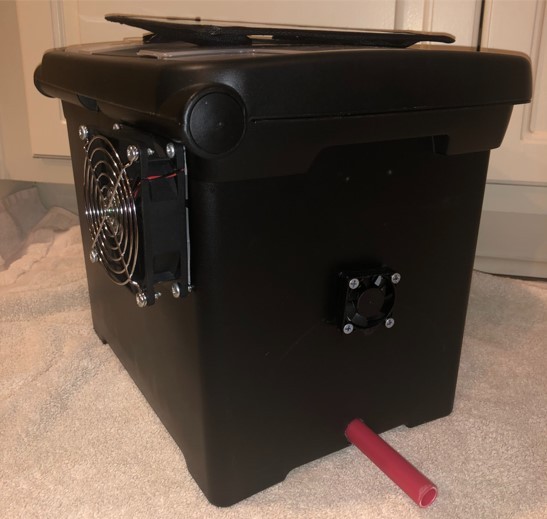 An effective dehumidifier that exclusively uses solar power to lower utility prices and promote clean energy; it can also be used in survival situations, such as in a lifeboat, in order to collect water from the air to drink.
Team members include:
Cade Bennett
Andrew Brabazon
Charles Marsh
Joshua Valencia
Jack Zappendorf
Zip Clips
An app for smart phones that takes the popular model of third party delivery and applies it to the hair industry; users can order or schedule a haircut, much like they can order food or rides through Uber or Lyft.
Team members include:
Thomas MacDonald
Thomas Kyte
The Baker Business Bowl is a program aimed at helping budding entrepreneurs who have an idea for a new product or service, and the desire to turn that idea into a business. The competition is open to cadets, evening undergraduate students and graduate students.
The date of the final round, sometime in April 2021, has not yet been determined; when available, the schedule can be found here.