Information and actions being taken related to COVID-19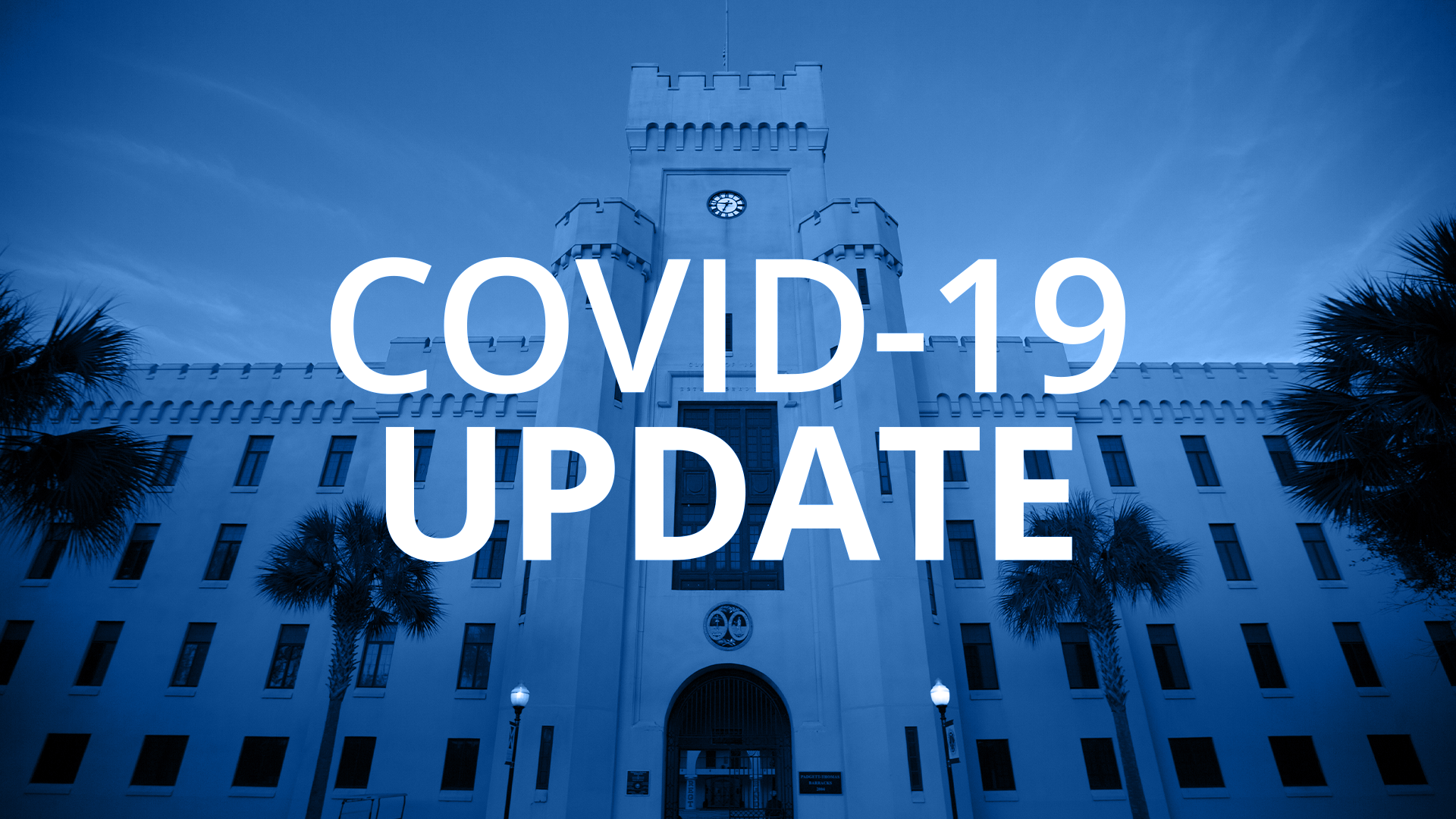 2021-22 Campus Status
| Active cases since July 20, 2021 | |
| --- | --- |
| Currently active | 4 |
| Number recovered | 225 |
| Total | 229 |
| Status | Active cases | Close contacts | Isolation and quarantine* |
| --- | --- | --- | --- |
| Cadet – campus | 1 | 1 | 2 |
| Cadet – home | 0 | 0 | 0 |
| Non-cadet student | 1 | 0 | 1 |
| Faculty and staff | 2 | 0 | 2 |
*Isolation and quarantine numbers include active and close contact cases
Current as of December 8, 4:10 p.m.
Approximately 94% of the South Carolina Corps of Cadets have either been fully vaccinated or have developed resistance after contracting and recovering from the virus.
Overall Guidance for Fall 2021
Face coverings
Effective Monday, Oct. 4, masks are optional on The Citadel campus.
The Citadel continues to encourage precautionary measures for everyone on campus. Those who are symptomatic should get tested. Cadets can visit the campus Infirmary to receive a test; testing is also offered to the entire campus community on Wednesdays, located on the second floor of McAlister Field House.
Vaccinations
The Citadel recommends everyone on campus get vaccinated, and asks anyone who has not already done so to report their vaccination status via an e-form here or through Banner here.
Policy for Testing and Quarantine
Current CDC Guidance recommends the following if exposed to COVID-19:
| | | |
| --- | --- | --- |
| Vaccination Status | Testing | Masking and Quarantine/Isolation |
| Fully vaccinated, asymptomatic | Test within 3-5 days of exposure. | Wear a mask indoors until receiving a negative test OR for 14 days after exposure. |
| Fully vaccinated, symptomatic | Test within 3-5 days of exposure and/or when symptoms appear. | Quarantine or isolate for 10 days after receiving a positive test OR after symptoms appear. |
| Unvaccinated | Test immediately and, if negative, test again 3-5 days after exposure or if symptoms develop. | If test returns positive, isolate for 10 days after receiving results; if test returns negative, quarantine for 10 days after exposure. |
Click here for further close contact guidance from DHEC.
Other contact scenarios and protocols for employees can be found here and here. Any member of The Citadel faculty or staff with individual questions should email hr@citadel.edu.