Information and actions being taken related to COVID-19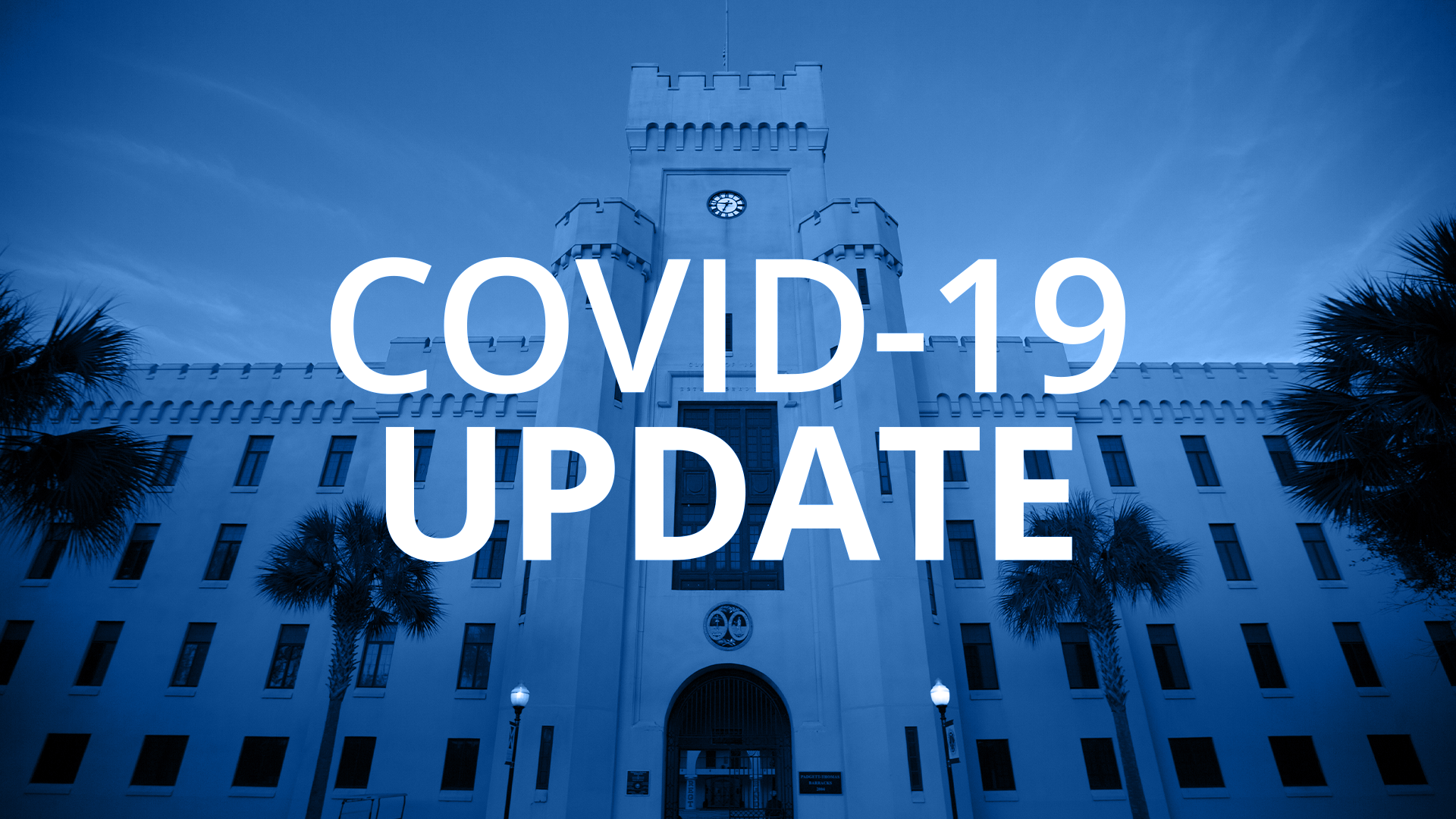 Campus Status
Per Gov. Henry McMaster, The Citadel will remain closed through the spring semester. Additional updates will be posted here.
General Information
The Citadel is actively monitoring the global outbreak of respiratory illness caused by coronavirus (termed "2019-nCoV") that was first detected in Wuhan City, Hubei Province, China.
According to the Centers for Disease Control and Prevention (CDC), human coronaviruses are common throughout the world and usually cause mild to moderate illness in people.
This new virus, 2019-nCoV , is a public health concern because:
It is newly identified and so little is known about it.
Two other human coronaviruses, MERS-CoV and SARS-CoV, have caused severe illness in the past.
What is the risk?
The CDC considers this new virus a public health concern based on current information. However, the immediate health risk to the general U.S. public is considered low at this time. The CDC and the World Health Organization are closely monitoring the situation and providing ongoing guidance.
What specifically is The Citadel doing to protect members of the campus community?
All study abroad students and parents with questions or concerns should call the college's study abroad 24-hour cell phone at (843) 469-7817. Emails can be sent to the program director, Dr. Zane Segle.
There are no confirmed cases of coronavirus at The Citadel. Information will be provided to the campus community, as needed, through emailed communications that will be posted on The Citadel Today newsroom.
College officials are working closely with the South Carolina Department of Health and Environmental Control (DHEC) and tracking guidance from the CDC and the World Health Organization to stay informed about changes in the outbreak that might impact our community.
Throughout the year, The Citadel has cadets and students studying abroad through our Global Scholars and other program. Due to the dynamic nature of this public health situation, the college is directly contacted the students studying abroad and their parents as needed, per each academic experience location. For example, students in Italy will be back in the U.S., returning to their hometowns and parents' homes, as Italy was rated Alert Level 3 by the CDC.
The other countries where students are currently studying are under Watch Level 1 ( practice usual precautions) which applies to almost all countries including the U.S. Should that change, those students and their parents would be notified. The CDC identifies three levels of travel advisories: Warning Level 3 (avoid nonessential travel); Alert Level 2 (practice enhanced precautions—those with chronic medical conditions and older adults should consider postponing travel); and Watch Level 1 (practice usual precautions).
The college does not currently have any students studying in China.
What are the symptoms?
The respiratory illness caused by this virus is being called COVID-19. Symptoms can include fever, cough and shortness of breath.
How is it transmitted, how severe is COVID-19 and what is the treatment?
According to the CDC, person-to-person spread is occurring, although it's unclear exactly how it is transmitted and how easily the virus spreads between people.
Both MERS-CoV and SARS-CoV have been known to cause severe illness in people. The complete clinical picture with regard to COVID-19 is not fully understood. Reported illnesses have ranged from mild to severe, including illness resulting in death.
People infected with 2019-nCoV should receive supportive care to help relieve symptoms. Currently, there is no specific antiviral treatment recommended. Global efforts at this time are focused concurrently on containing spread of this virus and mitigating the impact of this virus.
What preventative measures can be taken?
The CDC always recommends everyday preventive actions to help prevent the spread of respiratory diseases, including:
Wash hands often with soap and water for at least 20 seconds. Use an alcohol-based hand sanitizer if soap and water are not available.
Clean and disinfect frequently touched objects and surfaces using a regular household cleaning spray or wipe.
Cover your mouth and nose with a tissue or your sleeve (not your hands) when coughing or sneezing.
Seek medical help if experiencing any symptoms.
What should I do if I have respiratory symptoms?
Cadets on campus with any health concerns should always to go the infirmary for assistance. Any other students, faculty or staff should consult their physicans.
Anyone who has traveled to an impacted region in China, or who has had close contact with someone who traveled to an affected region, in China and who has any respiratory symptoms should seek medical treatment right away.
Helpful Links
Watch a CBC Canadian public broadcast service video communicating the basic facts about cornonavirus below.