Information and actions being taken related to COVID-19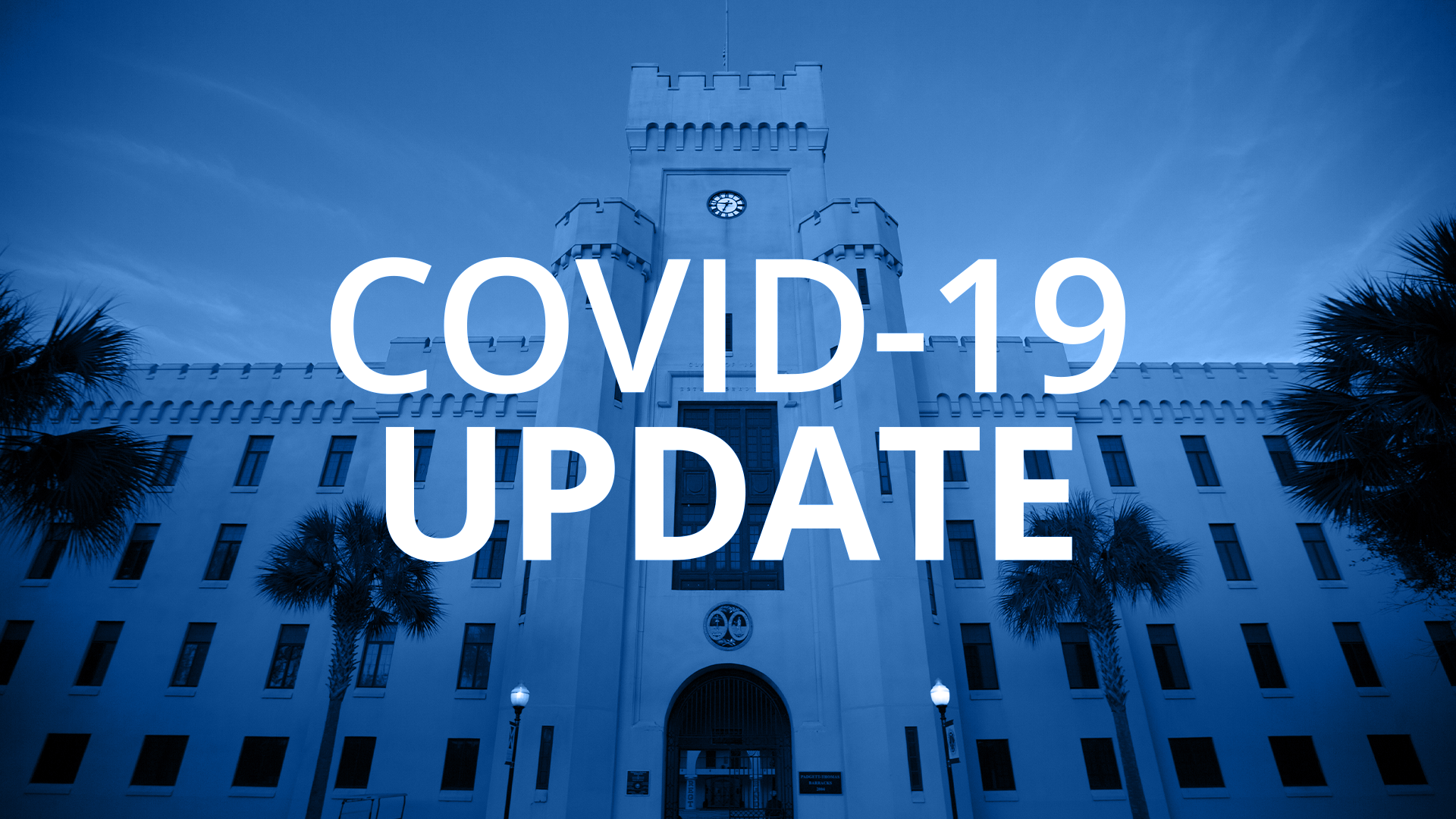 Campus Status
| Active cases since March 15, 2020 | |
| --- | --- |
| Currently active | 0 |
| Number recovered | 483 |
| Total | 483 |
| Status | Active | Q and I* |
| --- | --- | --- |
| Cadet – campus | 0 | 0 |
| Cadet – home | 0 | 0 |
| Non-cadet student | 0 | 0 |
| Faculty and staff | 0 | 0 |
*Quarantine and isolation (Q and I) numbers include active and close contact cases
Current as of June 1
(Throughout the summer, these numbers will be updated only as changes are reported.)
Campus Operations (updated May 18)
A message from The Citadel President Gen. Glenn Walters, USMC (Ret.):
Recent guidance changes from the CDC and South Carolina DHEC allow us new flexibility in mask use based on individual vaccine status. As always, we encourage everyone to get a COVID-19 vaccine as soon as possible. The Citadel will sponsor additional vaccine clinics as required in the future, and you may locate options in the community via the SC DHEC vaccine finder here.
Our new mask policy is as follows:
Anyone wishing to wear a mask, regardless of vaccine status, is welcome to continue doing so.
Vaccinated individuals are no longer required to wear a mask, indoors or outside.
Non-vaccinated individuals have the option to wear or not wear a mask outside.
Non-vaccinated individuals must continue wearing a mask inside while around others.
As the situation in the nation, our community, and campus changes over the coming weeks and months, we can expect both guidance and Citadel policy to change reflecting this evolution.
I thank you again for your continued diligence and flexibility in facing this pandemic. Our success is attributable to the efforts of our cadets, students, faculty, staff and friends.
(Note: Faculty and staff are asked to contact their supervisor if they have any questions about the new policy.)
Additional guidance
An expert sanitation company, the Budd Group, is disinfecting facilities daily, or more frequently for the highest traffic areas.
Updates on pandemic-driven adjustments can be seen on the right of this page, posted by date. The COVID-19 Case Tracker on this page will be updated daily, as needed, Monday – Friday, unless campus is closed for a holiday or furlough period.
Successful operations during COVID-19 require the cooperation of everyone on campus. Everyone has a duty to protect themselves and others from the virus.
Read the Commandant's special guidance for cadets here.
Have a question?
Frequently asked questions (FAQ) can be found at this link. The FAQ section is updated as needed.
Members of The Citadel community who would like to submit a question about campus operations or updates related to COVID-19 are encouraged to use the form at this link. Someone will get back to you as soon as possible.