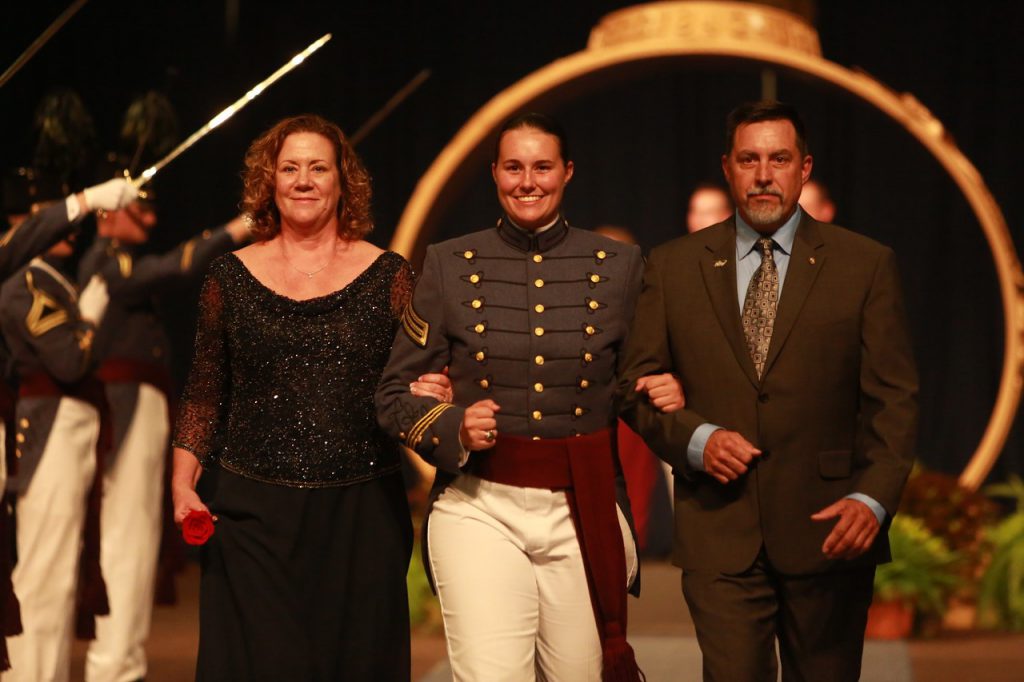 Photo above: Cadet Julianna DeSalle with parents, Janet and John, during her Ring Ceremony, 2019
Every March is designated Women's History Month by Presidential proclamation. Institutions and organizations around America, including The Citadel, participate in and encourage the study, observance and celebration of the vital role of women in American history and in society today.
Some of the ways the college has celebrated in the past included featuring alumnae stories, reviewing newsworthy contributions by Citadel women, by studying principled leaders and by hosting distinguished guests.
In March 2020, the college would like to introduce you to more outstanding cadets and students.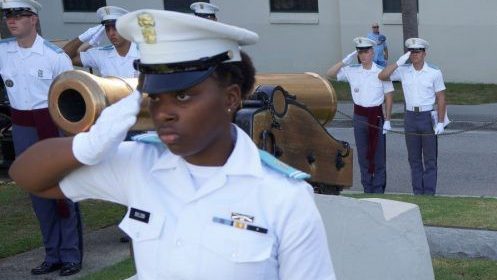 Cadet Ruby Bolden, Regimental Public Affairs NCO
Cadet Ruby Bolden serves as the Regimental Public Affairs non-commissioned officer who assists with VIP campus tours, media relations and communications at The Citadel. Bolden will rise to the position of Regimental Public Affair Officer for the 2020-21 academic year.
Bolden is an Exercise Science major from Grovetown, Georgia. She is a three year Army contract cadet who anticipates graduating in May 2021 and accepting a commission into the Army.
Q. Why did you select The Citadel?
A. It began when my mom's boss gave me a brochure about this institution. I saw the uniforms and thought that it would be a great experience for me. From there, I watched videos online and the more I watched, the more I wanted to attend.
Read Bolden's full article here.
Meet Cadet Julianna DeSalle, electrical engineer standout; future mining industry leader
Cadet Julianna DeSalle is an Electrical Engineering major from Navarre, Florida. The head of her department recommended her as one of the standout future leaders in her field.
Q. Why did you select The Citadel?
A. I selected The Citadel because of the discipline and high standards required of a cadet. Both of my parents were active duty Air Force service people and are now retired so I grew up being held to a high standard.
Q. What compelled you to become an electrical engineer?
A. I chose to study engineering because I have always been good with math and science and I also really enjoy being hands on with the work that I do. I chose Electrical Engineering because the discipline is so diverse I can do whatever I want to do while having a firm educational background.
Read DeSalle's full article here.
Meet Cadet Hannah Jalbert, Company Commander, Oscar
Cadet Hannah Jalbert attends The Citadel as an Army scholarship student. She is majoring in Intelligence and Security Studies, one of the most in-demand programs on campus. She also serves the South Carolina Corps of Cadets at the commander of Oscar company.
Jalbert is originally from North Haven, Connecticut. Her parents now live in Murrells Inlet, South Carolina.
Jalbert graduates in May as a member of The Citadel Class of 2020. She will accept a commission to become an officer in the Army upon graduating.
Q. Why did you select The Citadel?
A. It was a sunny day in August when I first visited The Citadel. I stepped on the campus and fell in love. The rest was history. Within the month I told my parents I was going to attend The Citadel and pursue an Army contract.

Q. What is your major and what led you to select that area of study?
A. My major is Intelligence and Security Studies with a focus in Chinese Area Studies. I chose this major due to the career I planned to pursue in the Army, with the desire to work as a military intelligence officer. I have also been speaking Chinese for eight years so it was my two passions within one major – perfect!
Q. What do you love most about attending The Citadel?
A. I love The Citadel with all of my heart. I love seeing boys become men and girls become women. This place changed my life and am forever grateful.
Read Jalbert's full article here.
Meet Cadet Lilly Layden, working to increase the number of women in military cyber operations
Cadet Lilly Layden is a junior, Dean's List student from King of Prussia, Pennsylvania. She is with her family there studying remotely during the campus closure forced by the COVID-19 pandemic.
Layden is a contract cadet with the U.S. Air Force ROTC and is working on a double major: Cyber Security and German. She anticipates graduating in 2021 and accepting a commission as an officer in the Air Force at that time.
Q. Why did you select The Citadel?
A. I decided to attend The Citadel set myself up for success with a planned career in the military. I hope to follow in my father's footsteps as a member of the U.S. Armed Forces serving our country.
I have always been technologically driven and women are severely underrepresented in STEM roles. Only 2% of the world can code and only about 20% of that 2% are women. I am need in the realm of cyber security operations and I knew The Citadel could help get me there.
Q. What do you love most about attending The Citadel?
A. I love the structure of cadet life here. It makes me put my best foot forward and makes me take on so much more than I could have ever imagined I could. It keeps me focused, connected, and well rounded. I have a bright future because of it. I also love the bonds I make with people. I've made my best friends and made the best memories with people I love here. We can be so close knit.
Read Layden's full article here.