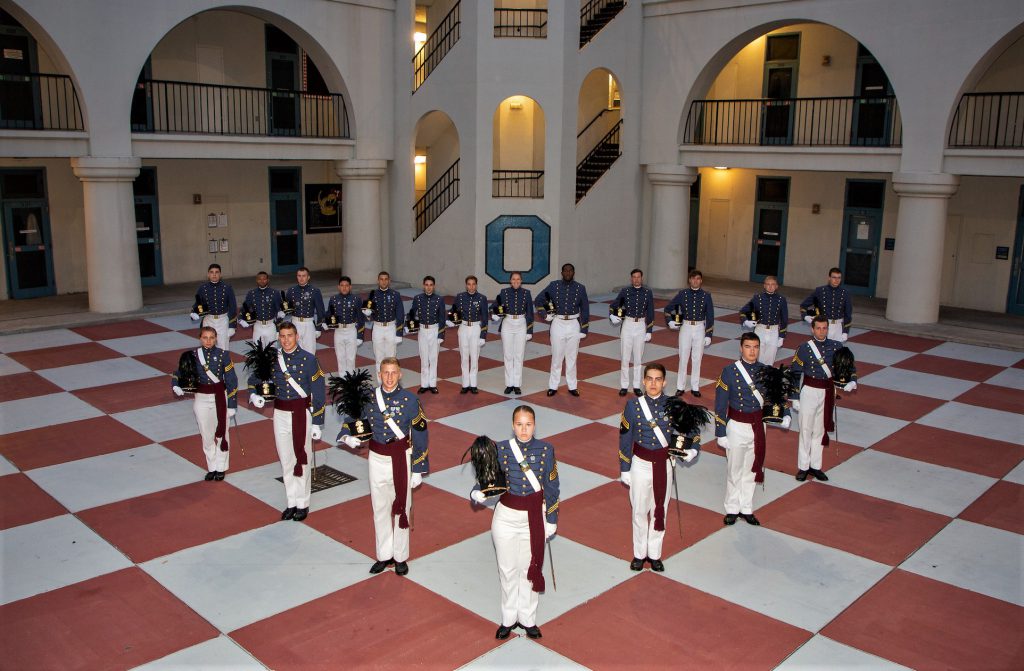 Photo above: Oscar Company Class of 2020 seniors led by Hannah Jalbert, Company Commander
Cadet Hannah Jalbert attends The Citadel as an Army scholarship student. She is majoring in Intelligence and Security Studies, one of the most in-demand programs on campus. She also serves the South Carolina Corps of Cadets as the commander of Oscar company.
Jalbert is originally from North Haven, Connecticut. Her parents now live in Murrells Inlet, South Carolina.
Jalbert graduates in May as a member of The Citadel Class of 2020. She will accept a commission to become an officer in the Army upon graduating.
Q. Why did you select The Citadel?
A. It was a sunny day in August when I first visited The Citadel. I stepped on the campus and fell in love. The rest was history. Within the month I told my parents I was going to attend The Citadel and pursue an Army contract.

Q. What is your major and what led you to select that area of study?
A. My major is Intelligence and Security Studies with a focus in Chinese Area Studies. I chose this major due to the career I planned to pursue in the Army, with the desire to work as a military intelligence officer. I have also been speaking Chinese for eight years so it was my two passions within one major – perfect!
Q. What do you love most about attending The Citadel?
A. I love The Citadel with all of my heart. I love seeing boys become men and girls become women. This place changed my life and am forever grateful.
Q. What women inspire you the most at this point in your life?
A. There are two women in my life that inspire me. The first is my grandmother Donna Rae Planeta. She is the wisest, sassiest, smartest and strongest woman I know. She inspires me everyday. My second inspiration is my mentor Heather Walker. She was an officer in the Navy and is now a Vice President at a company called Booz Allen. She is fierce, confident and is a strong female role model. I feel blessed to have been paired with her, due to being a Company Commander this year.
Q. What is it like being a woman in the Corps?
A. It is challenging being a woman in the Corp of Cadets. I have held two big leadership roles, to include both 1stSG and Company Commander. I have personally faced every challenge head on and take each day as it comes. Like my grandmother always told me, "people are not always going to like you, but hey if they aren' t talking about you then you must be irrelevant."
Whether male or female, everyone faces challenges at The Citadel, but it is how you face those challenges and tackle them that matters. Embrace every obstacle, and every adversity that is faced. This results in you becoming a stronger person and more specifically a stronger woman. I think the biggest difficulty females face is from other females at The Citadel. Instead of supporting one another, a lot of the time it seems like a competition. Personally, I have become stronger and more confident in my own skin and in embracing the good and bad moments for the value that comes from them.
Q. What is your top recommendation for young people considering your major?
A. My top recommendation is never stop asking questions or asking for help. Intelligence is the future and is a wonderful career field to pursue. It has opened so many doors for me and I have been able to make some pretty remarkable connections. Take advantage of every opportunity that is presented.
Q. What is your #1 recommendation for young women considering The Citadel?
A. Be BOLD, Be HONEST, Be FIERCE, Be CONFIDENT, Be YOU.
The sky is the limit. Take on every opportunity, embrace every moment and cherish those around you. Don't forget to stop and smell the roses sometimes and acknowledge Charleston's beauty. And lastly, don't change for anyone. This place should not change, but enhance who you are and obviously if you were not already a self motivated individual, you wouldn't have chosen The Citadel. Every hurdle can be knocked down, no task hasn't already been completed and truly no one is braver than you!