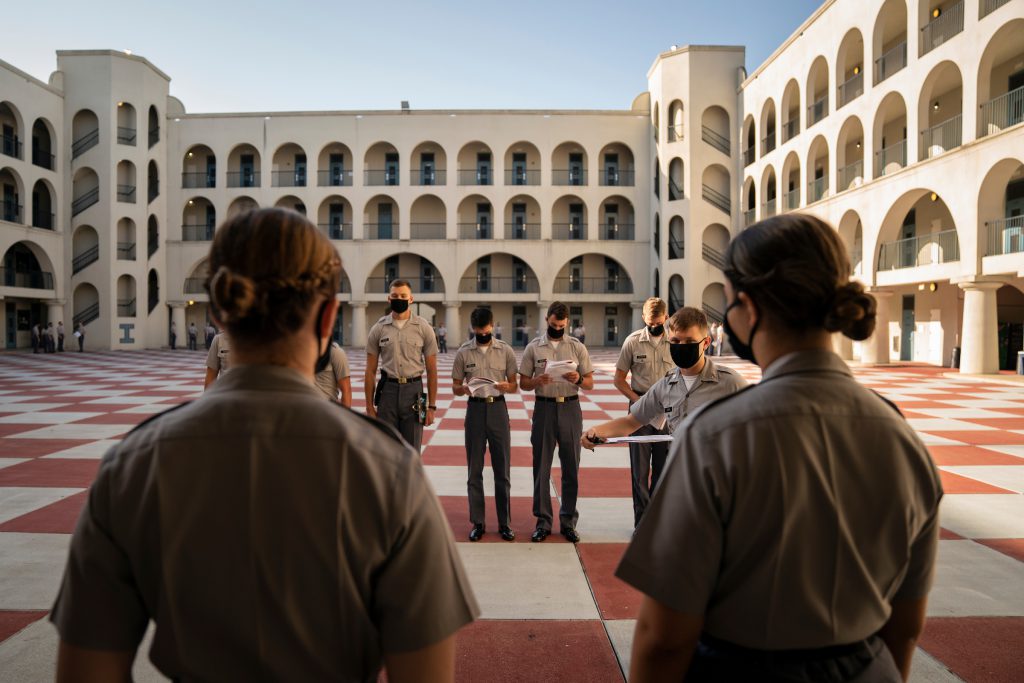 Two health care organizations helping lead campus testing and tracing
The Citadel continues moving forward, with the Corps of Cadets in its fifth full week of the fall semester on campus. Cadets and students are wearing masks, social distancing, and continuing studies through a hybrid structure of in-person and remote classes. It's not a normal Citadel experience, there are four football games, rather than a full roster, for example, but it is the best, most effective and safest experience the college can provide at this time.
"It's a little slower, we don't get to leave much, and we are cleaning our rooms more. But, our friends are here, we can keep learning, we seniors will soon get our rings, and we are together. The Long Grey Line is unbroken and that's a very good thing," said Cadet Ruby Bolden, regimental public affairs officer for the Class of 2021.
With Operation Fall Return concluded, the campus community is focused on successfully completing the remaining weeks on campus before the Thanksgiving furlough departure, Nov. 24. Cadets and students will leave campus at that point, finishing their finals after the holiday remotely and not returning to until the spring semester begins in January, as conditions permit.
Occupational medicine services by Roper St. Francis Healthcare; rapid testing by Palmetto Primary Care Physicians
As on-campus learning continues and the Budd Group's expert sanitation persists, two health care organizations are engaged to detect and track COVID-19 cases are mobilizing their functions.
"Caring for our campus community is always our top priority, but it is a duty that is now especially complex due to the pandemic," said Gen. Glenn Walters, USMC (Ret.), president of The Citadel. "Our infirmary can provide quality care for our cadets, but COVID-19 project management extended beyond what we could do ourselves. That's why we established partnerships with Roper St. Francis Healthcare and Palmetto Primary Care Physicians. This will ensure that on campus testing is expedited efficiently, with professionally delivered results and case management."
Charleston-based Roper St. Francis Healthcare (RSFH) will provide occupational medicine services for The Citadel as the pandemic continues. RSFH has a 160-year history of serving patients in the Lowcountry. The system has four hospitals and more than 100 facilities and doctor's' offices in the tri-county area.
RSFH is providing Polymerase Chain Reaction (PCR) nose swab tests, lab processing of tests, case management and contact tracing related to any cadet, student, or employee testing positive for COVID-19, or those on campus in close contact with someone who tests positive. Two RSFH registered nurses are assigned to this fulltime program, operating from off campus.
Palmetto Primary Care Physicians (PPCP) is providing clinical laboratory services for the campus population, including rapid molecular test kits, random population testing, and telehealth assessments. The group has placed two Abbott COVID-19 Analyzer machines at the campus infirmary and trained the existing infirmary staff to operate the machines that process rapid tests, garnering results within 15 minutes. In addition, PPCP remains on call should an expanded effort with additional machines and personnel be required such as for an athletic team prior to a competition.
Improved dashboard for COVID-19 cases and easy- access information
Updates related about operational information are provided on The Citadel's COVID-19 resources web page here. An expanded COVID-19 dashboard on this page now includes the following information provided to the college by RSFH, which reflects the numbers from this day, Sept. 14, 2020.
| Active cases since March 15, 2020 | |
| --- | --- |
| Currently active | 10 |
| Number recovered | 103 |
| Total | 113 |
| Status | Active | Quarantine/Isolation |
| --- | --- | --- |
| Cadet – campus | 2 | 8 |
| Cadet – home | 8 | 46 |
| Non-cadet students | 0 | 1 |
| Faculty and staff | 0 | 1 |
Current as of September 14, 3:25 p.m.
Additionally on that page there is an e-form to send in a question, a regularly updated list of frequently asked questions, and an ongoing log of all COVID-19 related updates and stories. (The Operation Fall Return page has been retired and archived.)
Protocols for cadets and students testing positive for COVID-19
The protocols for each campus population is as follows:
Cadets
RSFH contacts COVID positive cadet by phone and verifies information
RSHF explains reason for call and gathers contact history
RSFH determine exposure risk category of individuals based on risk classification
RSFH sends exposure notice to Citadel COVID team

List individuals, degree of exposure & quarantine recommendations

Cadets who test positive are immediately isolated. Their roommate is also then quarantined.
Cadets who live within a one-day drive have the option of isolating/quarantining at home or on campus.
Cadets with hometowns farther than a one-day drive will be cared for in isolation/quarantine on campus with medical professionals and staff caring for them.
Non-cadet students, faculty and staff
RSFH contacts individual by phone and verifies information
RSFH explains reason for call and determines whether they are asymptomatic or well
RSFH notifies non-cadet of positive result and sends positive results email to contact and Citadel COVID team
RSFH initiates contact tracing
RSFH determines exposure risk category of individuals based on risk classification
RSFH sends exposure notice to Citadel COVID team

List individuals, degree of exposure & quarantine recommendations
Case management by RSFH for positive cases:
RSFH RNs reach out to individual who tested positive at least once weekly to perform case management
Contacts individual at or near day 4 of illness, verify they are progressing and refer to medical follow up guidelines if patient is worse or not improving.

Reinforce out of work/school for at least 10-days after symptom onset. Plan next call.

Continues to monitor until clearance is expected, if clearance is expected within two days, discuss planned clearance date.
RSFH sends email with planned discharge date to individual and Citadel COVID team