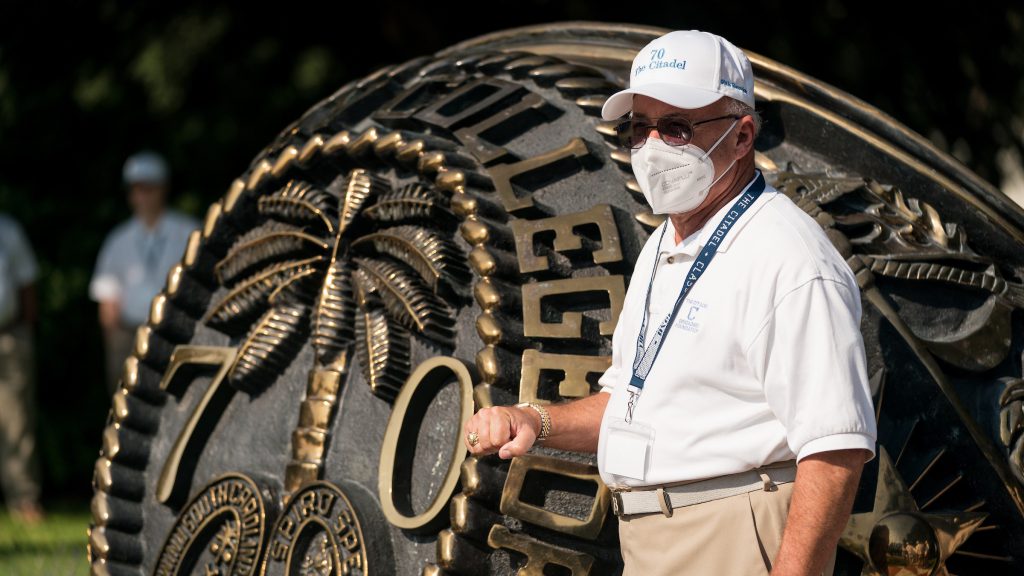 Recognizing the reunions that would have happened in 2020
The alumni who waited an extra year to reunite with their former classmates don't have to wait anymore.
Though it came a year later than planned, The Citadel and The Citadel Alumni Association held Homecoming 2020 on Sept. 10-12, 2021.
The postponed Homecoming recognized the milestone reunions for classes ending in '0 and '5 and, especially, members of the Class of 1970 who celebrated their 50th reunion.
Despite the delay and some modifications required by the pandemic, many activities looked like they have in years past.
Saturday, Sept. 11 began with the barracks on campus open to visitors, as well as the traditional performance by The Citadel's Regimental Pipe Band.
Later in the morning, cadets marched in the Homecoming dress parade in honor of the Class of 1970. That parade also included a Jeep review by The Citadel President Gen. Glenn Walters, USMC (Ret.), '77; Regimental Commander Cadet Col. Kathryn Christmas; and 2020 President of The Citadel Alumni Association Col. Ed White Jr., USAF (Ret.), '66.
There were also multiple events on campus to honor the 20th anniversary of the 9/11 attacks, including a memorial display — hosted by the School of Humanities and Social Sciences (SHSS) with support from the Fine Arts Program — of a fragment of steel from the World Trade Center.
The SHSS received the fragment in 2013; it was displayed in the lobby of Capers Hall until it was relocated for the building's demolition. A new, permanent location will be established when the new Capers Hall is complete.
Saturday afternoon, The Citadel football team competed with Charleston Southern University. That game also included multiple tributes to those lost on 9/11 as well as military members and first responders.
Homecoming 2021 — honoring classes ending in '1 and '6 — is scheduled for Nov. 12-14. More information can be found here.