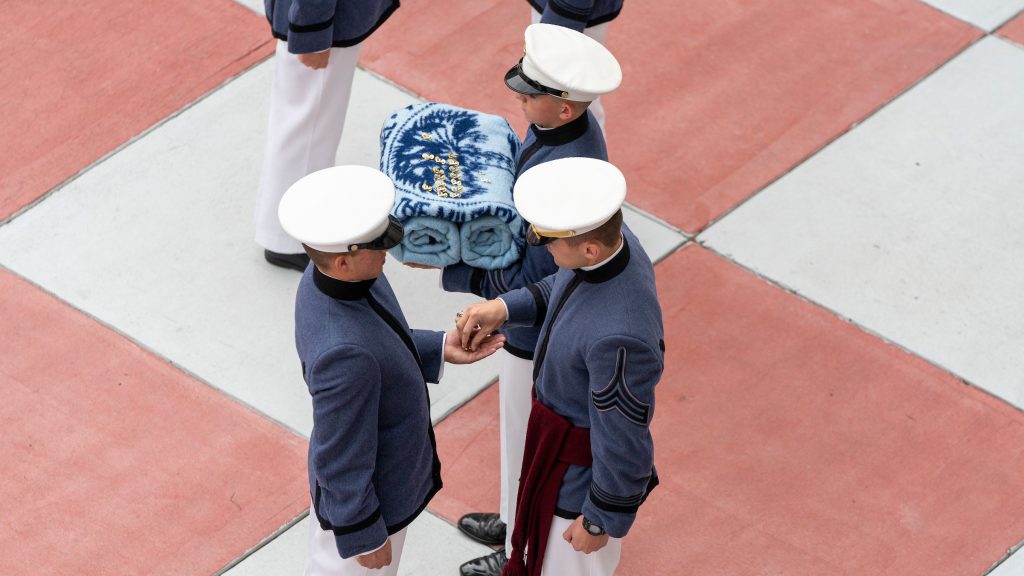 Relatives and friends will be welcomed to the college campus during The Citadel's annual Parents' Weekend Friday, Oct. 1 – Sunday, Oct. 3.
Highlights of the weekend include a Ring Presentation Ceremony for The Citadel Class of 2022, the promotion of fourth-class cadets from recruits to privates and a Saturday dress parade. There will also be a diverse range of religious services on Sunday, Oct. 14.
Another main event of the weekend will be when The Citadel welcomes Virginia Military Institute to Johnson Hagood Staduim for the Military Classic of the South. The fight for the Silver Shako begins at 2 p.m. on Saturday, Oct. 2.
Though they are currently required in many locations on campus, masks will be optional for those attending the Ring Presentation, the Ring Ceremony and the Blessing of the Rings Sunday service.
Due to construction related to the Capers Hall replacement project, parking on campus is extremely limited. Carpooling or travelling to campus via taxi, Uber, Lyft or other service is highly recommended. Additionally, construction may affect access to campus through Hagood Ave. and Elmwood St.; visitors should plan accordingly.
Parents' Weekend 2021 schedule
Friday, Oct. 1
| | | |
| --- | --- | --- |
| 10:30 a.m. | Gen. Walters speaks during The Citadel Family Association annual meeting | Buyer Auditorium in Mark Clark Hall |
| 2:45 p.m. | Seniors march to Summerall Chapel for the Ring Presentation | Summerall Field |
| 3 p.m. | Class of 2022 Ring Presentation Ceremony – open only to cadets | Summerall Chapel |
| 5 p.m. | Ring Reception | Deas Hall |
| 6 p.m. | Ring Ceremony, including the Ring walk-through and a Junior Sword Arch performance | McAlister Fieldhouse |
Saturday, Oct. 2
8:30 –
10:30 a.m.
All barracks open
(2nd Battalion Band rooms open to parents at 8 a.m.)
Pipe Band performs in barracks
8:45 a.m.
Kelly Cup Finals
Padgett-Thomas barracks quad
10:10 a.m.
Freshmen Promotion ceremonies
All barracks
11 a.m.
Dress parade
Summerall Field
1 p.m.
Formation and march to Johnson Hagood Stadium
Across campus
2 p.m.
Bulldogs vs. VMI
Johnson Hagood Stadium
Sunday, Oct. 3
| | | |
| --- | --- | --- |
| 8 a.m. | Catholic Mass | Summerall Chapel |
| 10 a.m. | General Protestant worship with a Blessing of the Rings service | Summerall Chapel |
| After service | Reception | Buyer Auditorium in Mark Clark Hall |
The first Parents' Day at The Citadel was held in 1934. Today it is one of the college's four major weekends.