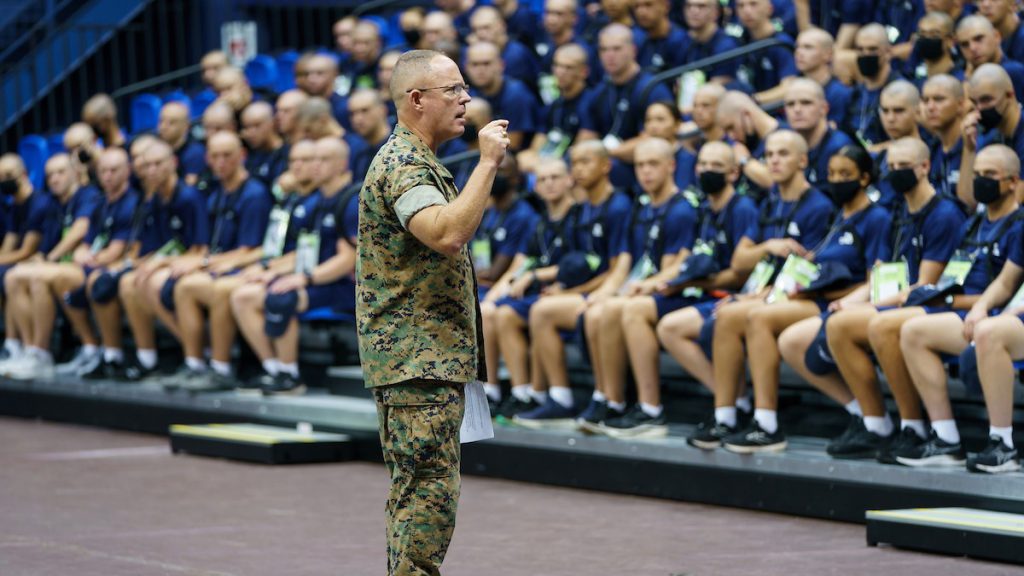 Reconstitution Jan. 9 for South Carolina Corps of Cadets
Photo above: Knobs listen to an address from The Citadel Commandant of Cadets, Col. Thomas J. Gordon, USMC (Ret.), '91, in McAlister Field House during Challenge Week at The Citadel on August 16, 2021.
Cadets,
I hope you had a great holiday. We are excited to have you back.
As you know most of the country is experiencing a significant surge in COVID infections. Therefore, we encourage you to get tested for COVID-19 before returning to campus on 9 January. If you are positive, please stay home and send the results to your TAC. The infirmary will then put you on quarantine orders in accordance with the new CDC guidelines.
We have arranged for additional COVID testing to be available on campus on 10 January. Furthermore, vaccine and booster shots will also be available on campus 20 Jan.
Please note, when the CDC published their new quarantine guidelines they also changed the rules for close contacts. If it has been greater than two months since a Johnson & Johnson vaccine, or six months since the second shot of a Pfizer or Moderna vaccine, you will be required to quarantine for five days if you have been in close contact with an infected person. Therefore, to keep you and the community well, we encourage all to get vaccinated and to get boosted.
Stay well and see you Sunday.
Very Respectfully,
Col Tom Gordon, USMC (Ret) '91, The Citadel Commandant of Cadets