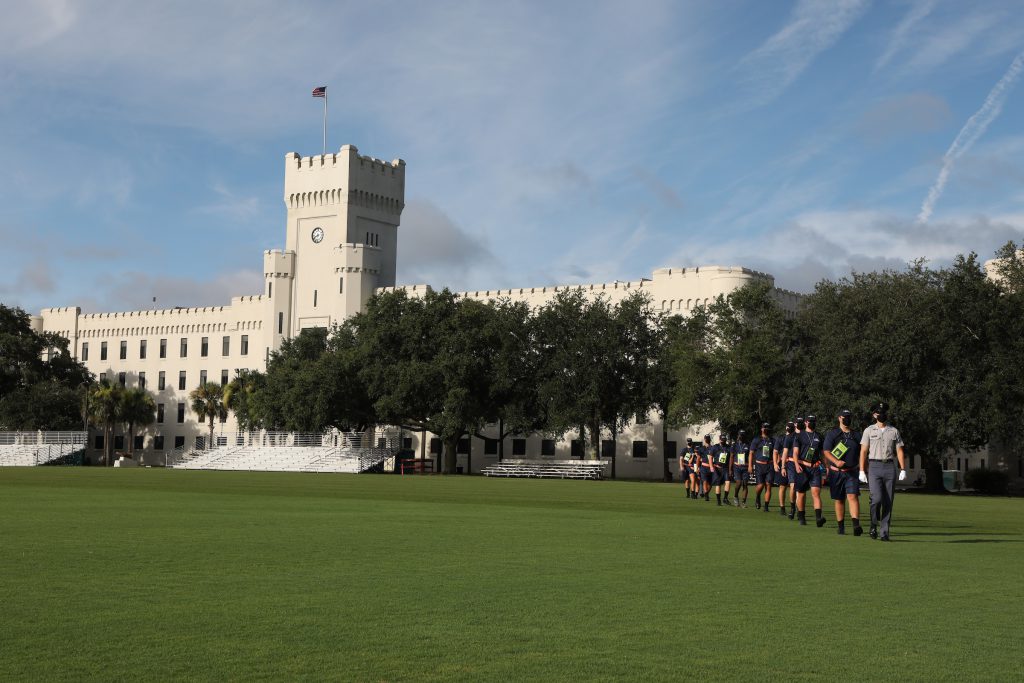 8 ways The Citadel's facilities are being sanitized for Operation Fall Return 2020
Having cadets and students back, and campus back in action, means optimizing cleaning and disinfection services with the goal of killing COVID-19 germs and keeping all facilities as healthy as possible.
"We care deeply about the health of our campus community which is why we are taking a multi-layered and generously resourced approach that provides ongoing, carefully mapped out cleaning and disinfection," said Cdr. Jeff Lamberson, USN (Ret.), vice president for The Citadel Facilities and Engineering Department. "For example, certified teams are disinfecting classrooms every evening after classes end."

The Citadel has hired The Budd Group, with almost 60 years of experience in disinfection services, to implement and oversee the ongoing campus sanitation operation.
Keeping clean, step by step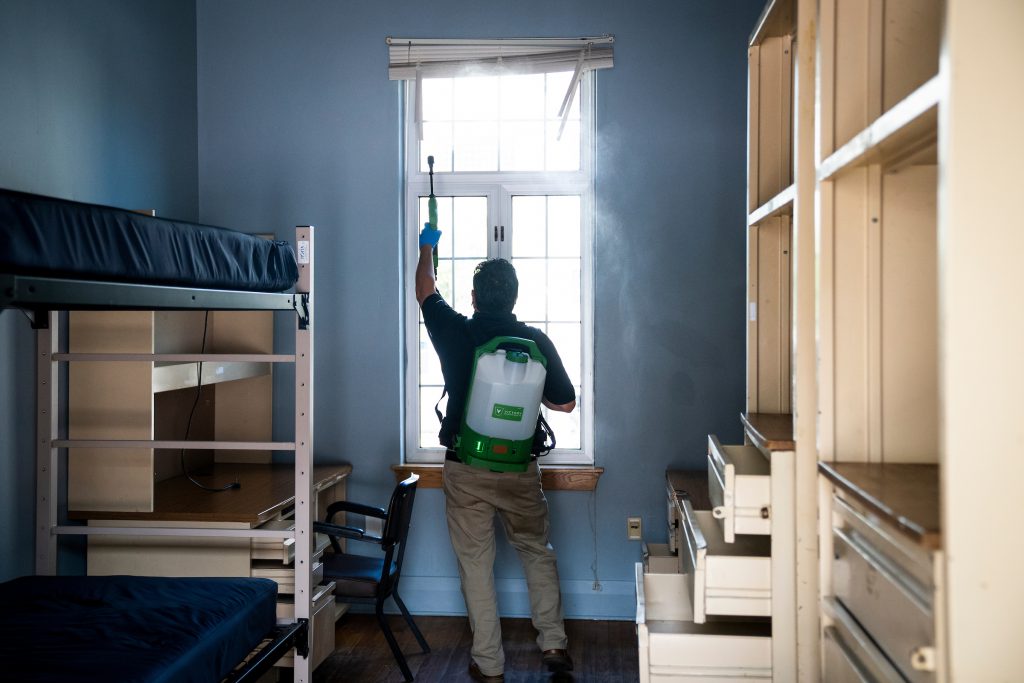 1. Cadet rooms and barracks
All barracks and cadet rooms are thoroughly disinfected and sanitized using professional processes prior to move-in. Each barracks restroom will be equipped with hand-soap, hand sanitizer, touchless faucets and hand driers. Barracks restrooms will continue to be disinfected and sanitized daily.
2. Classrooms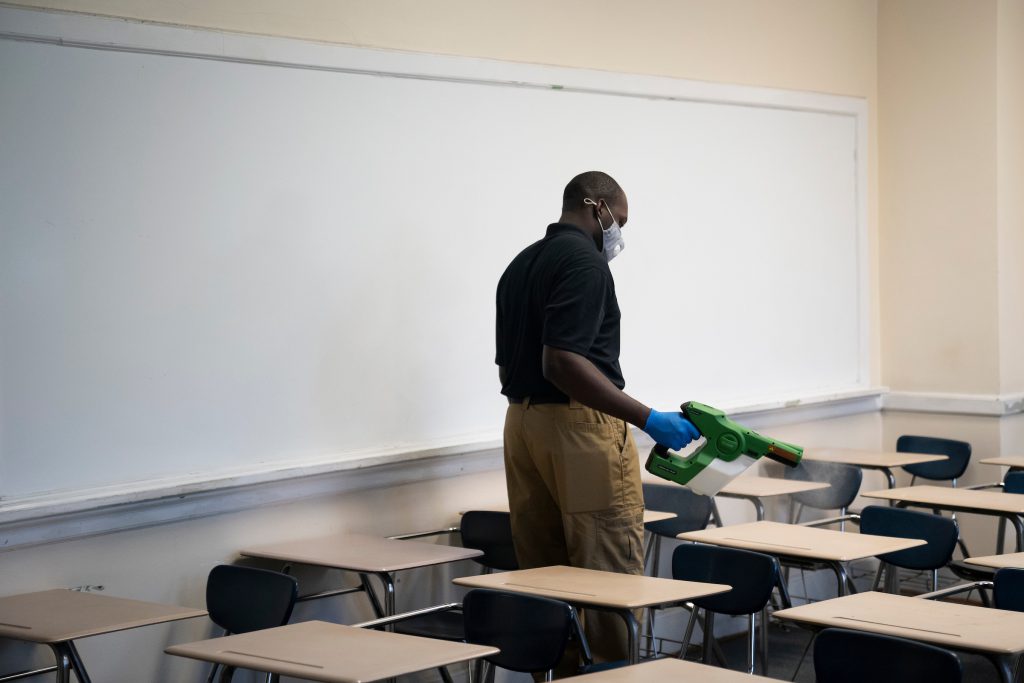 Nightly, disinfecting teams will deploy into each classroom. These teams are using safe disinfectants on high touch-point areas, including desks and chairs. Additionally, classrooms are equipped with disinfectant wipes and hand sanitizer.
3. Look for the backpacks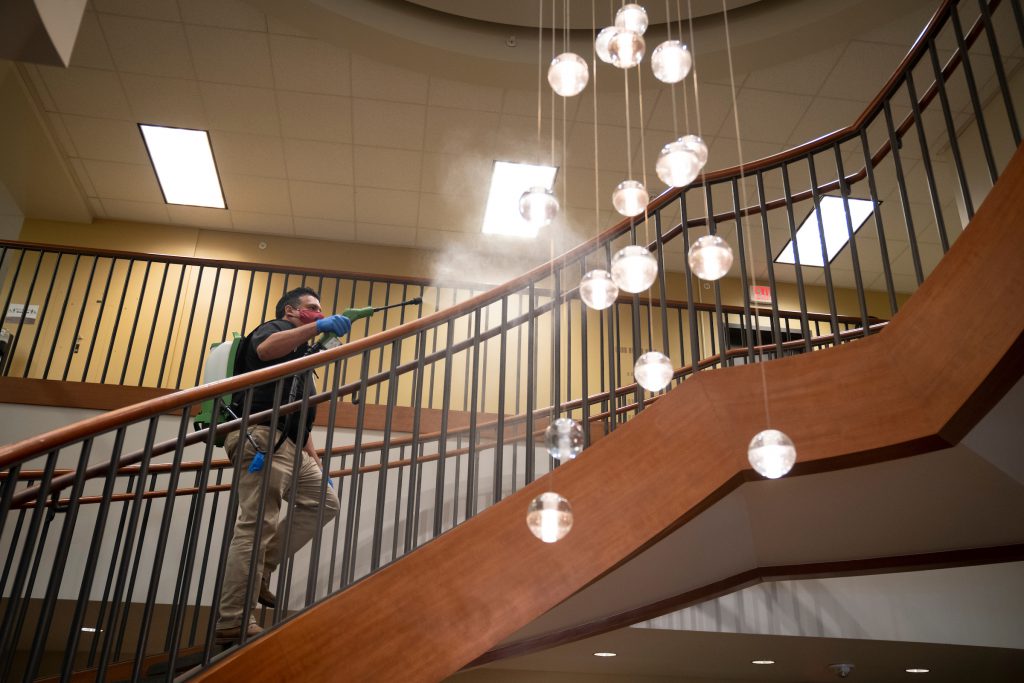 Electrostatic disinfection teams are deployed across campus in high traffic areas. You'll see them wearing backpacks with sprayers that send a deep cleaning, environmentally safe, mist into the air and across surfaces, penetrating hard to reach areas as well. After four minutes, the surfaces are fully disinfected. How does it work?

Electrostatic spray uses a specialized solution that is combined with air and atomized by an electrode inside the sprayer. Subsequently, the spray contains positively charged particles that are able to aggressively adhere to surfaces and objects. Because the particles in the spray are positively charged, they cling to and coat any surface they're aimed at, enabling the sanitizing agent in the spray to then disinfect.
4. Proctors are following in your footsteps
Enhanced custodial services include disinfectant proctors assigned to busy locations such as the library, the mess hall and large shared spaces.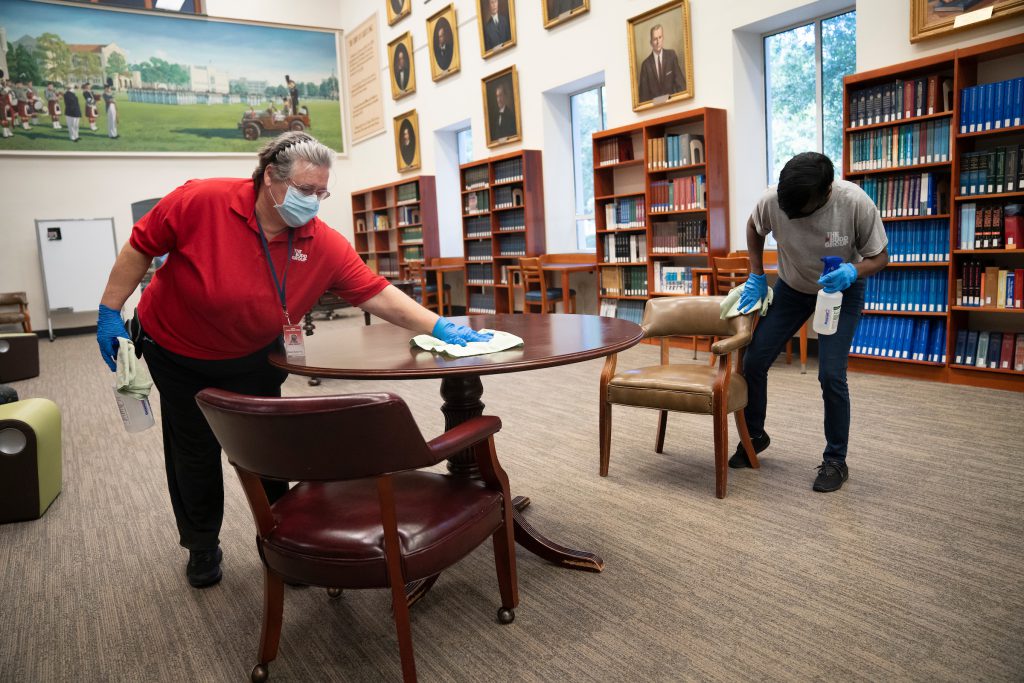 "These proctors are responsible for disinfecting and sanitizing specific touch-points, such as cafeteria surfaces, water fountains, stairwells and handrails, door handles and push rails, trash cans, bathroom surfaces, and light switches," Lambert explained. "They'll also be attending to frequent gathering areas, such as conference rooms, break rooms, shared work spaces, media rooms, and waiting areas."
5. Atomizers for use by all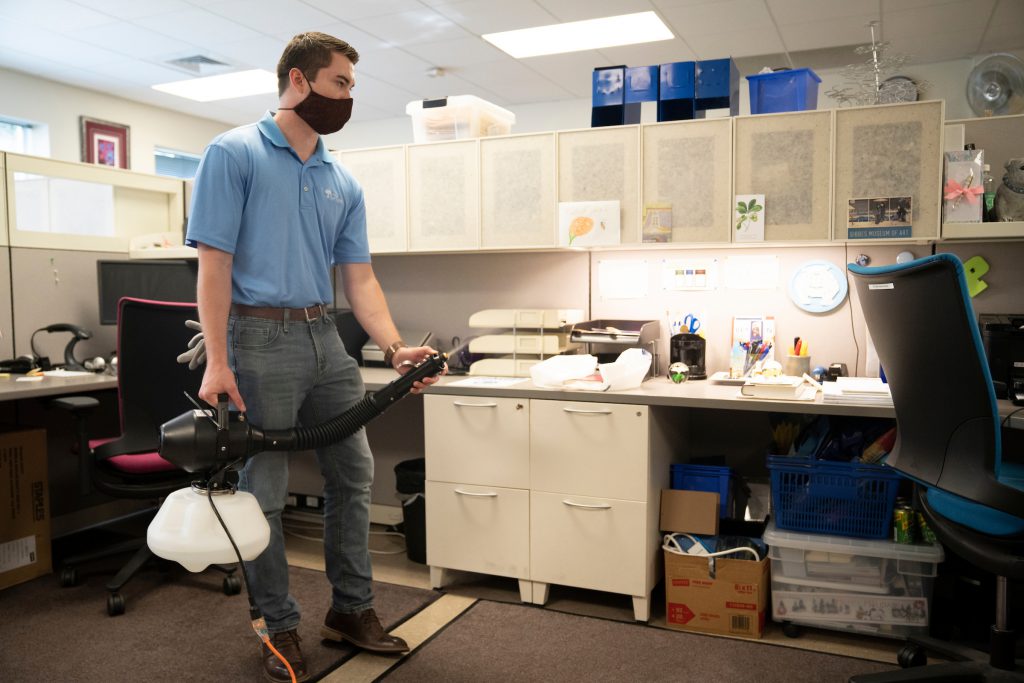 Feel like an area you are about to use needs a little extra attention? Disinfection atomizers are located in spaces across campus filled with a botanically-based solution that kills COVID-19 germs. The atomizers can safely be used by anyone wanting to sanitize an area before or after using it.
6. Sanitation stations
Self-help sanitation stations are located around campus in buildings and offices. These include large dispensers of disinfectant wipes and also hand-sanitizer.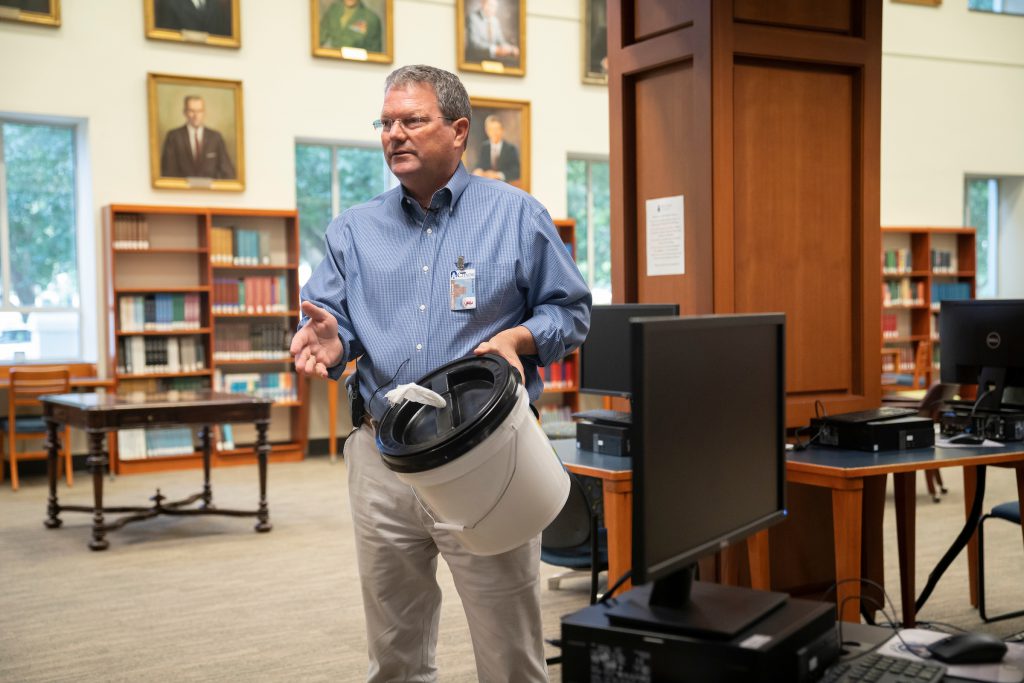 7. Special service areas
Special service areas, such as the Treasurer's Office, have protective plastic shields in place between staff and customers to block germ transmission and are regularly sanitized.
8. Offices
Faculty and staff offices were disinfected prior to reopening campus and are sanitized on a regular basis.
Lamberson says he wants The Citadel family to know that "we will continue to use our resources to ensure that our campus is a clean and a safe place to learn, lead, and achieve."