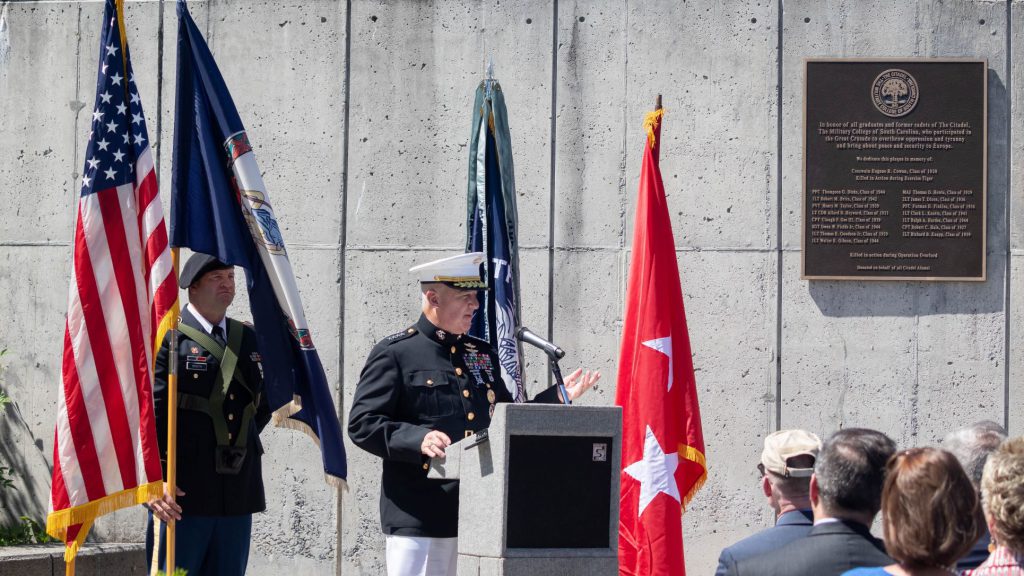 On June 6, 1944, thousands of soldiers were killed or wounded during D-Day, one of the most pivotal and well-known events of World War II.
Among those are 16 Citadel alumni who gave their lives to ensure the success of Operation Overlord, the codename for the Allied invasion of Normandy and liberation of France.
Now, the names of those alumni are forever included in the National D-Day Memorial in Bedford, Virginia.
On Saturday, June 4, members of The Citadel leadership participated in the dedication ceremony for the new plaque, honoring those graduates and former cadets of The Citadel.
Additionally, multiple alumni attended and gave remarks, including those who helped to make the event possible. Julia Godek — the granddaughter of Maj. Thomas Dry Howie, '29, one of the alumni included on the plaque — was also at the ceremony.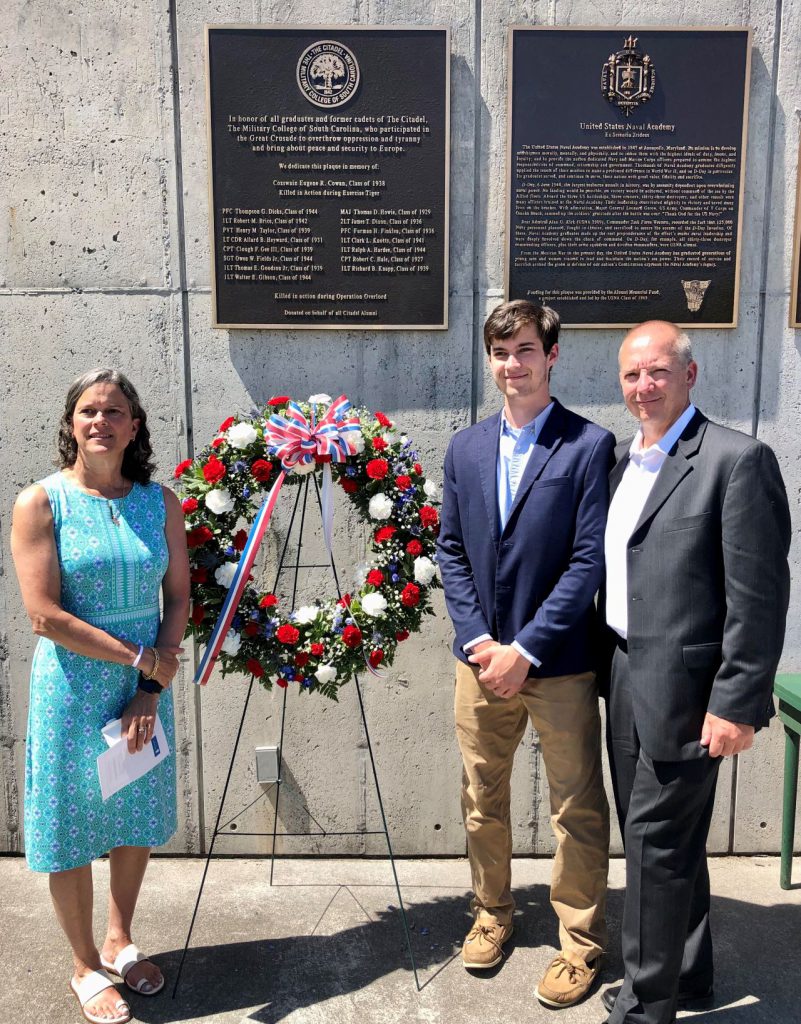 "As the Military College of South Carolina, our commitment to those who have served and died for their nation is fundamental," said The Citadel President Gen. Glenn Walters, USMC (Ret.), '79. "These 16 men, including some from The Class that Never Was, fought and died in defense of freedom – not just for the United States, but for the world. These members of The Citadel's Long Gray Line belong here, where we remember all those brave heroes who gave their lives on the beaches of Normandy."
To read more about some of those who died during D-Day and Operation Overlord, click here.
The effort to have the plaque installed in the memorial began about two years ago, when Maj. Jeremy Flake, U.S. Army, '08, realized The Citadel was not represented.
Flake, also a member of The Citadel Alumni Association Board of Directors, began to work with the D-Day Memorial Foundation to fix that.
"My motivation to get this project completed was to ensure The Citadel was represented at this national memorial," said Flake. "I felt it was my duty to ensure that a plaque was created and placed at the memorial to honor those men who paid the ultimate sacrifice during Operation Overlord, and also to be a place for fellow alumni, family and visitors to pay tribute to them."
Once approval by the CAA, The Citadel Club of Greater Washington, DC, helped support the fundraising efforts for the plaque.
Walters served as the keynote speaker for the ceremony. Other members of The Citadel delegation included Provost Sally Selden, Ph.D., SPHR; Vice Chair of The Citadel Board of Visitors Peter McCoy; and next year's Regimental Commander Cadet Benjamin Johnson.