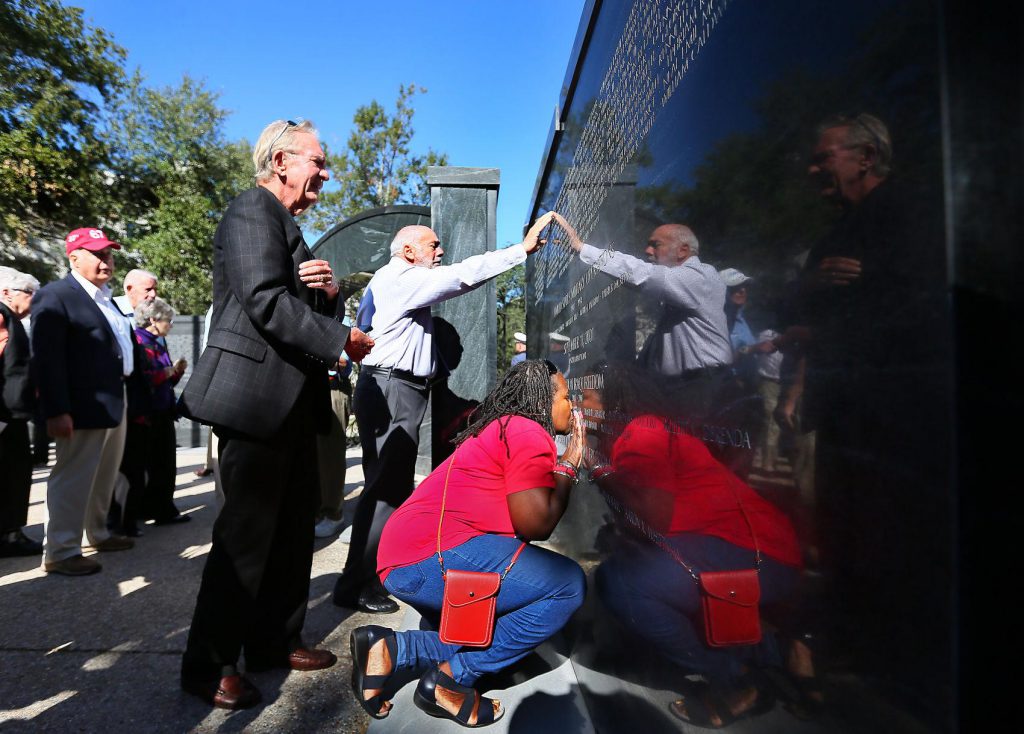 The names of 281 Citadel alumni are engraved in the marble of The Citadel War Memorial, honored for their sacrifices after being killed in action during WWII.
Of those men, two were killed 75 years ago today during D-Day and the Battle of Normandy.
Thompson Gallety Dicks, The Citadel Class of 1944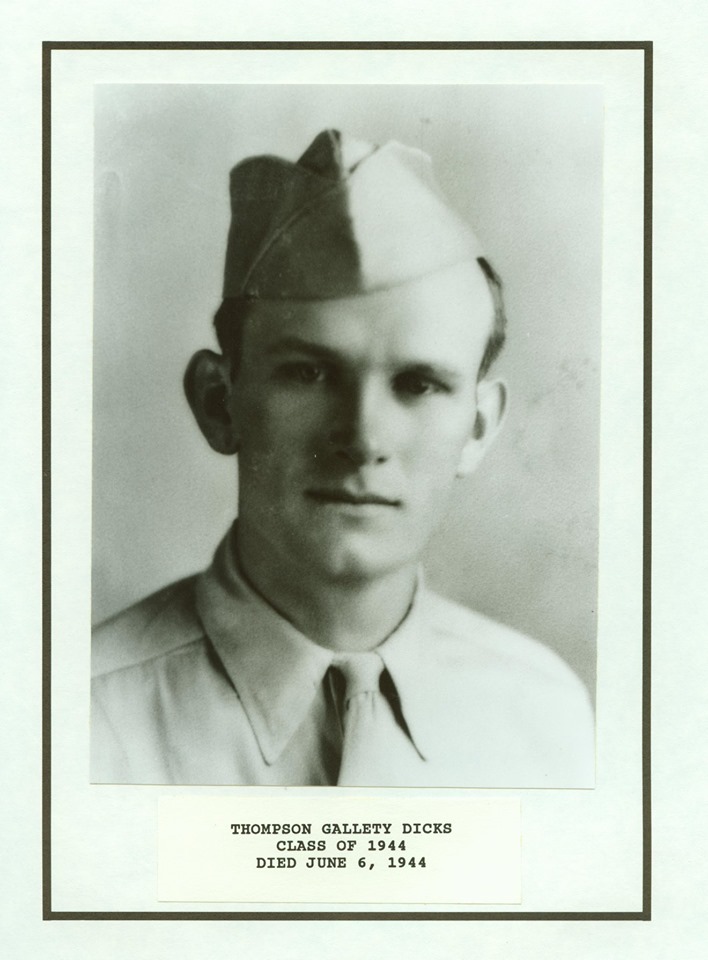 FC Thompson G. Dicks became The Citadel's first D-Day casualty, when Company A 1/116 Infantry Regiment, 29th Infantry Division lands at Dog Green Sector of Omaha Beach. A 1/116 is virtually wiped out within ten minutes of dropping the landing craft ramps. Thompson's father, Col. John L. Dicks, Class of 1918, had his son's remains permanently interred in the Normandy American Cemetery. Plot I, Row 8, Grave 20. (The Citadel Memorial Europe.)
Robert Moffatt Brice, The Citadel Class of 1942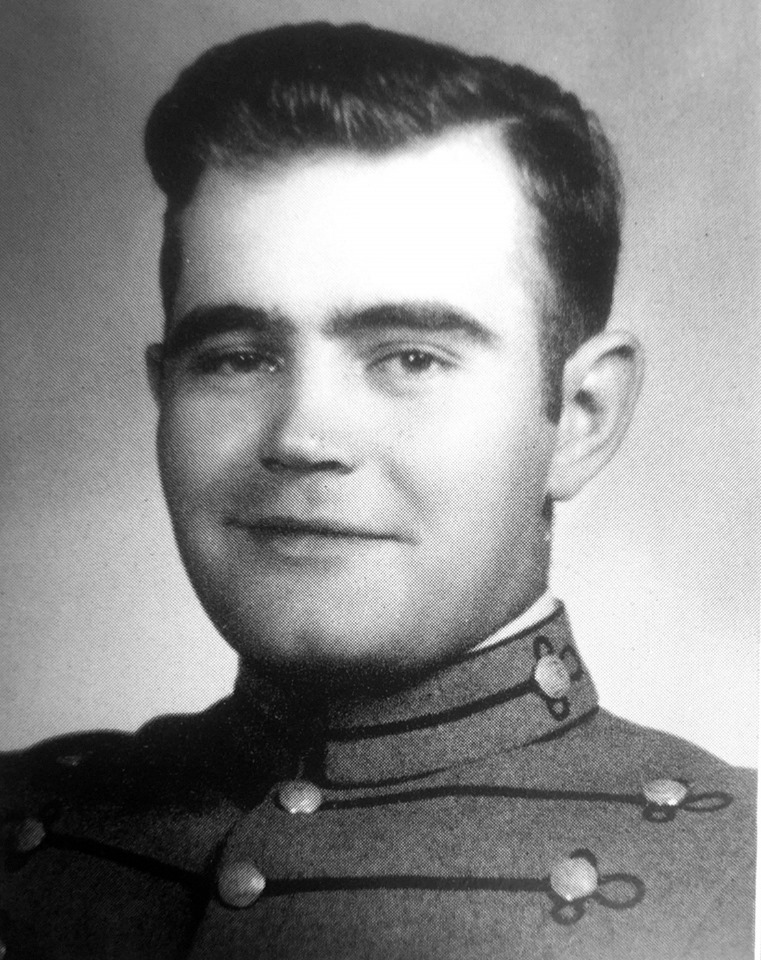 The Citadel suffered another D-Day casualty when 1LT Robert M. Brice, Class of 1942, landed at Dog Green sector Omaha Beach with B Company 2nd Ranger Battalion. As 1st Platoon Leader, Brice was the first man of his landing craft to reach the beach, motioning to his platoon saying, "Let's go!" only to be promptly cut down by machine gun fire. In 2005, a family in France who had acquired Brice's helmet some fifty years earlier put it up for auction on eBay. The American Military Museum purchased the helmet and later acquired Brice's footlocker and other artifacts from his widow and younger brother, retired Virginia district court Judge James P. Brice, VMI class of 1947. Brice also rests in Normandy American Cemetery.Plot J, Row 11, Grave 16. (The Citadel Memorial Europe.)
Other alumni killed in battle in the weeks surrounding D-Day include:
Frank William Cantillion, May 2, Class of 1946
Ralph Emory Kibler Jr., May 11, Class of 1942
Perry Baggs, May 31, Class of 1932
Dwight Hughes III, May 31, Class of 1941
Roland Louis Luerich Jr., June 4, Class of 1942
Grady Cannon Corley, June 5, Class of 1937
Clough Farrar Gee III, June 7, Class of 1939
Allard Barnwell Heyward, June 7, Class of 1931
Walter Edward Gibson, June 11, Class of 1944
Herbert B. Bass, June 14, Class of 1941
Thomas Edward Goodson Jr. June 14, Class of 1939
Robert Cleveland Evins, June 17, Class of 1938
George Bray McMillan, June 24, Class of 1939
Joseph Dexter Brown Jr., June 25, Class of 1942
Herman John Gerdes Jr. July 2, Class of 1941
Owen Willoughby Fields Jr., July 13, Class of 1944
Thomas Baylis Earle, July 15, 1938
Thomas Dry Howie, July 17, Class of 1929
John Jefferson Gee, July 17, Class of 1930
James Tredway Dixon, July 27, Class of 1936
Furman Henry Finklea, August 1, Class of 1936
Clark Lewis Knotts, August 6, Class of 1941
Arthur Calvin Griffin Jr., August 7, Class of 1934
Ralph Alexander Hardee, August 9, Class of 1944
Robert Clark Hale, August 12, Class of 1927
Joseph Andrews, August 14, Class of 1940
Franklyn Madden Ketchum, August 16, Class of 1942
Richard Brady Knapp, August 23, Class of 1939
Jesse Wooten Booker III, August 27, Class of 1943
James G. Thornton, declared missing Sept. 14, Class of 1940
The full list of alumni killed in action during WWII, as engraved on The Citadel War Memorial, can be found here.
D-Day remembrances from The Citadel Digital Archives at the Daniel Library
An interview with Henry Berlin
Henry Berlin was born August 19, 1924, in Charleston and enrolled at The Citadel in 1941. After enlistment and training, Berlin eventually served as a radar operator on an LST during the early Normandy landing.
An interview with Charles Stockwell
Stockell recalls the confusion of the Omaha Beach landing during the Normandy Invasion. He and the men in his battery were forced to swim ashore after disembarking from the landing craft prematurely.
An interview with Brunet R. Maybank, Jr. 
In September 1942 Maybank joined the Army Air Corps and served as a B-17 bomber pilot flying on around thirty-seven missions in the European Theater of WWII. Maybank discusses some of his most memorable missions, including flying over the Normandy beaches a few days after D-Day in 1944, in some of the earliest bombing missions over Berlin, a mission against a "secret" facility in Denmark. He tells of a fellow Citadel cadet's plane, Bill Daniel's, going down in the North Sea. 
The story of "The Citadel Class that Never Was"
By Kim Keelor and Sam McAdams, The Citadel Office of Communications and Marketing
The Citadel Memorial Europe Foundation contributed to the information in this article. The organization works to honor and remember Citadel alumni who died in war theaters in Europe or North Africa while serving the U.S. by researching and sharing stories about those killed in action and by recognizing the people of Europe who have adopted the graves and names of alumni buried there. For more information, please email info@thecitadelmemorialeurope.org.