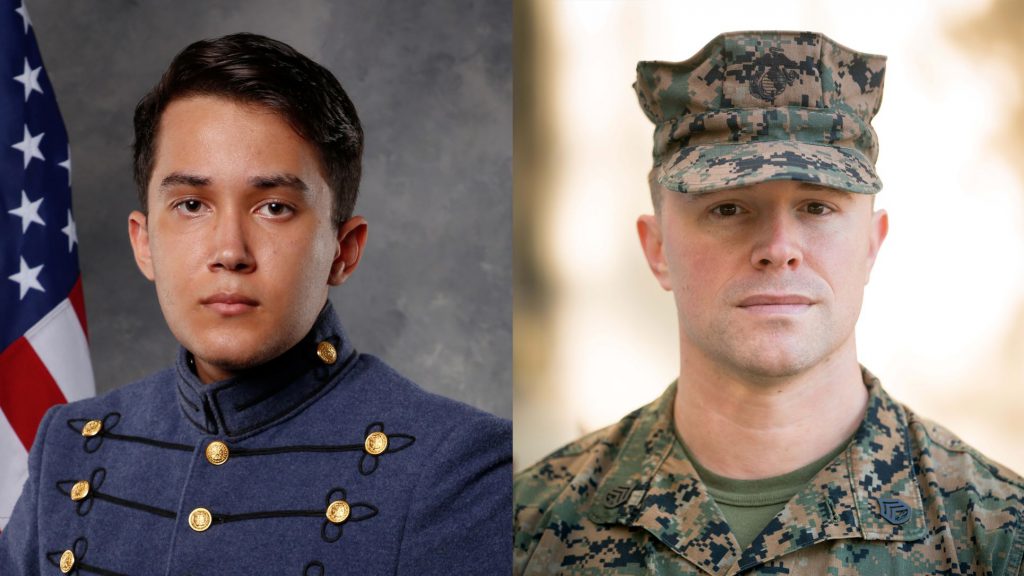 By Alaina Rink, CGC '22
When Cadet Noah Wells, '22, and Staff Sergeant Ryan Skibicki, '21, met in Computer Science 305, they had no idea that they would land dream jobs within two months of each other. They say The Citadel's commitment to rigorous academics and principled leadership in cybersecurity made them preferred candidates.
Wells, a triple major in Cyber Operations, Computer Science and Mathematics, will begin his career in McLean, Virginia as a Cyber New Professional with The MITRE Corporation, a company he discovered at a cybersecurity conference. He says he opened the conversation with, "Hey, want to give me a job?" and was soon fast-tracked on the applicant list because of his involvement with The Citadel's cybersecurity program, research projects and his personal convictions for a more inclusive world. He is also one of the CyberCorps Scholarship for Service recipients.
Skibicki was already an active duty Marine when he decided to major in Computer Science with a minor in Cybersecurity. He said, "I had no idea about computer science before I came to The Citadel. The small class sizes allow students to pursue in-depth answers to their questions." In December, Skibicki received a Cybersecurity contract through Military Occupational Specialties. He is one of four MECEPS to receive this competitive contract the first year it became eligible to their program. Skibicki will commission in April and complete more classified training before receiving further orders.
Wells and Skibicki are both in The Citadel's first Department of Defense Cyber Institute and specifically credit Shankar Banik, Ph.D., for diligently working on the relevance and application of the curriculum. This institute is funded through a Department of Defense appropriation to the National Security Agency included in the 2020 Consolidated Appropriations Act.
While The Citadel is committed to educating its future leaders in cybersecurity, it also seeks to inform present industry leaders. On February 24th and 25th, The Citadel will host the Jack Voltaic Conference Series which works to align current cybersecurity stakeholders in order to strengthen critical systems. The theme will be "Cyber Resiliency for Critical Infrastructure."
Other cybersecurity programs, scholarships, designations and events at The Citadel include:
Department of Defense Cyber Scholarship (DoD CySP)
These scholarships, supported through the Department of Defense, are designed to encourage the recruitment of the nation's top cyber talent to help secure America against threats. Currently The Citadel has seven DoD CySP Scholars (six Cadets and one graduate student).
The Citadel Department of Defense Cyber Institute (CDCI)
The CDCI mission is to ensure the delivery of principled leaders who are experts in cybersecurity and have the skillset and experience required to begin working for the U.S. Department of Defense as soon as they earn their degrees.
The Citadel CyberCorps Scholarships for Service program
See the article above or read more about the program here.
Cybersecurity/Intelligence Scholars
An innovative program for gifted students who have a strong interest in cybersecurity and national security affairs.
National Center of Excellence in Cyber Defense
The Citadel was recently re-designated a National Center of Excellence in Cyber Defense through 2028 by the Department of Defense and the National Security Agency,
Women in Cybersecurity (WiCyS) Citadel chapter
There is a new Citadel chapter of the national WiCyS organization. Recently, travel grants were provided for 10 cadets and students to travel to the national conference.
Degrees in cybersecurity and operations
One of the colleges most popular undergraduate majors is Cyber Operations. Graduates will be able to:
Apply security principles and practices to the design and implementation of the physical, software and human component of the cyber systems
Analyze and evaluate cyber systems with respect to security
Identify, analyze and mitigate threats in the cyber system
Other related academic programs, including a master's degree and graduate level certificate can be viewed here.
---
Alaina Rink is a graduate assistant in the Office of Communications and Marketing while pursuing a master's degree in English. She earned her undergraduate degree from the College of Charleston in secondary education English and taught in the Charleston area for four years.