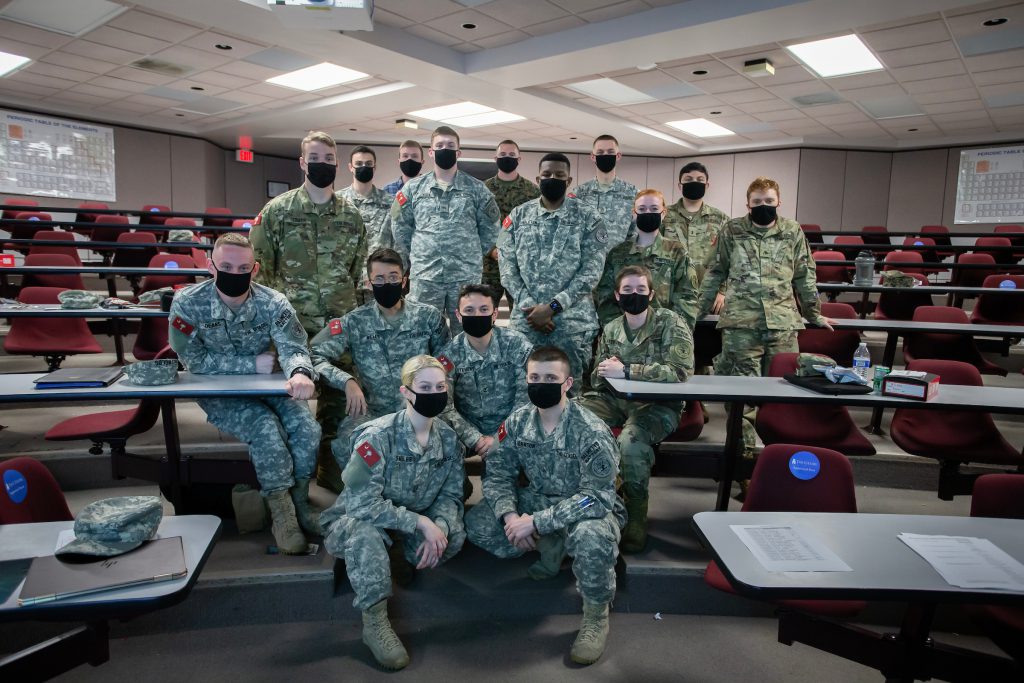 The first group of cadets and students selected to study under the umbrella of The Citadel Department of Defense Cyber Institute (CDCI) is hard at work, with the goal of being immediately ready to join America's cybersecurity workforce after graduation. The cluster of future cyber warriors includes one active duty Marine student, one veteran student, and 19 cadets.
The CDCI mission is to ensure the delivery of principled leaders who are experts in cybersecurity and have the skillset and experience required to begin working for the U.S. Department of Defense as soon as they earn their degrees. The program will help expand America's cyber capability by addressing the critical national security need for a larger cybersecurity workforce.
All of the CDCI participants are pursuing a Bachelor of Science in Cyber Operations, or a Bachelor of Science in Computer Science, with a minor in Cybersecurity, or, a Bachelor of Science in Computer Science with a minor in Data Science.
Among the students is Cadet Trey Stevens, a junior with a triple major in Computer Science, Cyber Operations and Intelligence and Security Studies. "I feel very fortunate that I've been selected to not only advance my own cyber education, but to be better prepared for the agency that I work with post-graduation so that I may perform my job as best as I can," Stevens said. "This is a unique opportunity where professionals and experts are pouring in their knowledge in order to pave the path for future cybersecurity professionals. I'm planning on maximizing my engagement with this amazing program."
The Citadel and the nation's other five Senior Military Colleges (SMC) have each received approximately $1.5 million of federal money to establish a cybersecurity institute as pilot programs on their campus. The funds are part of a $10 million Department of Defense (DOD) appropriation to the National Security Agency (NSA) for these institutes, included in the 2020 Consolidated Appropriations Act.
"It is an honor to be selected for such a program," said Cadet Jalen Singleton, a junior Computer Science major with a minor in Cybersecurity. "I am included in an extremely talented cohort that has been given access to top cybersecurity knowledge and tools. I believe that through this program and the leaders who are sharing their knowledge with us, I will be more than equipped for the cybersecurity world when I graduate."
The Department of Defense outlined three priorities for the SMC institutes: sustain a cyber-ready workforce, enhance the nation's cyber talent and establish a top talent management program. The Citadel is helping achieve these goals.
"Being a part of CDCI is already an amazing experience," said Cadet Hannah Collee. She is a sophomore double-majoring in Computer Science and Cyber Operations. "There is hands-on learning and countless opportunities for growth. This program helps students get in contact with numerous businesses and internships too. I can't wait to continue with our team."
The 21 cadets and students selected to participate in the college's first CDCI cohort include:
All, Jackson A.
Collee, Hannah E.
Deans, Conor W.
Freeman, Lydia S.
Hanulcik, Avery
Jensen, William M.
Johnson, Jared M.
Lilling, Eric R.
Lindenmeyer, Andrew R.
Ling, Nathanael C.
Race, Benjamin R
Reynolds, Aaron G.
Roser, Robert G.
Ruiz, Ashley
Singleton, Jalen A.
Skibicki, Ryan
Smiles, Shiloh O.
Stevens, Trey J.
Toomer, Timothy C.
Wells, Noah M.
Whitlock, Benjamin T.
Prospective cadets and students wanting more information should email dhoward2@citadel.edu or call (843) 953-1089.
The Citadel is a National Center of Academic Excellence in Cyber Defense Education, as named by the United States Department of National Security Agency and Homeland Security.