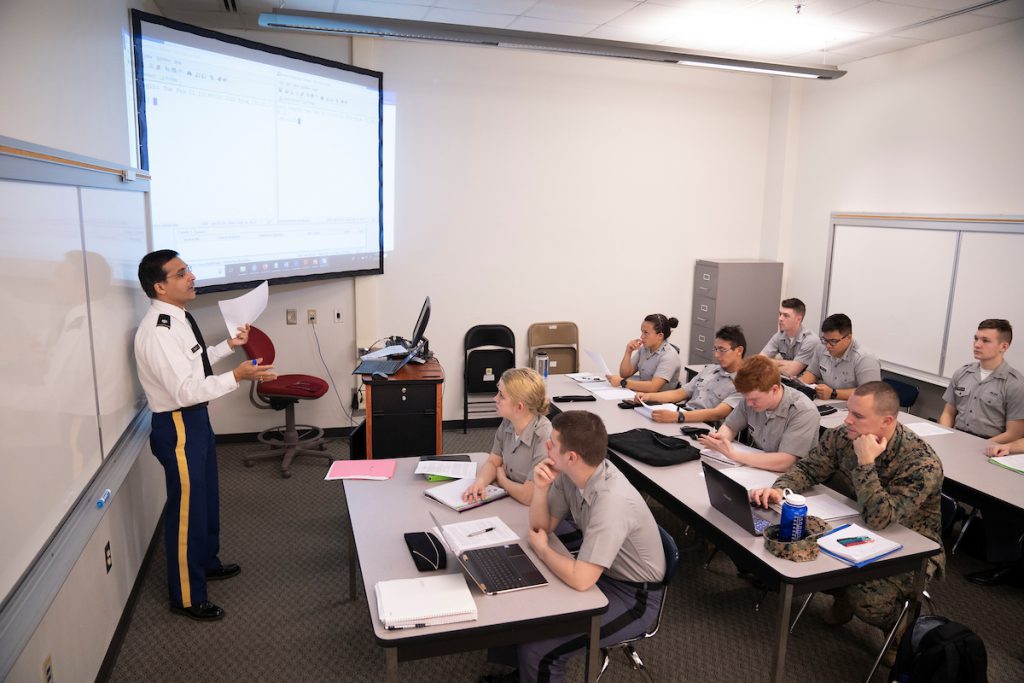 Photo above: Cadets in a Computer Networks class for cadets and veteran day students led by Professor Shankar Banik at The Citadel in February 2020.
Registration now open for segment at The Citadel in Charleston, S. C.
Prepare. Prevent. Respond. Report.
Those are the key areas to be addressed during the Jack Voltaic Conference Series (JVCS) segment being hosted by The Citadel — in Charleston, South Carolina — Feb. 24-25, 2022. The theme: Cyber Resiliency for Critical Infrastructure.
"Cyber attacks are escalating. They impact government and private sector interests at all levels. This emphasizes that the need to protect the country and our shared interests is more pressing than ever," said Shankar Banik, Ph.D., professor and head of the Department of Cyber and Computer Sciences and director of The Citadel Department of Defense Cyber Institute. "The purpose of the JVCS is to inform and align professionals supporting America's critical infrastructure, strengthening the network focused on resiliency."
The final segment of the four-part series will be held at the University of Illinois in May. Other partner institutions, which include Norwich University Applied Research Institute and the Georgia Cyber Center, held events in 2021. The JVCS is led by the Army Cyber Institute at West Point.
"We will review research findings from previous Jack Voltaic exercises, share tools and learn in workshops through this partnership event that joins the businesses and public entities owning and operating assets and systems important to the country's critical infrastructure," Banik said. "We will work to identify gaps that may leave some areas vulnerable and to address those gaps."
Some of the speakers and panelists include:
Klint Walker, Department of Homeland Security, Cyber Security Advisor, Region IV
Robert Lee, Dragos, Inc., Chief Executive Officer
John Strand, Black Hills Information Security, Owner and Security Analyst
Who can attend the JVCS event at The Citadel?
The Citadel is sending invitations to potential conference attendees including state and federal public entities that protect America's critical infrastructures; cybersecurity professionals; leaders of infrastructure supporting entities; educators and researchers from academic institutions; and cybersecurity, intelligence and security studies cadets and students.
Others with related interests are also encouraged to apply. Approximately 230 people can be accommodated. For more information, email msaunde4@citadel.edu.
Cybersecurity programs at The Citadel

The Citadel is a National Center for Academic Excellence in Cyber (NCAE-C), designated by the National Security Agency and Department of Homeland Security since 2016. The Citadel Department of Defense Cyber Institute (CDCI) was established in 2020 with federal funding to help train the next generation of cyber warriors.
Cybersecurity programs at The Citadel include:
Bachelor of Science in Cyber Operations
Cybersecurity minor
Cyber Interdisciplinary Studies minor
Cybersecurity graduate certificate (offered jointly with the College of Charleston)
Additional opportunities for cadets and students studying Cybersecurity at The Citadel include:
Related undergraduate and graduate degrees at The Citadel include Computer Science, Intelligence and Security Studies, two master's degrees and several graduate certificates.
For more information about earning degrees as a member of the South Carolina Corps of Cadets visit this webpage or email admissions@citadel.edu.

To pursue degrees through The Citadel Graduate College, go here.

College undergraduates considering degree completion programs can learn more here.

For veterans considering studying cybersecurity at The Citadel, more information can be found here.