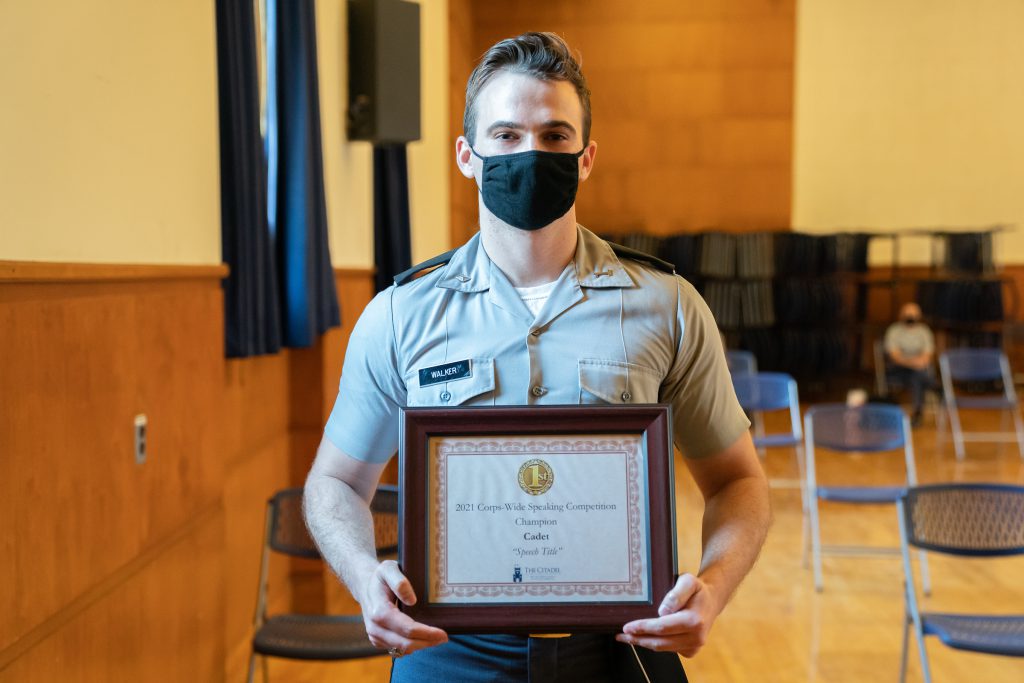 The Annual Henry Dale Smith Corps-Wide Speaking Competition delights and inspires its audience each year, as cadets take the stage to deliver their messages and earn prizes. But it is the communications skills the participants gain, the ability to evoke emotion and influence an audience, that may be the biggest prizes.
"This competition asks cadets to speak to an audience about their passions, values, and the stories that brought them to The Citadel," said Sean Fourney, Ph.D., director of the Patricia McCarver Public Speaking Lab which orchestrates the contest. "While each speech is unique, it is the meaning that comes from it that the audience identifies with and craves. The most successful speakers learn how to beguile their audiences."
The contest, in its 11th year, consists of three rounds with the speakers eventually narrowed down to a group of finalists for the last event. It is open to all cadets. The winner receives the Henry Dale Smith Public Speaking Award, the title of Best Public Speaker in the Corps, and a $500 prize.
1st Place, $500
"Basically I was asking everyone else why they were failing me when I should have been asking why am I failing myself."

Cadet Adam Walker, winner of the 2021 Henry Dale Smith Corps-wide Speaking Contest
Cadet James "Adam" Walker, Class of 2021
"Triumphant Failure"
Major: Business Administration
Hometown: Cumming, Georgia
U.S. Air Force scholarship cadet
Watch Walker's speech at this link: https://mediasite.citadel.edu/Mediasite/Play/500a53d464074635984496ccc5ebfe681d?catalog=0dfd21aa99e54ab6891a37c9b809828221
2nd Place, $200
"I'm not talking about the facial masks we've grown to know and love. I'm talking about something a little more personal: I'm talking about the social masks that autistic people have to wear everyday of their lives"

Cadet Shiloh Smiles, 2nd Place, 2021 Henry Dale Smith Corps-wide Speaking Contest

Cadet Shiloh Smiles, Class of 2022
"The Mask I Wear"
Majors: Cyber Operations; Computer Science
Hometown: Gardenia, Georgia
Citadel CyberCorps Scholar contracted with Department of Defense
The Citadel Department of Defense Cyber Institute cadet
Cybersecurity cadet tutor; Cadet Ambassador

3rd Place $100
"If you put forth the effort and the altruism that Charlie Brown exudes every single time we see him, then eventually you will be told what he is told: 'you're a good man, Charlie Brown.' And that's all I've ever wanted to be."

Cadet Daniel Wilkes, 3rd Place, 2021 Henry Dale Smith Corps-wide Speaking Contest

Cadet Daniel Wilkes, Class of 2021
"An Ode to Charlie Brown"
Majors: Political Science (pre-Law); History
Hometown: Charleston, South Carolina
Battalion Academic Officer
Finalists $50
Each of the four finalists, Ashley Coplo, Nicholas Fricchione, John Morris, and Desmond Sigler, all received a $50 gift card courtesy of Pat Kinard, recording secretary of The Citadel Board of Visitors, contest judge, and long-time supporter of the competition.
"These speakers moved the judges, and it goes to show the power of public speaking and its ability to influence," said Fourney.
Fourney would like thank those who judged the final round:
Carter Coyle, Investigative reporter, Live 5 WCSC-TV
Scott Curtis, Ph.D., director, Lt. Col. James B. Near Jr., USAF, '77, Center for Climate Studies
Col. Charleston Dunne, USMC (Ret.), Citadel Class of '90
Erik Hund, National Oceanic and Atmospheric Administration Office for Coastal Management; Toastmasters Division Director
Patricia McArver, former director and namesake for the Patricia McArver Public Speaking Lab; former vice president for The Citadel Office of Communications and Marketing
Deirdre Ragan, Ph.D., director, The Citadel Honors Program

The Patricia McArver Public Speaking Lab provides a multitude of services and is available to all cadets, students, faculty and staff. It is located in Bond Hall, 365. For more information or to arrange an appointment, email psl@citadel.edu.