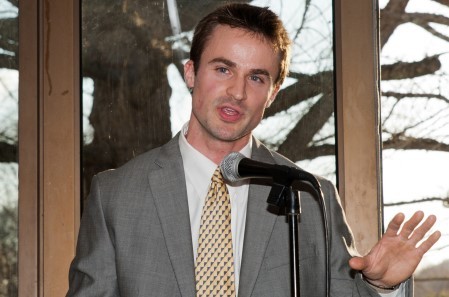 Meet Dr. Sean Fourney, head of the Patricia McArver Public Speaking Lab
There is a medical term for the fear of public speaking: glossophobia. Symptoms can include shaking, sweaty palms, butterflies in the stomach (a.k.a. collywobbles) and, often, procrastination.
Sean Fourney, Ph.D. doesn't promise to eliminate that fear entirely (and the procrastination part is on you). But Fourney can help you keep it in check by being a prepared, compelling communicator, a skill needed in almost every profession. Fourney is the director of the Patricia McArver Public Speaking Lab at The Citadel.
"Nothing matches the feeling I get when I see cadets and students inspired by their own improvements in communication," Fourney said. "Communication is not just about giving a speech. It is about learning how to think critically about an issue and the language we use to describe it. At The Citadel, students are learning to become leaders and good communication skills are essential to strong leadership."
Fourney comes with a strong pedigree. He holds a Ph.D. in Communication Studies from the University of Southern Mississippi as well as a Master's in Communications Studies from West Chester University. He did his undergraduate work in Communication Studies and Broadcasting at East Stroudsburg University. In addition, he comes to The Citadel with a passion for helping the college's cadets and students (and faculty and staff) improve their speaking skills.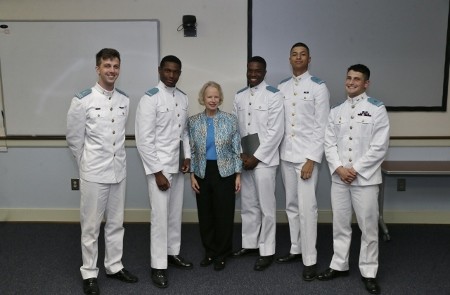 The mission and purpose of the lab
Fourney provided some answers to questions about the lab and about the importance of working to be come a proficient communicator.
Q. What is the mission of the lab?
A. The Patricia McArver Public Speaking Lab provides the instruction and opportunity for cadets and non-cadets to develop their communication abilities. Time and again, employers rank the ability to communicate as the number one transferable skill sought in college graduates. Yet this also continues to be the number one skill that college graduates lack. Our mission, then, is to give cadets and students confidence and a strategy when dealing with any speaking situation in the classroom and beyond.
Q. Why do so many college graduates lack effective speaking skills?
I think that is because of two reasons. First, there is a natural anxiety associated with standing in front of others and having to communicate something clearly, concisely and confidently. Second, we just don't communicate with purpose that often in our lives. We aren't used to standing in front of others to tell them about our life, our interests and our goals. We're not used to having to articulate complex subjects in just a few minutes to a lay audience, and we're certainly not used to having to persuade people who do not already agree with us on our subjects. Those are all things we address in the lab.
Q. What is your personal mission for the people you coach?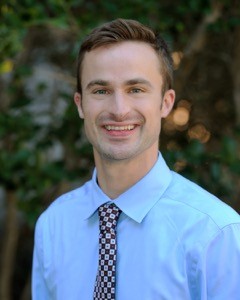 A. What I really want for students is to have confidence in building a speech as much as in delivering it. The part that most dread about public speaking is the beginning. They simply don't know where to begin, put it off until the last second, and come up with something thrown together that doesn't really have a direction or purpose. Then they go out there, don't do well, and think that public speaking just isn't for them. However, if they had a blueprint for how to develop an interesting, informed speech that is tailored to a specific audience, they would see that public speaking is really a process rather than a performance.
I always tell students that after you leave the lab, you will be one step closer to communicating a great message. That might mean different things to different people, too. The person who has no idea what they want to talk about will leave the lab with a topic, clear purpose, and a few talking points to research. The person who has those things when they enter will leave the lab with a strong organizational pattern of content. The person who has that when they enter will leave the lab with an attention-grabbing introduction and a memorable conclusion. The person who has all of those things when they enter will leave the lab having critiqued themselves after watching their speech in our recording area. I want them to know that public speaking is a process, and if you follow it, you will be successful.

Q. Why is being an effective communicator important in almost every profession?
A. How much time do you have? In all seriousness, though, it is critical on so many levels. I worked in a few different industries before higher education, and at each organization you could see why certain people rose quicker than others: They knew how to communicate effectively in so many different ways.
For example, every organization needs communicators who can keep everyone on the same page about what's new and what it means for employees. That doesn't happen just through email. It happens in weekly talks, presentations and internal messaging that is communicated in concise language. Every company needs to connect with outside audiences, too. In fancy speak, we call these folks "boundary spanners." Their value lies in their ability to secure resources for the organization's well-being, and a lot of that is accomplished through effective communication.
Being able to write persuasive grant or business proposals, present research at professional conferences, network with government and industry officials, and connect with the public on mutual projects all require a strong understanding of people, messaging, and effective communication. No matter which is your specialty, you become an invaluable member of organizational leadership. I don't think that can be overstated, which is one of the things that really attracted me to The Citadel. They want to build the leaders of tomorrow right here, and I want to be a part of that through my approach to building effective communicators.
The lab is located on the third floor of Bond Hall. It is open weekdays, by appointment. Schedule an appointment by emailing psl@citadel.edu, or by calling (843) 953-5103.