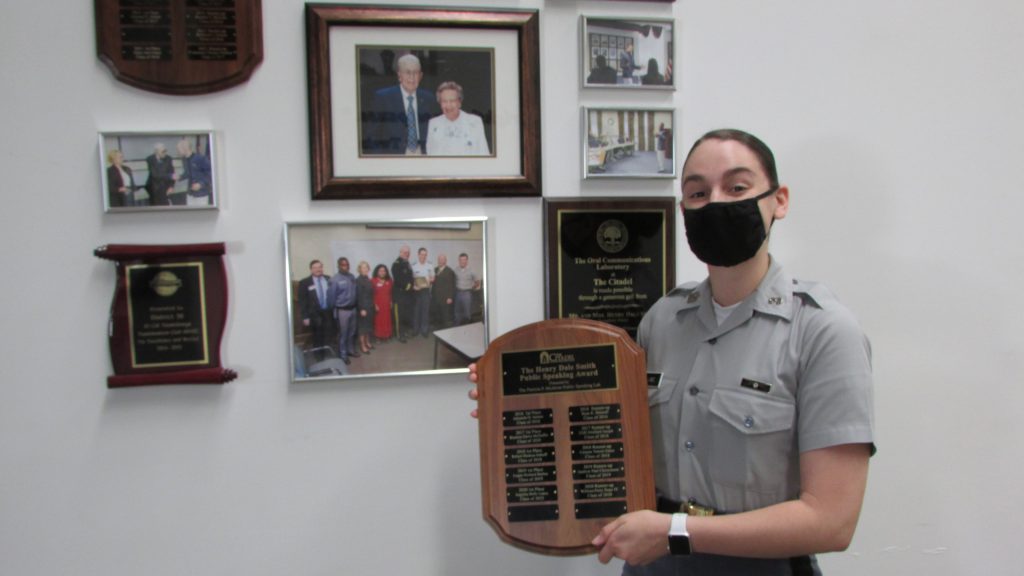 "Pride is a great servant, but a horrible master."
For the first time, two cadets will be named a Henry Dale Smith Public Speaking Award Winner at the college's annual Commencement Week Awards Convocation.
It is not because of a tie, however — but because the pandemic and campus closure postponed last year's competition.
Each year, cadets compete in three rounds, presenting their own, unique speech each time — they make the same speech for all three rounds, though they are encouraged to make improvements as they move through the contest.
The first round was held in Spring 2020 but, due to the pandemic, the second and third rounds of that year's competition had to be postponed.
In a rescheduled competition, Cadet Angelea Lance, a junior, won the first place prize with a speech called "Pride." The speech focused on how her she allowed her pride to hold her back, but also how she's used her pride to push herself further.
Lance also made it to the final round of the 2019 speaking competition.
The second place prize went to William Hope who, though he graduated with the Class of 2020, came back to deliver his speech called "The Power of Probability."
The contest for the next Henry Dale Smith Public Speaking Award will be held in 2021, during the spring semester.
Cadets speak for five to seven minutes on any topic that is informational, persuasive or inspirational. In addition to the Henry Dale Smith Public Speaking Award, both the winner and runner-up also receive a cash prize.
The speaking competition is hosted by The Patricia McArver Public Speaking Lab, where students, faculty and staff can polish their public speaking skills. From timid talkers to confident communicators, The Public Speaking Lab works one-on-one with a variety of individuals to create great presenters.
The knowledge that some of the most famous leaders in history have mastered the power of public speaking inspired Henry Dale Smith, Class of 1947, and his wife, Betty, to establish the Public Speaking Lab. The goal is to give cadets, students, faculty and staff the chance to improve their public speaking and presentation skills.