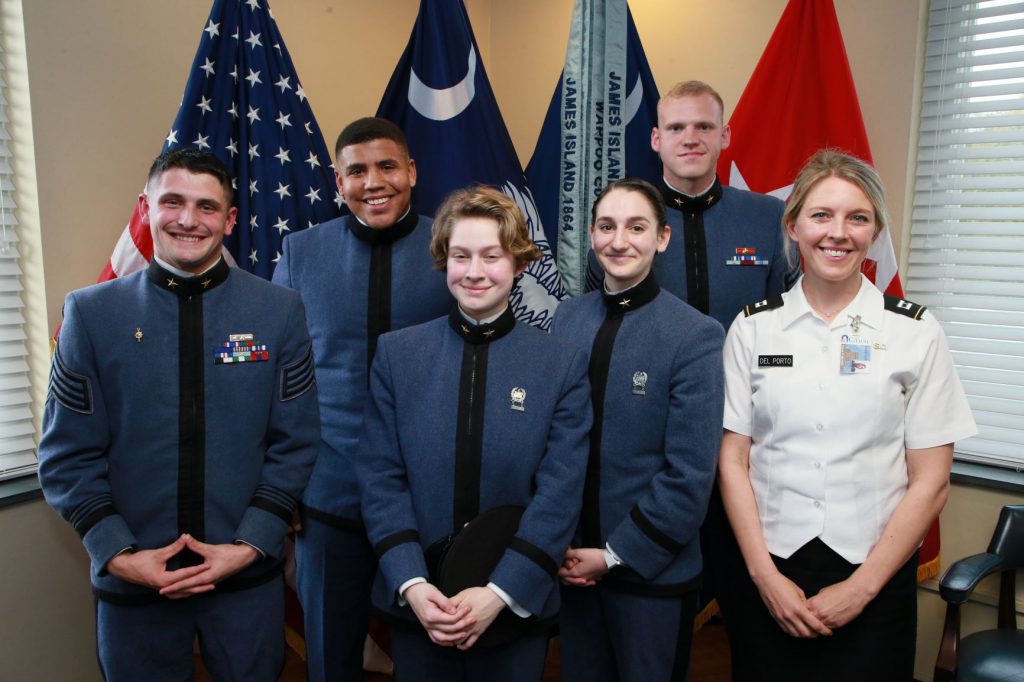 Five cadets used their oratory skills to compete for cash prizes during the final round of the Henry Dale Smith Corps-Wide Speaking Contest
Invictus is a Latin word, meaning "invincible" or "undefeated."
It's also the name of Cadet Logan Barber's winning speech, as well as the poem by William Ernest Henley on which Barber's speech is based.
He told the story of his time at The Citadel and the gift that he was given before his knob year even began, a gift that he's passed on to all the Echo company knobs that he commands — the poem, Invictus.
Barber memorized the poem as part of a challenge during his time at The Citadel Success Institute, which happens in the summer before matriculation. This year, as company commander, Barber left the printed poem on the desk of every Echo knob, just after matriculation.
Cadet Andrew Christensen came in second place with a speech called, "A Case for Unprofessionalism" which focused on different ways to find and keep values while also holding onto our humanity and personality.
The other cadets who made it to the final round are:
Angelea Lance, with the speech "Growth," about her personal struggles with mental health.
Jeremy Samuels with the speech "The Problem with Being Colorblind," which focused on racial issues.
Shiloh Smiles with the speech "Redefining Success," which encouraged the audience to consider small victories a success.
The cadets spoke for five to seven minutes on any topic that is informational, persuasive or inspirational. The winner of the competition receives the Henry Dale Smith Public Speaking Award, which is presented at the college's annual Commencement Week Awards Convocation, along with a cash prize. The runner-up also receives a cash prize.
The speaking competition is hosted by The Patricia McArver Public Speaking Lab, where students, faculty and staff can polish their public speaking skills. From timid talkers to confident communicators, The Public Speaking Lab works one-on-one with a variety of individuals to create great presenters.
The knowledge that some of the most famous leaders in history have mastered the power of public speaking inspired Henry Dale Smith, Class of 1947, and his wife, Betty, to establish the Public Speaking Lab. The goal is to give cadets, students, faculty and staff the chance to improve their public speaking and presentation skills.