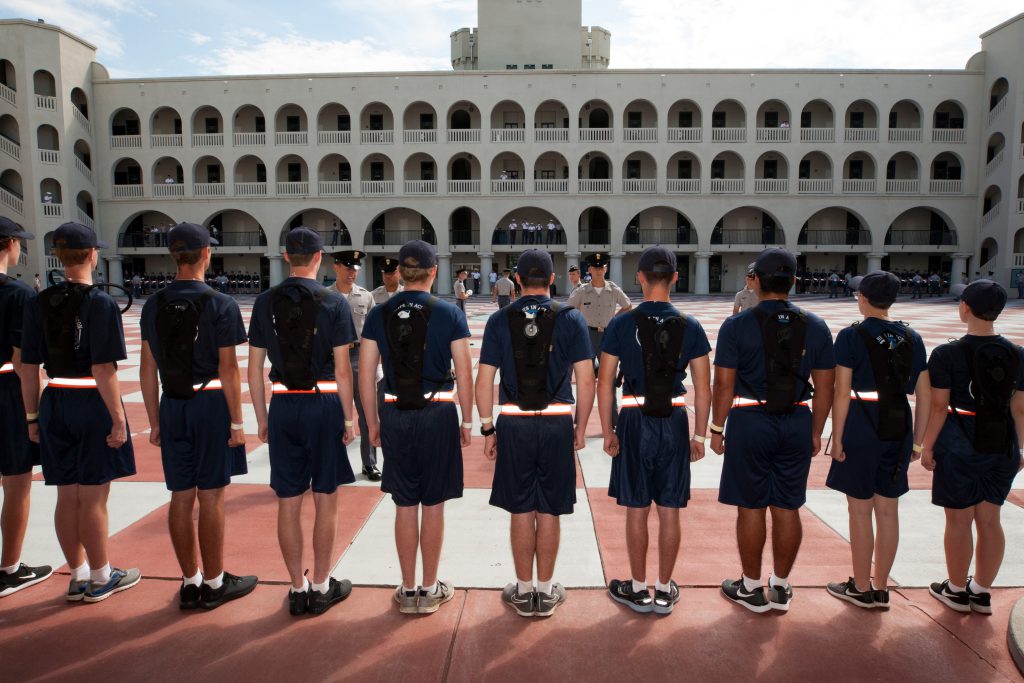 ---
Of the 837 cadet recruits in the Class of 2022, 87 are women and 80 are Hispanic
The Citadel continued its record of strong enrollment, welcoming one of its largest classes, with record numbers of female and Hispanic cadet recruits on Saturday, Aug. 11.
The incoming class of 837 cadets, 87 of whom are women and 80 of whom are Hispanic, officially reported to campus over the weekend to begin their intensive, months-long training to become part of the South Carolina Corps of Cadets. They will be among the approximately 2,300 cadets led by Cadet Colonel Sarah Zorn, the first female regimental commander in the college's history, for the 2018-19 academic year.
Most members of the Class of 2022 were born in the year 2000, making them a part of Generation Z. Sometimes called the iGeneration, they have no memories of a time without phones that can play games, do research and text.
The freshmen enter The Citadel at a time when they can select from the most robust menu of academic programs available at the college, including the newest program, construction engineering. Majors among the most popular include business administration, mechanical engineering, biology, criminal justice and intelligence and security studies.
"The Citadel's strong enrollment demonstrates that prospective students value the high quality academic environment, structure, discipline and leadership acumen they develop through our values-based educational model," Col. John L. Dorrian, vice president for communication and marketing said. "These attributes help students who choose our college achieve some of the highest graduation rates, employment rates and salaries in the state."
About the South Carolina Corps of Cadets Class of 2022
Total matriculants: 837
In-state: 449, 54%
Out-of-state: 388, 46%
Female: 87, 10%
Hispanic: 80, 9.5%
International: 11, 1%
Total minority: 197, 24%
Cadets on scholarship: 538, 64%
Average high school GPA: 3.67
Average SAT: 1128
Total applications: 2,885
Represent 37 U.S. states and seven countries
Approximately 30 percent will commission into military service upon graduation
An estimated 25 percent will study abroad in at least one of 23 countries where The Citadel has program