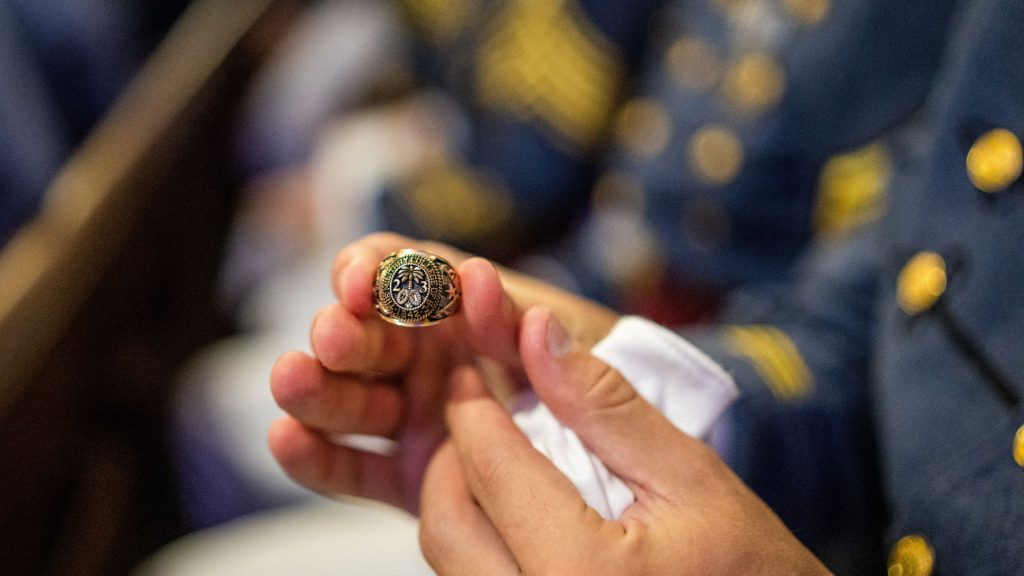 Earning a Citadel ring is one of the pinnacles of a cadet career, but for some, the worry of financial cost can make this milestone seem unattainable. Because of this, The Citadel Alumni Association and The Citadel Foundation found a way to ensure more seniors receive their rings through two separate funds.
The Col. Harvey M. Dick, '53, Memorial Ring Fund and The Citadel Alumni Association Palmetto Ring Fund are donation-based funds set up for senior cadets in financial need. Both ring funds require cadets to go through an extensive application process, but every effort is made to assist those who do. Decisions are made by each fund's committee, who will notify the cadet if they are approved to receive the ring through one of the funds.
The Col. Harvey M. Dick Ring Fund was established in honor of the former assistant commandant and Board of Visitor member. For two generations of cadets, Lt. Col. Dick was a mentor, disciplinarian, father figure and friend. The impact he had on everyone he met at The Citadel reached far, even after his passing in 2012, as shown by the generous alumni who stepped forward to create this fund in his memory at that time. Dick would often, from his own pocket, purchase rings for those who could not afford one. This fund awards at least two rings a year, completely free for the cadets.
For years, members of The Citadel Alumni Association helped cadets for various reasons, one being to purchase their class rings. To help formalize this process and to create a way to finance it, the Palmetto Ring Fund was established in 2013. Cadet beneficiaries are required to complete 80 hours of volunteer service, which is arranged though The Krause Center for Leadership and Ethics. These service hours must be completed before graduation. 
"The Alumni Association made the decision a number of years ago that no deserving cadet would ever leave The Citadel without a ring merely because he or she was unable to afford it. We have partnered with the Harvey M. Dick Ring Fund to make sure that is always a reality," said Tip Hargrove, '71, chair of The CAA Ring Committee. "In the last eight years, 100% of eligible cadets have received their ring. We believe this is the best money the Alumni Association ever spends, and it will come back to us a thousand times over as these young men and women become successful over the years."