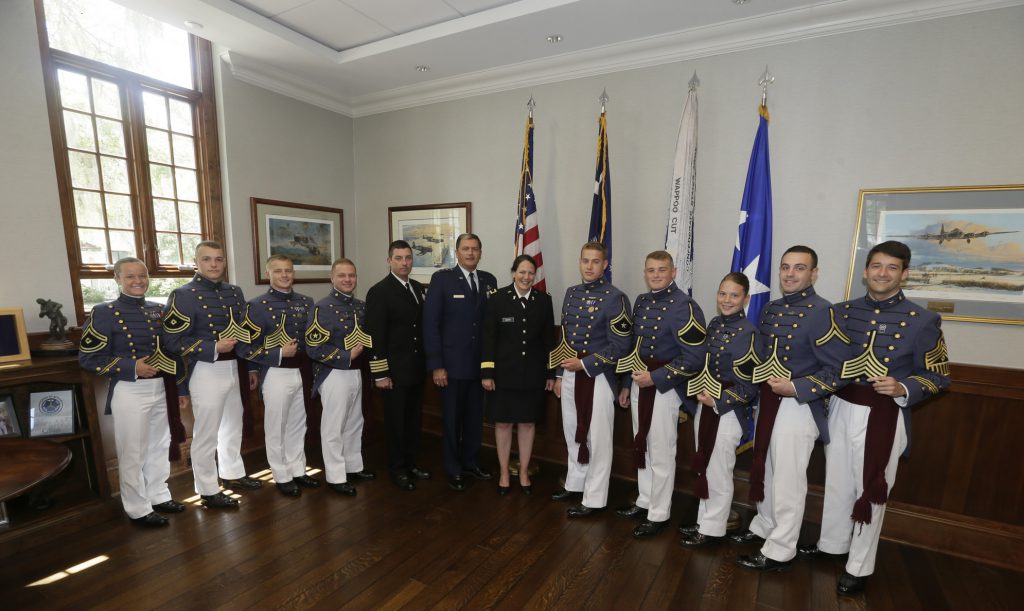 Nine students in the South Carolina Corps of Cadets are now the new faces of leadership for the 2017-2018 academic year.
The Office of the Commandant has announced the rising leadership in the Corps. The Citadel's mission to educate and develop students into principled leaders is woven into the curriculum and is an integral part of the military system at the college. These top student officers will lead approximately 70 cadet officers next year with positions ranging from battalion sergeant majors to company first sergeants. The Citadel's president, Lt. Gen. John W. Rosa, The Citadel's Provost, Brig. Gen. Connie Ledoux Book, Ph.D., and the Commandant of Cadets, Capt. Geno Paluso recognized the new cadet leaders during a ceremony on Wednesday, April 26.
The Citadel proudly congratulates this upcoming group of commanders and regimental staff.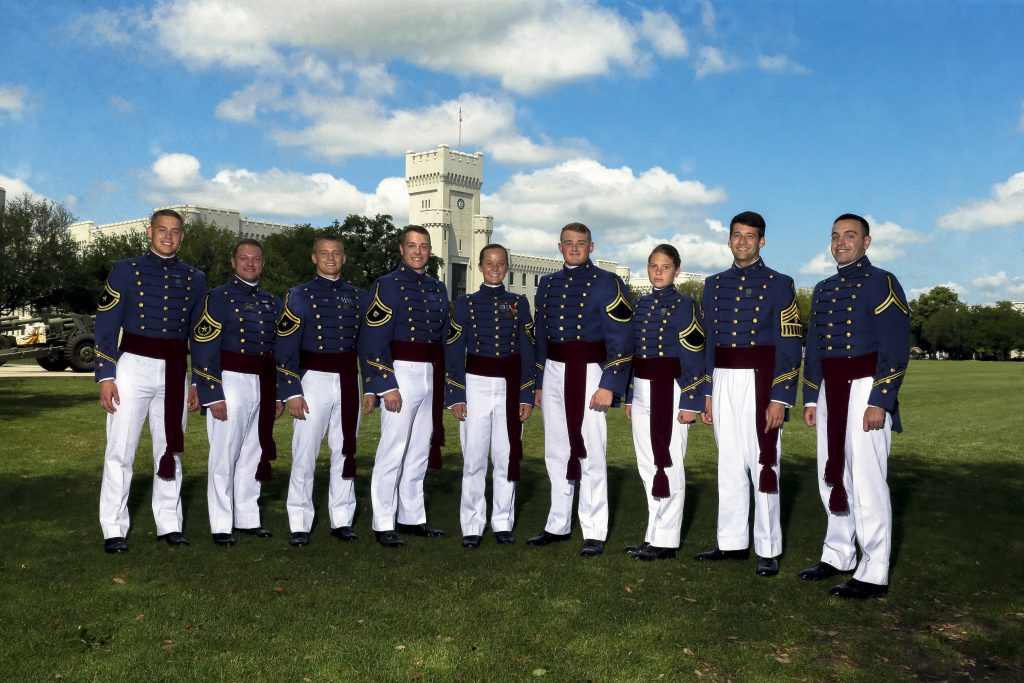 Pictured left to right:
George D. Graham, Regimental Commander
John D. Cordes, Regimental Executive Officer
Stephen D. Cleary, 1st Battalion Commander
Aaron M. Tribbett, 2nd Battalion Commander
Grace C. Jenkins, 3rd Battalion Commander
Chase J. Shiflet, 4th Battalion Commander
Paige L. Herbst, 5th Battalion Commander
Connor M. Fuhrman, Regimental Academic Officer
Aaron C. Beck, Honor Chairman
Regimental Staff
Regimental Commander – George D. Graham
Regimental XO – John D. Cordes
Honor Chairman – Aaron C. Beck
Regimental Academic Officer – Connor M. Fuhrman
Regimental Adjutant – Colton A. Poole
Regimental Provost Marshall – Conner A. Wall
Regimental Operations Officer – Ty'Rhonza S. Harris
Regimental Supply Officer – Hunter M. Foster
Regimental Public Affairs Officer – Dalia P. Martinez
Regimental ITS Officer – James E. Bath
Honor Vice Chairman-Education – Jeffrey A. Cain
Vice Chair for Investigations – Sean A. Blanton
Vice Chair for Operations – Skye M. Williams
Regimental Religious Officer – Tristan R. Arrowood
Regimental Human Affairs Officer – Cody C. Mahen
Regimental Physical Readiness Officer – Tyler H. Thomason
Regimental Activities Officer – Santiago Vega
Regimental Recruiting Officer – Jacob Woodard
Regimental Sergeant Major – Samuel J. Abernathy
Regimental Admin NCO – Joseph H. Ferguson
Regimental Operations NCO – Morgan A. Meredith
Regimental Supply NCO – Clarence C. Richardson
Regimental Provost NCO – Kirk C. Faris
Regimental Human Affairs NCO – Michael J. Akers
Regimental Public Affairs NCO – Logan R. Miller
Regimental Recruiting NCO – Brandi M. Duzz
Regimental Physical Readiness NCO – Lucas J. Beal
Regimental Activities NCO – Matthew H. Bartolo
1st Battalion
Battalion Commander – Stephen D. Cleary
Battalion SGM – Sarah J. Zorn
A Company Commander – Kelby D. Oakes
A Company First Sergeant – Logan M. Fox
B Company Commander – Richard J. Bennett
B Company First Sergeant – Nathan P. MacEwen
C Company Commander – Devon M. Chatman
C Company First Sergeant – Ryan C. Palmer
D Company Commander – Alexander S. Alequin
D Company First Sergeant – Devan T. Wilson
2nd Battalion
Battalion Commander – Aaron M. Tribbett
Battalion SGM – Mitchell J. Felt
E Company Commander – John S. Clark
E Company First Sergeant – Marc E. Thackston
F Company Commander – Jack A. Marquez
F Company First Sergeant – Abigail G. Koger
G Company Commander – Walter A. Metclafe
G Company First Sergeant – Brandon T. Hickey
H Company Commander – Dakota R. King
H Company First Sergeant – Richard B. DeKold
BD Company Commander – Mason C. Browder
BD Company First Sergeant – Hunter E. Crawley
3rd Battalion
Battalion Commander – Grace C. Jenkins
Battalion SGM – Andrew P. Christensen
I Company Commander – Christopher M. Niepsuj
I Company First Sergeant – Bethany J. Reeves
K Company Commander – Noah M. Fleckenstein
K Company First Sergeant – Nicholas B. Brace
L Company Commander – Huston Z. Hall
L Company First Sergeant – Richard L. Cook
M Company Commander – Christian M. Machesky
M Company First Sergeant – Eugene H. Matthews
4th Battalion
Battalion Commander – Chase J. Shiflet
Battalion SGM – Bradley D. Galbraith
N Company Commander – Justin M. Craft
N Company First Sergeant – Andrew N. Snoke
O Company Commander – Antonio S. Moffa
O Company First Sergeant – Damon G. Susanke
R Company Commander – Salvatore A. Lackey
R Company First Sergeant – Hamilton G. Rhinehart
T Company Commander – Zachary E. Smith
T Company First Sergeant – Logan M. Barber
5th Battalion
Battalion Commander – Paige L. Herbst
Battalion SGM – Michael A. Sementilli
P Company Commander – Lawrence J. Bermudez
P Company First Sergeant – Kevin A. Delao
PB Commander – Madison J. Jordan
PB First Sergeant – Katherine M. Keller
S Company Commander – Claire E. Harrison
S Company First Sergeant – Parker T. Buchanan
V Company Commander – Timothy S. Holt
V Company First Sergeant – Rene A. Valentine