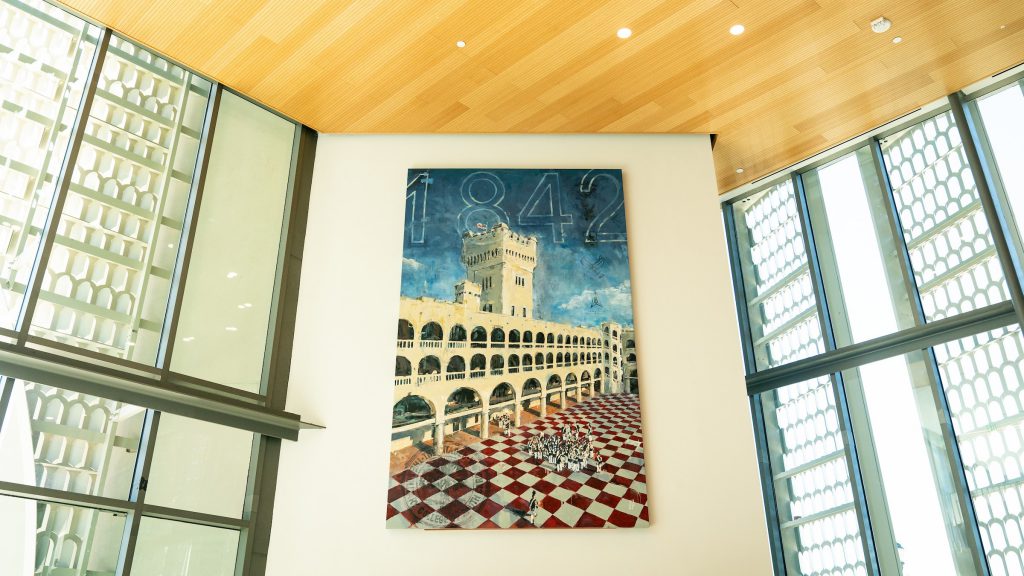 The 11 works of art, commissioned to decorate Bastin Hall — the home of the Tommy and Victoria Baker School of Business — are now all on display.
A mural depicting the inside of Padgett-Thomas Barracks, the final and most prominent piece of art, was installed in the lobby of the campus's newest academic building on Tuesday, Oct. 26.
The project was funded by multiple donors, who provided the funds through The Citadel Foundation.
"We're very excited to have these great works of art incorporating the spirit of The Citadel in Bastin Hall," said Michael Weeks, Ph.D., dean of the Tommy and Victoria Baker School of Business. "We're grateful to the artist and the donors for ensuring the building has even more distinctive elements for cadets, students and other members of The Citadel family to enjoy."
The works are grouped into four series: Heritage, honoring those who have come before; Homage, depicting notable female alumni who earned a business degree; Industry, representing the major sectors of the state's economy; and Versus, demonstrating the rise and fall of markets.
"I'm honored to be able to create works for such a storied intuition," said Jesse Pierpoint, the artist of the pieces. "I hope the work compliments the space, adds to the story and speaks to the future of the Tommy and Victoria Baker School of Business."
Bastin Hall opened for use in the spring semester of 2021. The state-of-the-art facility was made possible because of a more than $6 million gift provided by Rick Bastin, The Citadel Class of 1965, and his wife Mary Lee. In addition to the Bastins, more than 50 other individuals, families, businesses and Citadel classes provided donations.
The Tommy and Victoria Baker School of Business offers some of the college's most popular programs divided between three departments: Accounting and Finance; Management and Entrepreneurship; and Marketing, Supply Chain Management and Economics.