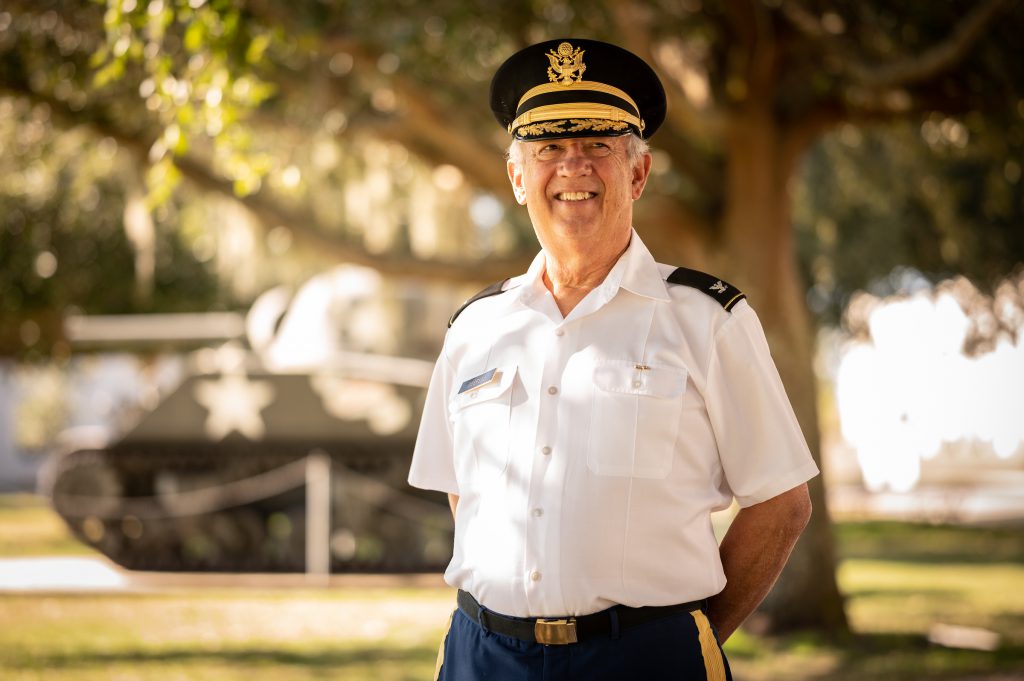 Dr. Johnston "John" Peeples, '70, illuminates the way for aspiring electrical and computer engineers
After decades of innovating, leading and teaching, John Peeples, Ph.D., Citadel Class of 1970, still comes to campus energized about answering questions concerning frame relays (high-speed, packet-switched data communications), or debouncing (a circuit providing a clean transition of power output), for example.
Peeples's devotion to all things in the realm of computer and electrical engineering, or "techno-lust" as he calls it, continues to earn him accolades.
"It's a bit staggering, really, considering that throughout my career I've endeavored to stay under the radar," Peeples, a native of Estill, South Carolina said. "Above all, I take immense pleasure watching our graduates make the world a better place."
The most recent recognition for this professor and industry leader: the Dr. Johnston W. Peeples, '70, Electrical and Computer Engineering Scholarship. The endowed scholarship named for Peeples was made possible because of a $500,000 gift from two fellow engineering alumni, Buddy Black '78, CEO of Nova Technologies, and Jon Kelley, '08, also with Nova Technologies. Kelly is one of Peeples's former students.
"Nova Technologies is pleased to announce the endowment of a new scholarship to support cadets who are majoring in electrical or computer engineering at The Citadel and who have demonstrated financial need," Black said in a statement. "The scholarship recognizes the long and dedicated service John Peeples has provided to students and faculty in the Department of Electrical and Computer Engineering and to The Citadel."
After a successful career as an engineer, including as leader for NCR Corporation, Peeples returned to his alma mater in 1999. Three years later, he was appointed to the William States Lee Professorship and named head of the Department of Electrical and Computer Engineering (ECE).
Dr. Peeples, I want to say thank you on behalf of all the engineering graduates you've taught and mentored over the years. I distinctly remember your involvement in our freshmen labs and activities, which I can't imagine is included on the agendas of most department heads. You took the time to directly teach your undergrads and get involved in our academic careers.

You care about your students. You made a connection. The things you've said to me and others has inspired us to become better engineers. This scholarship is an extension of the work you've already accomplished, impacting future Citadel engineers that will undoubtedly excel in global industry."

Jon Kelley, The Citadel Class of 2008
Peeples stayed in the role as head of the department for 12 years.
"During his tenure leading the Department of Electrical and Computer engineering, John Peeples created a collegial environment where cadets and students were free to learn, and faculty were free to teach," said Robert Barsanti, Ph.D., current head of the ECE. "He is an inspirational leader and motivating teacher."
Barsanti listed some of Peeples's accomplishments as ECE department head including:
Leading department to record enrollments
Bringing ECE to national prominence by serving as the president for the Electrical and Computer Engineering Department Head Association for North America
Forming the ECE advisory board. "John brought together great minds, and industry leaders to advise the department."
Revamping curriculum, including a Master of Science in Electrical Engineering program, elevating graduate outcomes
Peeples is also a legacy alumnus of The Citadel. His father was Otis B. Peeples, Sr., Class of 1938 and his brother, a retired attorney in Charleston, is Otis B. "Ben" Peeples, Jr., Class of 1967.
Peeples earned a Bachelor of Science in Electrical Engineering from The Citadel in 1970 and accepted a military commission, joining the U.S. Air Force where he served for several years before leaving to continue his education and enter private industry. He went on to the University of South Carolina where he was awarded an M.S. and Ph.D. in Electrical Engineering. His CV can be viewed here.
Peeples still teaches a full schedule of courses.
The Citadel Foundation is processing the donation to arrange for a possible first recipient in the next year.
"My wife (Nancy) summed this up by reminding me that I attended The Citadel on a full scholarship sponsored by Daniel Construction Company. It is not just great, but also appropriate that now because of Nova Technologies, Buddy Black and Jon Kelly, the Johnston W. Peeples Scholarship can serve future generations," Peeples wrote in a letter thanking the scholarship donors.
Peeples's big bang hit list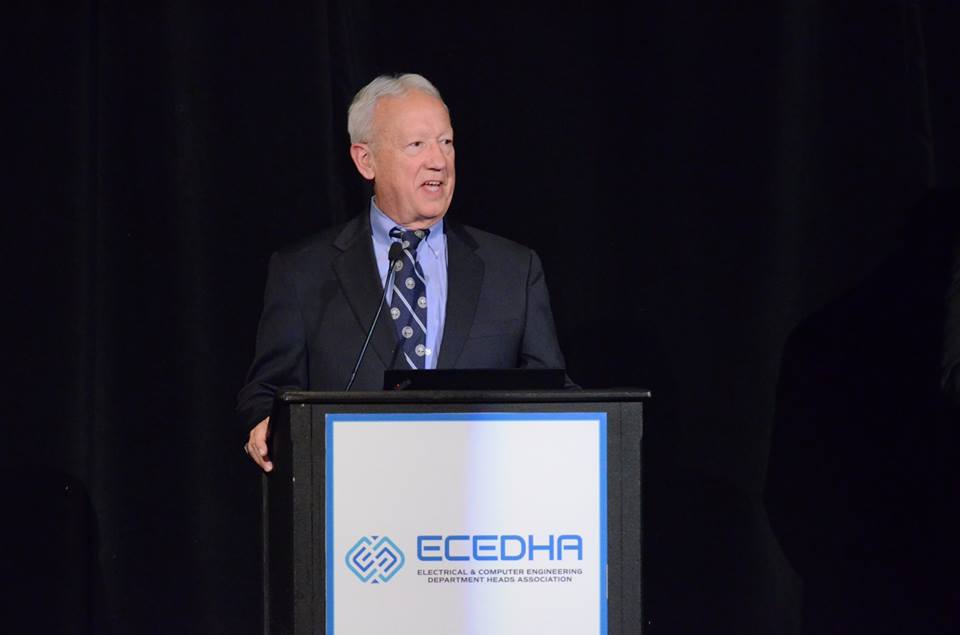 Here is a look at some of Peeples's many honors and awards.
Robert M. Janowiak Outstanding Leadership and Service Award
One of the electrical engineering industry's top awards, 2019, provided by the Electrical and Computer Engineering Department Heads Association (ECEDHA). Peeples, his wife, children and grandchildren were flown to Arizona where he accepted the award.
Some of his additional accolades include:
Engineer of the Year, Charleston Engineers Joint Council, 2020
Distinguished lecturer, Santee Cooper Engineering Seminar, Summers 2013 – 2018
Lawton-Ellis Teaching Award, Department of Electrical and Computer Engineering, 2014-15
Distinguished lecturer, Georgia Tech, Auburn and Florida International University, various years, 2004 – 2014
Summer Faculty Research Fellow, Office of Naval Research, 2012
NSF-ECEDHA Energy and Power Summer Program Fellow, 2011
NCR R&D Award for Outstanding Technical Achievement, 1981
US Patent #5,359,170 Apparatus for Bonding External Leads of an Integrated Circuit
US Patent #6,054,676 Method and Apparatus for Cooling An Integrated Circuit Device

Peeples' letter of gratitude
After learning about the endowed scholarship in his name, Peeples sent this letter to the grantors: