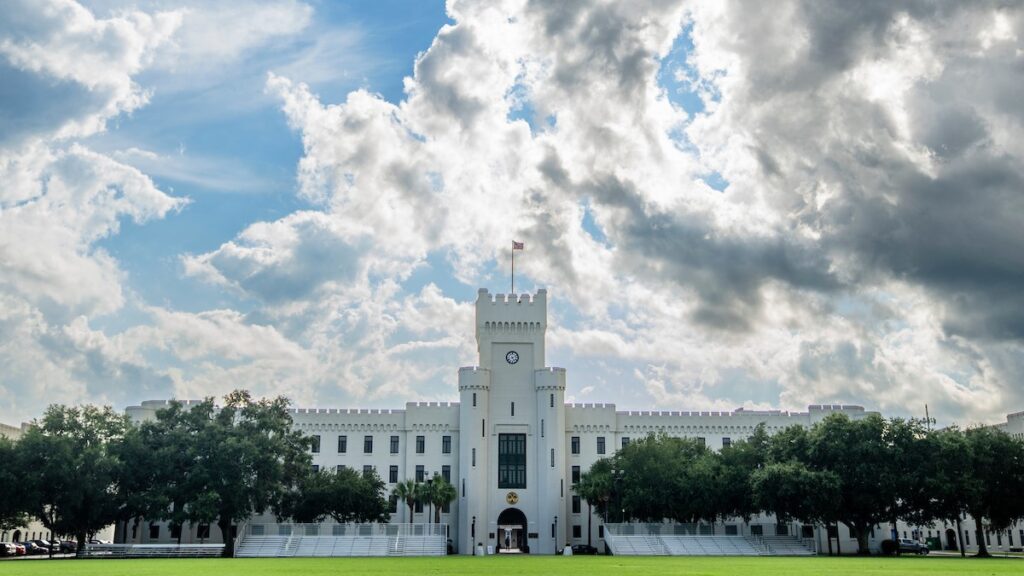 The Citadel will host an event titled "The Wheel of Time: Books to Film" on Tuesday, Oct. 3, at 6:30 p.m. Attendees will dive into the world that Robert Jordan – also known as James Rigney Jr., Citadel Class of 1974 – created with a closer look at "The Wheel of Time" television series. This in-person event promises to be a thrilling experience for fans, who will learn more about the author and series from special guest speakers including his widow and editor, Harriet McDougal, editor Maria Simons and series expert Michael Livingston, Ph.D.
Fans of "The Wheel of Time" series won't want to miss this incredible opportunity to delve into a world of magic, epic battles and unforgettable characters. Livingston, also a Citadel professor, released a companion book for the Wheel of Time series titled "Origins of The Wheel of Time: The Legends and Mythologies that Inspired Robert Jordan." While writing the book, he worked closely with McDougal, who will join Livingston at the event along with Maria Simons, Rigney's editorial and research assistant.
"Robert Jordan's Wheel of Time has been a publishing phenomenon for decades. For his fans around the globe to see his world brought to life as a hit show on Amazon Prime is nothing short of amazing. Jordan graduated from The Citadel, and his alma mater is intimately connected to the stories he created," said Livingston. "Nowhere could be more fitting to talk about his legacy in books and how it is becoming a legacy in film, and no one could have better insight into it all than Harriet and Maria."
Before Robert Jordan wrote "The Wheel of Time" series, he graduated from The Citadel in 1974 and was known as James Rigney Jr. He enrolled at The Citadel as a veteran student, after serving in the Army and in Vietnam, earning multiple decorations for his service. Rigney graduated with a degree in Physics, and his widow recently gave back to The Citadel in his honor by establishing a scholarship and endowed professorship in his name.
Veterans have been an important component of The Citadel since it was formed in 1842. Veterans interested in attending The Citadel can earn their degrees in any format offered by the college, including the day program, evening undergraduate program or master's program.
"Robert Jordan's Wheel of Time being recreated in the visual medium has been fantastic for fans like me. Being able to dig into the books and Amazon series with Harriet, Maria, and Dr. Livingston is an incredible opportunity. Doing so at The Citadel — home of the original "White Tower" — is nothing short of magical," said Aaron Wimer, director of the Daniel Library at The Citadel.
Please note that photography and videography will not be allowed during the event. To register, click here.