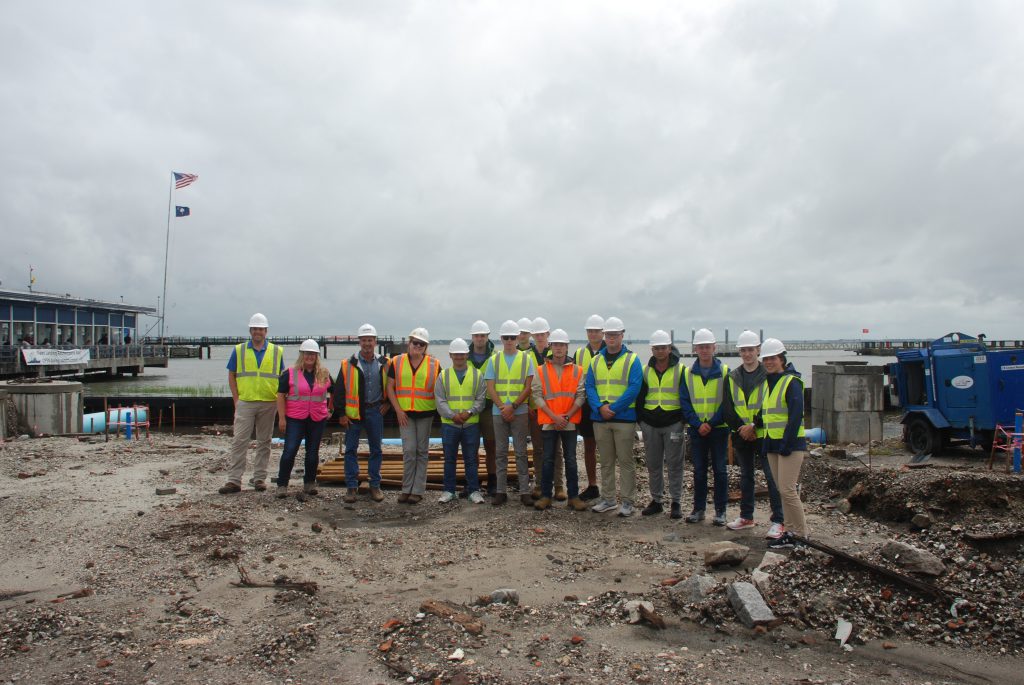 Lowe recently hosted a group of incoming cadet-recruits from The Citadel School of Engineering's Excellence in Civil Engineering Leadership (ExCEL) program.
As part of Lowe's partnership with The Citadel, which includes a recurring, visiting lecture series with the School of Engineering, executives from Lowe and BL Harbert International gave an in-class lecture and hosted a site tour at Lowe's construction site for The Cooper Hotel, downtown Charleston's new full-service waterfront hotel, which broke ground in 2020.
"By partnering with The Citadel's School of Engineering, Lowe is helping to showcase real-world experiences and in turn, better prepare cadets for career opportunities in the future," said Mike Mansager, vice president of Lowe. "We enjoyed interacting with such a great group of cadet-recruits and look forward to inviting them back to see The Cooper Hotel construction progress through to completion."  
During the lecture in June, Lowe's team members discussed real-world construction analysis and experiences before an official site tour of The Cooper. In conjunction with the lecture, the site tour was used to illustrate the construction process and the challenges and opportunities associated with building foundations for large waterfront developments.
"We are so thankful for Lowe's support of the School of Engineering and of our cadets," said Professor Rebekah Burke, Ph.D. "This valuable partnership not only introduces our cadets to real estate and construction management but provides them a better understanding of how classroom lessons apply in real-world development."
The Citadel's ExCEL program is a scholarship and development program sponsored by the National Science Foundation for students who show exceptional leadership potential. During the four-year program at The Citadel, students first receive academic support so that they can become leaders in the classroom and in the program. During subsequent years, ExCEL focuses on connecting students with resources and experiences to help build a career plan and become leaders in the civil engineering profession.
About Lowe
Lowe is a leading national real estate investment, development and management firm. Over the past 48 years, it has developed, acquired or managed more than $32 billion of real estate assets nationwide as it pursued its mission to build value in real estate by creating innovative, lasting environments and meaningful experiences that connect people and place. Lowe currently has more than $2 billion in commercial real estate projects in the pipeline or under development. In addition to its Los Angeles headquarters, Lowe maintains regional offices in Southern California, Northern California, Charleston, Denver, Seattle, and Washington, DC. For more information visit www.Lowe-RE.com.