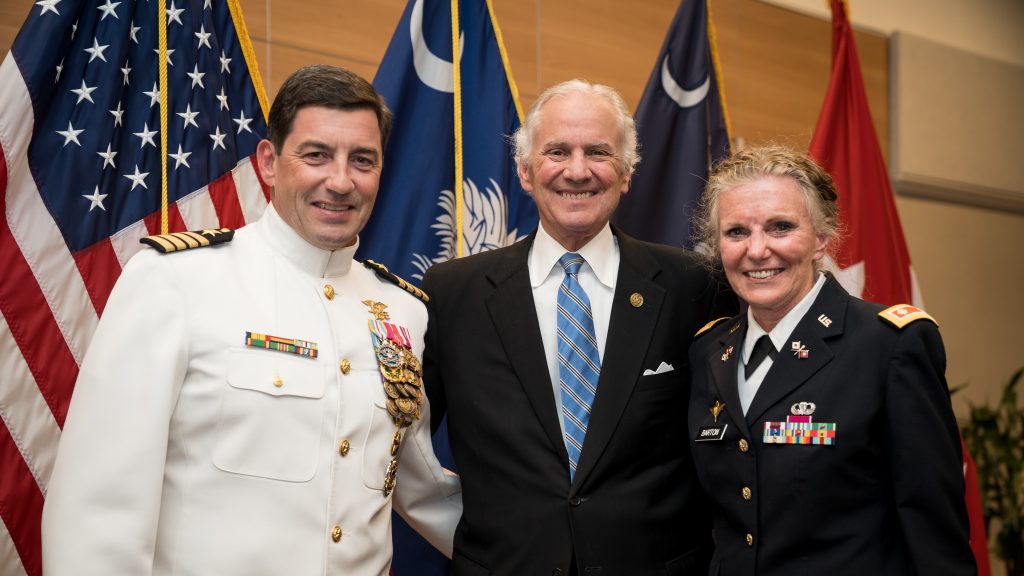 Two lifelong servant leaders — who have dedicated much of their time to The Citadel — are the newest recipients of South Carolina's highest civilian honor.
The Order of the Palmetto is awarded to citizens of South Carolina for extraordinary lifetime service and achievements of national or statewide significance.
On Wednesday, May 5, Gov. Henry McMaster visited The Citadel to present the award to both Commandant of Cadets Capt. Eugene "Geno" Paluso, USN (Ret.), '89 and Lt. Col. Pam Barton, USA (Ret.), the Assistant Commandant for Operations and Training.
Both Paluso and Barton will retire from The Citadel this year, after years of service to the Military College of South Carolina.
Read segments from the nomination applications for these two servant leaders below:
Lt. Col. Pam Barton
I hope that I leave here in the thought that I gave it my all, like an athlete on a field, I played my best game — my most important one — and I left it all there.

Lt. Col. Pam Barton, USA (Ret.), after receiving the Order of the Palmetto award.
Lt. Col. Pamela ('Pam') S. Barton, USA (Ret.), is a Florence native, graduate of The University of South Carolina, and since her retirement from active Army service after 28 years in 1999, a resident of Folly Beach and integral member of The Citadel staff. Pam will retire from The Citadel in the summer of 2021 after a lifetime of devotion to our nation and South Carolina.
Commissioned as a 2nd Lieutenant in 1974, Barton commissioned as an Army Officer in a time the military was reeling after Vietnam, and female officers were few and far between. Women were excluded from many branches of the service, and opportunities were few. This did not deter the determined 2nd Lieutenant Barton. Simply put, she was a trailblazer in the Army.
As a Signal Corps Officer, she was one of the first Airborne-qualified female soldiers, amassing over 500 military and sport jumps, and appeared with the 82nd Airborne Division Sport Parachute Demonstration Team. Pam's Army career was characterized by roles of increasing responsibility in Communications, Logistics and Training throughout the United States and Europe.
Barton joined The Citadel as a TAC (Teach-Advise-Coach) Officer in 1999 and was promoted to her current role as Assistant Commandant for Operations and Training in 2006. Very little occurs on campus without her fingerprint. She supervises all cadet training while acting as the Commandant's liaison to all campus services including the laundry, bookstore and mess hall. Under her direction, these activities evolved, becoming more systematic and organized each year. The support services she coordinates show a marked increase in quality and reliability for the cadets, making The Citadel a more effective producer of quality graduates.
Her legacy at The Citadel is indelible…Most critically, Pam shows everyone 'what right looks like.' This is a powerful message in an environment historically dominated by male cadets and staff. The impression on two-plus decades of cadets and alumni cannot be overstated. Her retirement this summer is a loss, but well-deserved. We built better leaders and citizens for South Carolina as a result of Pam's efforts.

A segment of the letter of recommendation from Gen. Glenn Walters, USMC (Ret.), '79, president of The Citadel
Click here to learn more about Barton's career and read more from the letters of recommendation.
Capt. Eugene "Geno" Paluso, Class of 1989
Nobody gets here by themselves, and I've got some old teammates in the back of the room from the past, and I've got a lot of teammates from the present…this is your award just as much as it is my family's award.

Capt. Geno Paluso, USN (Ret.), after receiving the Order of the Palmetto award.
In June 2021, Capt. Eugene ("Geno") F. Paluso, USN (Ret.), concludes seven years of service as The Citadel's Commandant of Cadets. Prior to his time at The Citadel, he completed 25 years as a Naval Officer and SEAL (SEa, Air, Land) Special Operations warrior, and four years as a Citadel cadet.
Captain Paluso deployed 11 times into combat, undertaking some of the most secretive and challenging tasks given to our military. He then returned to South Carolina to serve The Citadel and its young men and women.
The importance of the Commandant to The Citadel lifestyle and cadet experience cannot be overstated­. He oversees the very things making The Citadel a unique place. The Commandant controls cadet life outside academics and NCAA athletics. The military system, discipline, barracks life, clubs, intramurals and other activities are all part of his portfolio. In this effort, the Commandant leads a 100 person department, and serves as a college Vice President.
With The Citadel core values Honor, Duty and Respect as the foundation, Captain Paluso put in place not just disciplinary measures but training emphasizing servant leadership and teamwork. He understood while The Citadel prided itself on an 'adversarial' system designed to challenge new cadets, the school was missing opportunities to build truly effective leaders. The focus was not just on the challenges of freshman year — he built a continuum of leadership development over all four years a cadet spends in the barracks. Cadet life was no longer merely about enduring freshman year followed by simply adhering to regulations the following three — everyone was expected to play a part, serve those they led and train those in their charge.
His impact on our 2,300 cadets far exceeds this brief description. Captain Paluso is on duty 24/7 any time cadets are on campus, including holiday and summer breaks. He is a leader, and in spite of being the head disciplinarian, the greatest mentor, advocate and friend to every cadet entering our gates. A planned retirement in June 2021 leaves a great gap at The Citadel.

A segment of the letter of recommendation from Col. Myron Harrington, USMC (Ret.), '60, chairman of The Citadel Board of Visitors
Click here to learn more about Paluso's career and read more from the letters of recommendation.