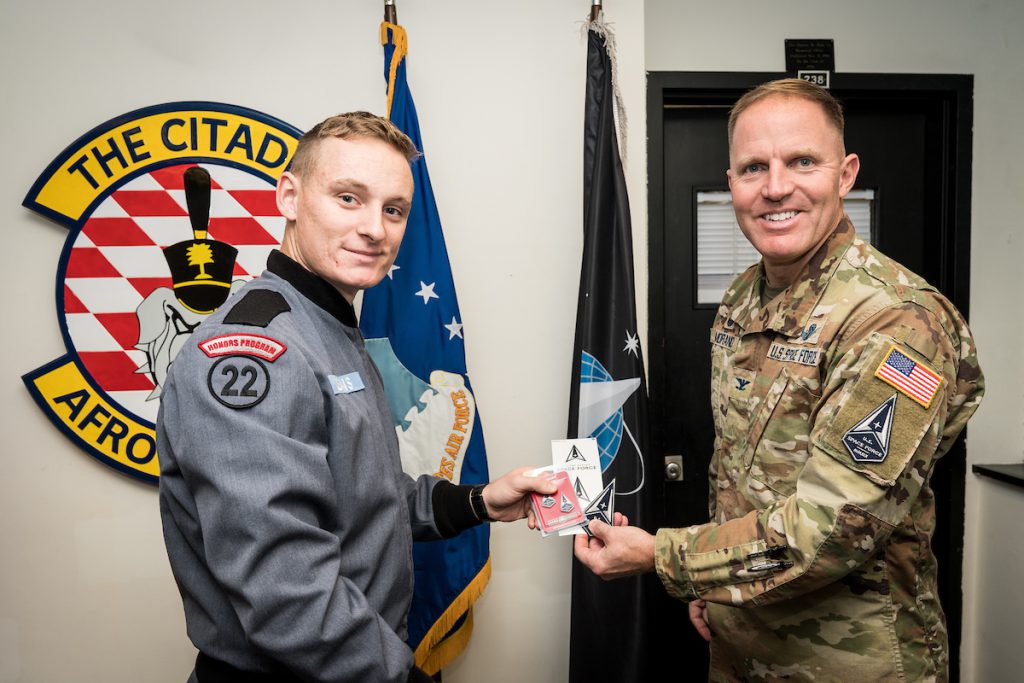 USAF, USSF and ENJJPT cadets learn career field selections
Photo above: Cadet Conor William Deans, the first Citadel set to commission into the United States Space Force, is congratulated by Col. Matthew Morand, USSF, in Jenkins Hall on campus Wednesday, Nov. 17, 2021
When seniors prepare to accept military commissions just before graduation this May, there will be one cadet headed in a direction no Citadel cadet has gone before. Cadet Conor Deans will be going to Vandenberg Space Force Base for training as a new U.S. Space Force (USSF) officer.
"I am really excited that I was selected for the U.S. Space Force," said Deans, who is majoring in Computer Science with a minor in Cyber Security and attends The Citadel on a U.S. Air Force (USAF) contract. He was told that, after his initial training at Vandenberg, he'll be segmented to a section that maneuvers and controls satellites, or builds and launches space systems.
Deans, an Honors Program cadet, heard the good news from the head of the USAF/USSF ROTC Detachment 765 at The Citadel, Col. Matthew Morand. Morand, '95, transferred from the Air Force to the Space Force in January, and was sworn in on campus.
"I called my family last night," Deans said. Deans, who is from St. Cloud, Minnesota, grew up in a military family. His father is a career National Guard officer. "My parents were happy. My dad made a couple 'space cadet' jokes. My mom was pretty happy for me too."
The USSF was created to protect and grow America's technology and capabilities in space when the 2020 National Defense Authorization Act was signed into law on Dec. 20, 2019. It is the first new military service in more than 70 years.
Cadet Eafano selected for elite Euro-NATO pilot program; 23 other seniors USAF bound
Among the 25 seniors in the USAF/USSF ROTC unit at The Citadel receiving confirmation of their career-field selections this week is Cadet Luke Eafano. Eafano, a Physics major from Lawrenceville, Georgia, has earned a spot with the Euro-NATO Joint Jet Pilot Training (ENJJPT) program. He also attends The Citadel on a USAF contract. Eafano has earned gold stars and Dean's List academic accolades throughout his time as a cadet, is a Summerall Guard, holds the Capt. Ryan Hall Leadership Sword and was on the tennis team.
ENJJPT is the world's only multi-nationally manned and managed flying training program chartered to produce combat pilots for NATO. Also known as the 80th Flying Training Wing, the ENNJPT trains 50% of all Air Force fighter pilots.
Class of 2022 full roster of selections
| | | |
| --- | --- | --- |
| Cyberspace Operations Officer | BAINUM | ERRETT |
| Pilot | BEAL | JASON |
| Pilot | CHRISTMAS | KATHRYN |
| Acquisition Manager | DANINGER | AARON |
| Space Operations Officer – USSF | DEANS | CONOR |
| Combat System Officer (CSO) | DEMARRE | ROBERT |
| Security Forces | DURESKY | JACOB |
| Pilot – ENJJPT | EAFANO | LUKE |
| Civil Engineer | ERVIN | CHASE |
| Nuclear & Missile Operations | FISH | EVAN |
| Remotely Piloted Aircraft (RPA) | FOLSOM | BRETT |
| Combat System Officer (CSO) | HALL | TARYN |
| Intelligence | HORVATH | MATTHEW |
| Pilot | JEFFCOAT | JAMES |
| Logistics Readiness | JOHNSON | LANE |
| Aircraft Maintenance | JONES | JOSHUA |
| Nuclear & Missile Operations | KARAM | DOUGLAS |
| Contracting | KING | JARETT |
| Nuclear & Missile Operations | MARTIN | HARRISON |
| Remotely Piloted Aircraft (RPA) | MCALLISTER | TREVOR |
| Security Forces | PARCELL | COLTON |
| Pilot | SCHAINBLATT | JOSIAH |
| Developmental/Electrical Engineer | SCHWARTZ | JACK |
| Remotely Piloted Aircraft (RPA) | TEEMS | HUNTER |
| Nuclear & Missile Operations | YOUNG | ZACHARY |
| Nuclear & Missile Operations | YTEM | JOSEPH BRANDON |