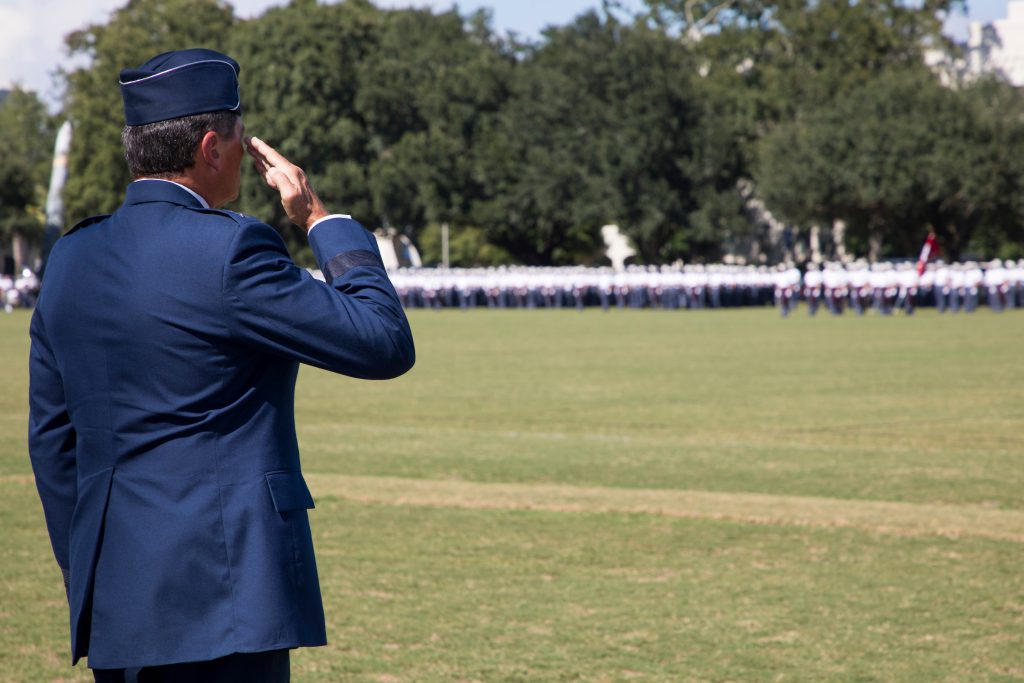 Rosa, the 19th president, one of four to receive President Emeritus title from Board of Visitors
After leading The Citadel as president for 12 years, Lt. Gen. John W. Rosa, USAF (Ret.) departs June 30 with the honored title of President Emeritus. As a means of further recognizing outstanding achievements in service to the college, The Citadel Board of Visitors has conferred the title of "emeritus" to four presidents, enabling them to retain the title of president in a ceremonial sense.
"Lt. Gen. John Rosa developed and executed two transformational strategic plans, led the college to recognition as U.S. News and World Report's #1 college in the south offering up to a Master's degree seven consecutive years, fostered the expansion of academic programs and facilities, and procured unprecedented growth in cadet and student diversity," said Col. Fred L. Price, chair, The Citadel Board of Visitors. "We wish him and Donna all the best as he retires and assumes the title of President Emeritus. They will always be beloved members of The Citadel family, and we know they will continue to support our alma mater."
The Citadel Presidents Emeriti include:
Gen. Charles P. Summerall
Gen. Mark W. Clark
Maj. Gen. James A. Grimsley, Jr.
Lt. Gen. John W. Rosa
Rosa announced his retirement in July of 2017. In May, he wished the South Carolina Corps of Cadets farewell and concluded a historic capital campaign that raised $250 million through The Citadel Foundation.
Beginning July 1, Lt. Gen. John B. Sams, Jr., USAF (Ret.) begins serving as interim president in accordance with The Citadel's presidential succession plan. Sams, a six-time U.S. Air Force commander, former Board of Visitors chair and Citadel alumnus, will lead the college until Gen. Glenn M. Walters, USMC, the 20th president, assumes his duties.
"Lt. Gen. John Sams has been a lifelong supporter of The Citadel, and we are grateful that he has agreed to lend his institutional expertise and commitment to our alma mater until our 20th president, Gen. Glenn Walters, arrives," Price said.
Walters is currently serving as the 34th Assistant Commandant of the United States Marine Corps, the Corps' second highest-ranking officer. In this role, he oversees a budget of more than $42 billion, and approximately 184,000 active duty and 38,000 reserve Marines. He must retire from the Marine Corp before returning to lead his alma mater. Plans for Walters' inauguration as president of The Citadel will be announced later.