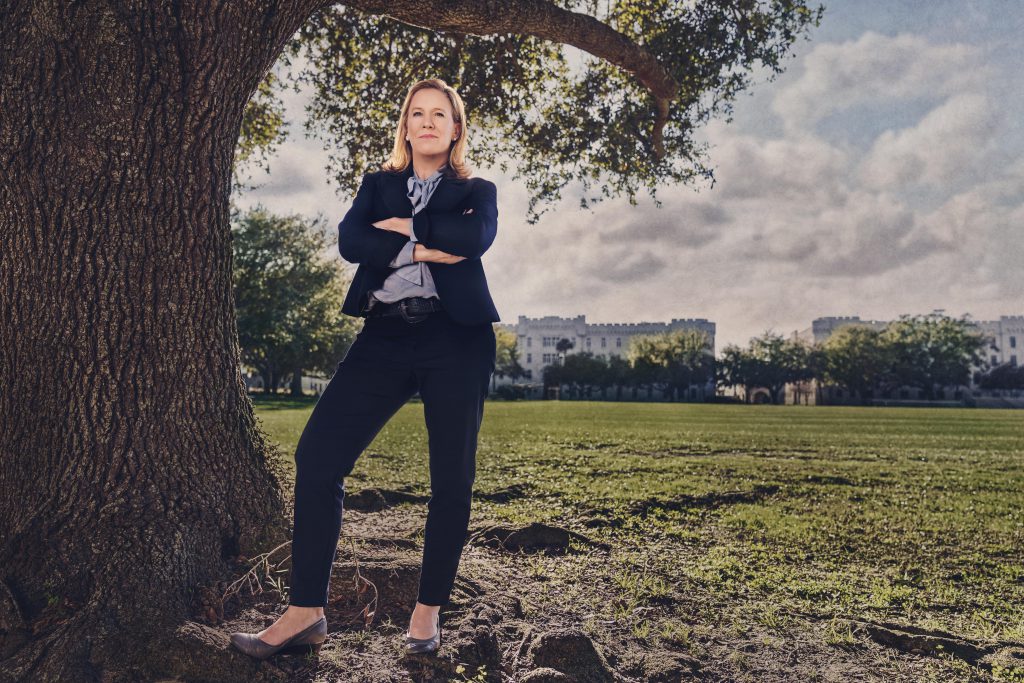 When Page Tisdale and her daughter went on college visits last year, they always visited the institution's career center first. For Tisdale, who serves as director of The Citadel Career Center, workforce preparation is ultimately the point of a college education.
Tisdale began her career in human resources and corporate recruiting. After 11 years in the corporate world, she landed at The Citadel in 2009 where she earned a master's in counselor education and began working in the career center. Now, she's on a mission to impact every student—a goal she takes personally.
"Because we're a small college, we can really get to know each of our students and their interests," says Tisdale. "When we learn their goals and passions early, we can help make more meaningful connections, whether it's shadowing an alum in a certain industry or making connections with informational interviews."
Engaging with the career center early is Tisdale's greatest advice to cadets. Preparation for successful early career outcomes starts freshman year.
"Freshmen come into the career center a blank canvas, not knowing what they want to do with their lives or why they're in our office—just that they were told by their TAC and academic officers to come here," says Tisdale. "Each year gives them a little more confidence, and by senior year they know who they are and what they want, they are polished interviewers, and they have plans and back-up plans."
Like most college career centers, the career center provides job search assistance and teaches salary negotiation, interview skills and writing resume preparation.But, while many college career centers are there for students who seek them out, The Citadel takes a more involved approach. Career services are integrated into the culture of the college: career preparation is embedded into the curriculum, and career counselors proactively drop into classrooms or the barracks to ensure cadets are active participants in preparing for future success.
Employers can see the difference.
"They see our leadership model, they see that our cadets are outperforming their peers at other colleges in interviews and in networking. I get constant feedback from employment partners and mentors that our cadets are dignified," says Tisdale. "It's not uncommon for our intern supervisors to tell me our cadets show up early, take extra shifts, and step up. Their work ethic and dependability are obvious."
The reason? Tisdale says The Citadel is an attractive college choice for conscientious students.
"It's a tough choice for kids to come here—it's not an easy place to be. That choice alone is something that sets them up for success in job placement."
The college's rigorous values-based education instills attributes employers value. Average starting salary and job placement rates for Citadel graduates exceed national statistics. Pair this with an above-average, four-year graduation rate, and it's obvious why so many families are attracted to the benefits of a Citadel education.
In fact, The Citadel has the highest return on investment in the state of South Carolina among other four-year colleges, according to a study by the Georgetown University Center on Education in the Workforce. And, according to the U.S. Department of Education College Scorecard, among comprehensive colleges in the state of South Carolina, The Citadel has the highest post-graduation salaries.
The job placement rate for cadets at graduation is above the national average at 76%—a statistic that is credited in part to the strength of the alumni network.
"It comes full circle," says Tisdale. "Time again I've seen our alumni come to help. And the cadets we help place are coming back to recruit cadets. I have 10-15 conversations a week with alumni who want to give back—through advice, mentorship, internship opportunities, and even job placement."
Tisdale's passion for her work is infectious.
"There's never a day that I'm not excited about educating students about opportunities. I love what I do, and I want to empower every student to find the same."