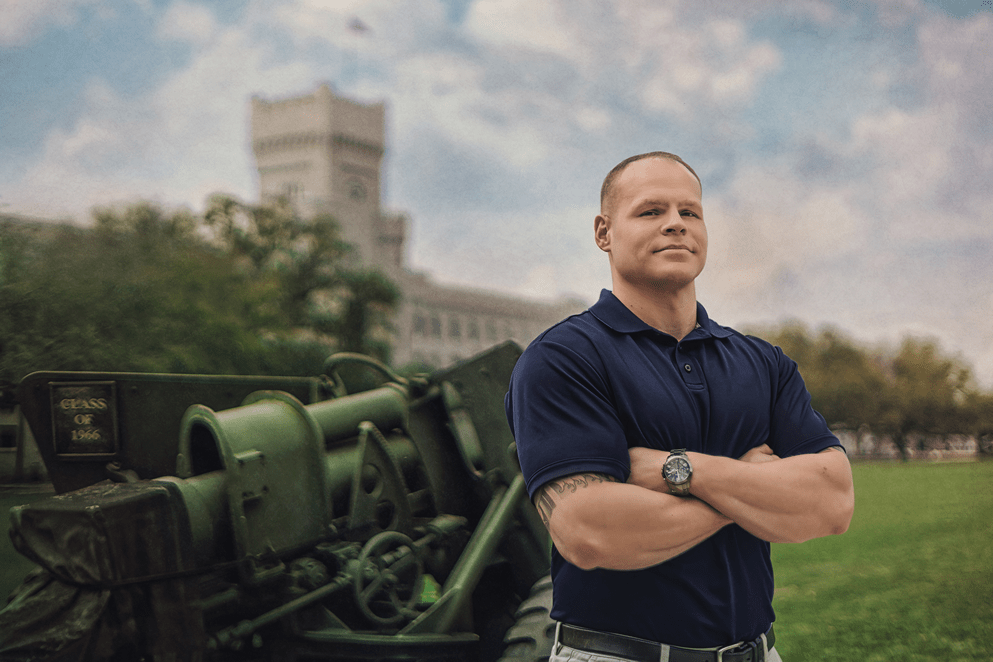 Thomas Taylor planned to spend his career in the Army, but when his back was injured after a building in Afghanistan collapsed on him, he was forced to change his plans. And that's when he started exploring the idea of pursuing a college education.
For veteran students making the transition from active-duty life to the civilian world, The Citadel offers a familiar way of life, a comforting reminder of their own service.
Taylor enlisted in the Army in 2007 where he served for more than a decade in various roles, including airborne infantryman, machine gun operator and designated marksman. Deciding on a college was easy. A native of South Carolina and the son of a 1977 graduate, Taylor knew The Citadel was where he wanted to be.
"There was no question in my mind about coming to The Citadel," he said. "This is a place I knew I would fit in."
Taylor enrolled in 2016, majoring in exercise science. The Citadel offers veterans several ways to earn a degree, including night classes and online instruction. Another option is the veteran day program which allows veterans to attend classes with cadets on campus. Veteran students do not live on campus or have military and fitness requirements. There is, however, an opportunity to interact with and mentor cadets—a perk Taylor enjoys because it gives him the opportunity to share his life experiences with young people seeking a military career.
"There is a camaraderie between cadets and veteran students. We can express ourselves, and the cadets are really hungry for our stories," said Taylor. "I want to help shape tomorrow's leaders. It's important to me because I want to help influence change. It's not something that is taught in a classroom."
At 33, Taylor's own military experience has instilled in him a determination to succeed. Quitting has never been an option, even during the most intense physical training. "I was not built for running but being alongside those guys who wouldn't give up gave me the drive to push harder to not be the last guy but to strive to be better."
In May, Taylor earned his bachelor of science degree, but he's not done. Now, he's enrolled in the Master of Science in Health, Exercise and Sport Science with a concentration in tactical performance and resiliency. He wants to help soldiers, veterans and first responders by preparing them for the mental and physical stresses of their job.
"I chose this program because I am passionate about being physically active and helping others," he said. "I hope that this degree will allow me to continue my support and dedication to helping those that protect and serve the public."
While Taylor's departure from the Army was not part of his original plan, his determination to serve remains.
"The military was a challenge, and that's why I chose to finish my degree at The Citadel—for the challenge," said Taylor. "Sometimes the harder path is the right path."