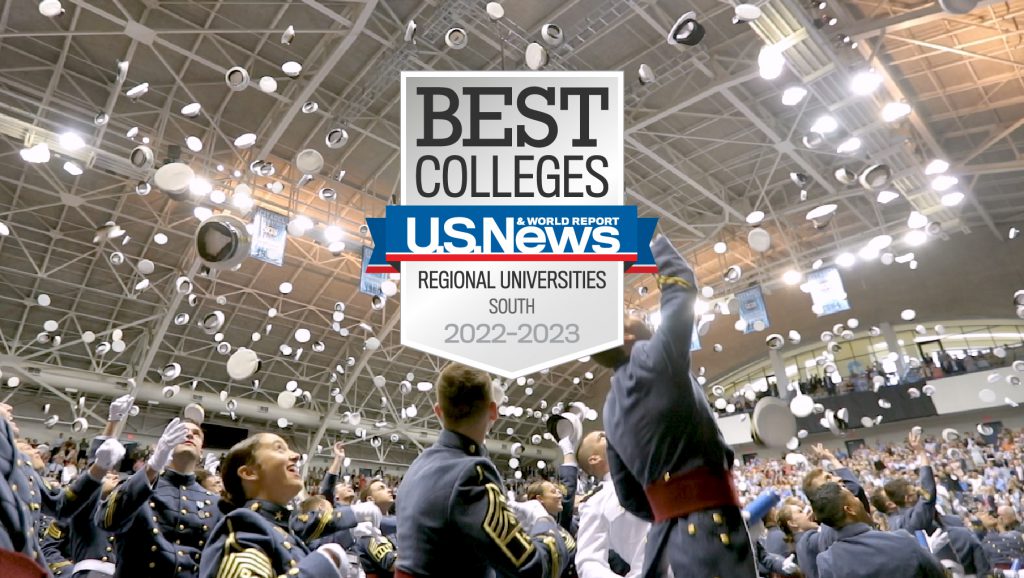 College also ranked #1 College for Veterans in the South for the fifth year
For the 12th consecutive year, The Citadel is the top-ranked public college in the South.
The new, 2023 rankings — which cover institutions offering up to a master's degree — were released by U.S. News & World Report on Monday, Sept. 12.
"It is a great honor to have Our Mighty Citadel recognized 12 years in a row as the #1 Public College in the South," said The Citadel President Gen. Glenn Walters, USMC (Ret.), Class of 1979. "This ranking is a powerful acknowledgement of the dedicated work from all members of The Citadel Family — cadets, students, alumni, faculty, staff, parents and supporters. I could not be more proud to be a part of such a passionate institution."
Other notable rankings include:
#1 Best Colleges for Veterans – Regional Universities (South)
#4 Undergraduate Teaching – Regional Universities (South)
#16 Best Value – Regional Universities (South)
#21 Best Undergraduate Engineering, nationwide (non-doctoral)
#164 Best Undergraduate Business, nationwide
#194 Best Undergraduate Computer Science, nationwide
"We are thrilled for U.S. News & World Report to highlight, year after year, the great outcomes our cadets and students experience at The Citadel," said Provost Sally Selden, Ph.D., SPHR. "These rankings, both college-wide and degree-specific, are testament to the strength of our educational system at The Citadel which offers cadets and students distinctive opportunities in their academic pursuits, character development and leadership growth."
This is also the fifth consecutive year The Citadel has been ranked as #1 Best College for Veterans in the South. The Military College of South Carolina offers veterans the opportunity to earn their degrees through the day program, evening program and The Citadel Graduate College.
In addition, The Citadel ranked #21 nationally in Undergraduate Engineering — the highest of any college in South Carolina offering up to a Master's degree. The School of Engineering offers degrees in Civil Engineering, Construction Engineering, Electrical Engineering, Computer Engineering, Mechanical Engineering and Project Management.
For more information on the Tommy and Victoria Baker School of Business, click here. To learn more about the Computer Science programs offered at The Citadel, click here.
U.S. News & World Report was one of the first American publishers to produce a college rankings list based on a complex formula of publicly reported data that is submitted to the U.S. Department of Education annually by all institutions of higher education.
To learn more about the methodology used for these rankings, click here.