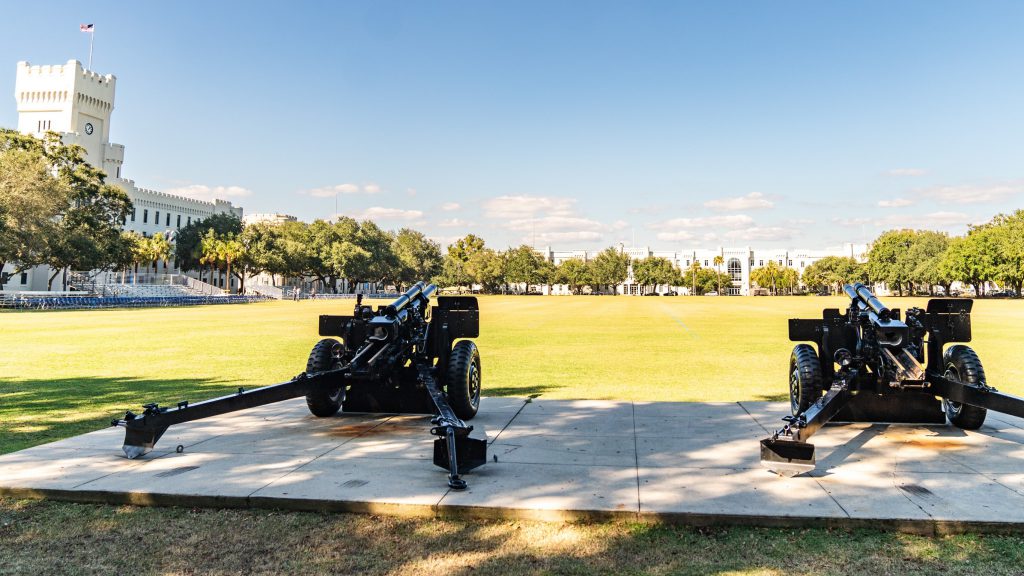 As The Citadel celebrates its 100th year on the Ashley, it is also actively making improvements to prepare for the next 100 years.
One of those changes includes bringing in new cannons to be fired during dress parades.
The two cannons that have been on campus since the 1950s — affectionately known as "Betsy" and "Lizzie" — have been retired for mechanical reasons. Those two cannons have been moved closer to the Star of the West monument.
In their place are two M101 howitzers, which were previously fired during President Ronald Reagan's inauguration.
The two new cannons are expected to fire 17 rounds during their Homecoming debut at the Jeep Review Parade on Saturday, Nov. 5. For a full list of homecoming events, click here.
The concrete pad where they stand will be expanded over winter furlough, allowing two additional M102 howitzers to join the new cannons next semester.
"The replacement of Lizzie and Betsy with two M101 salute guns and two additional M102 Howitzers in the spring is an event of historical significance at The Citadel," said the Palmetto Battery TAC Officer Lt. Col. Glenn Remsen, SCSG. "It also marks another expansion of Palmetto Battery's ceremonial support capabilities. Palmetto Battery was formerly known as Salute Gun Battery consisting of only 14 upper class cadets. Today, Palmetto Battery has 98 cadets representing all four classes."
The four howitzers are on loan from the U.S. Army, coming to The Citadel directly from the Sierra Army Depot in Herlong, California.
Cadets with Palmetto Battery are in charge of the new howitzers, as well as the replica six-pound, black powder cannons which are fired during parades and football games.
Incoming cadets may apply to join Palmetto Battery prior to Matriculation. All new cadets receive training on the guns, as well as how to serve on a color guard.
For more information on Palmetto Battery, click here.