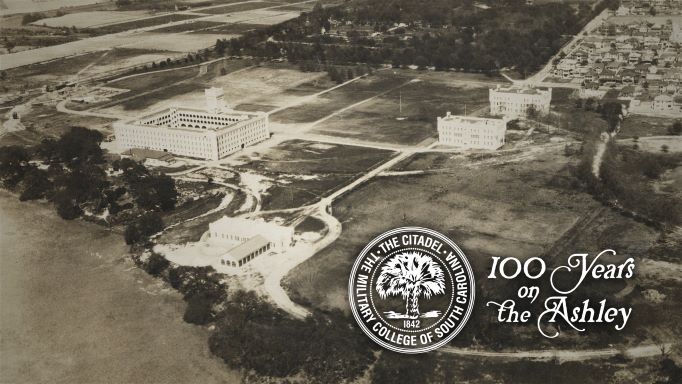 As seen in The Post and Courier, by The Citadel President Gen. Glenn Walters, USMC (Ret.), '79
In 1842, the governor of South Carolina authorized the establishment of a military academy in Charleston for deserving young men. This institution became The Citadel and has been an integral part of the Holy City ever since.
It is said that The Citadel could not exist anywhere else, and we are thankful to be an enduring thread in the fabric of a place unlike any other — Charleston, South Carolina.
As war, natural disasters and profound change to society transformed our city, The Citadel grew with it. In 1922, The Citadel moved from the original armory on Marion Square to its current location, a tract of land donated by the city.
This month, as we mark the centenary of our move to the banks of the Ashley, is a fitting time to reflect on how this unique institution became, and remains, so intertwined with Charleston.
Both before and after the move, Citadel cadets and alumni have played prominent roles in our city's and nation's history. They have fought in every American war since 1846 and were present at all significant battles in each. More than 700 gave their lives in conflict, 70% of whom hailed from South Carolina.
As Charleston struggled through changes in American society, so did The Citadel. In 1966, a graduate of Charleston's C.A. Brown High School became the first African American admitted to the Corps of Cadets. Charles Foster graduated in 1970.
He was followed by another African American Charlestonian, Joe Shine, later a prominent S.C. attorney and deputy attorney general.
Thirty years later, the daughter of a Citadel alum and a Goose Creek resident, Nancy Mace, became our first female graduate; she now serves in Congress. Each overcame significant obstacles, besting the challenges of our military system. Their trailblazing accomplishments are highlights of The Citadel's evolution.
Joe Riley, a member of the Class of 1964, led the modern renaissance of our city as mayor for 40 years, transforming Charleston into a vibrant, modern community while maintaining the spirit of a city, 350 years in the making. Citadel cadets, whose dress uniforms harken to those of the 1870s, are fixtures on Charleston streets during the school year.
And as Charleston grew, so did The Citadel. The 1922 campus had only a single barracks, a mess hall and one building for academics and administration. An infirmary would come the following year, funded by a gift from an anonymous Charlestonian.
By the end of World War II, there were four barracks capable of housing almost 2,000 cadets. The campus now boasts five barracks and academic facilities that rival larger institutions.
As Charleston evolved with new industry and technology, The Citadel kept pace, expanding academic offerings to prepare cadets and students for the challenges and opportunities of a changing world.
When cadets graduate, they become leaders in the military, their professions and their communities. Citadel alumni earn more and return to, or stay in, South Carolina at rates exceeding every other college in the state.
Thirty-five thousand Citadel alumni around the world consider Charleston their second home — the connections between alma mater and city remain unbroken over the decades.
As 1967 graduate Pat Conroy wrote: "You can be moved profoundly by other vistas, by other oceans, by soaring mountain ranges, but you can never be seduced. You can even forsake the Lowcountry, renounce it for other climates, but you can never completely escape the sensuous, semitropical pull of Charleston."
The Citadel is a proud neighbor in Charleston, and we look forward to our next century together.
Retired Marine Corps Gen. Glenn Walters is president of The Citadel.