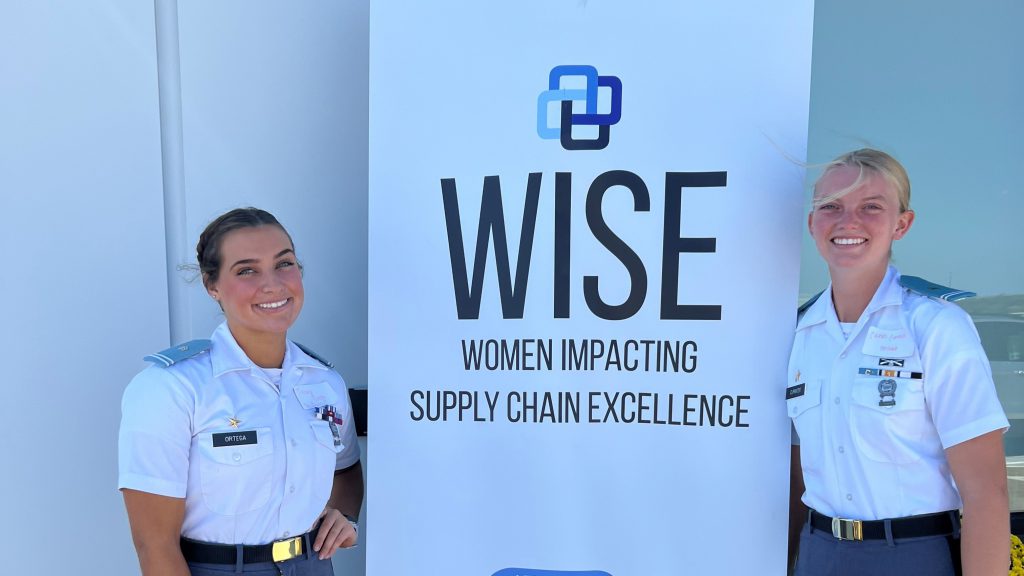 Cadets serve on national board
Next year, two Citadel cadets will represent the college on the Women Impacting Supply Chain Excellence (WISE) National Advisory Board. Cadet Tiziana Ortega will serve as co-chair and Cadet Caitlin Curmode will serve as a board member. The Citadel and the University of Arkansas are the hosting colleges and the only ones with student representatives on the board.
Ortega also leads the Supply Chain and Port Club as its president, and recently received an internship through The Citadel Career Center. She wants to use her position on the advisory board to further networking opportunities and help each other become leaders in the industry.
"As a co-chair this year, I really want to focus on the mentor and mentee relationship with all the women in supply chain," said Ortega. "It's important to have someone to look up to that can help you with career development. I also want to help them build their personal brand, polish up resumes and work on basic networking skills. I'm excited to see this group be the next wave of female leaders in supply chain management."
These cadets, along with Sergey Ponomarov, Ph.D., professor of Supply Chain Management, attended the fourth annual WISE symposium, where they visited headquarters of several large companies such as Sam's Club and J.B. Hunt Transport Services, attend panel discussions and interacted with industry professionals and other students from top supply chain programs.
"Participation in the WISE Symposium and other related activities — as well as serving on the advisory board — will allow them to grow personally and professionally while learning from the best practices," said Ponomarov. "It's important to promote and support female leadership in a traditionally underrepresented field, as well as attract new students to our fast-growing supply chain major."
For Curmode, the opportunity to connect with other women leaders in this industry was an invaluable experience.
"The WISE conference was beneficial because we were able to meet girls from all around America and see what their schools and lives are like in their supply chain programs. We were able to meet with very successful women in the field as well which was inspiring to see that could be one of us someday," said Curmode.
The supply chain management major is offered through the Tommy and Victoria Baker School of Business and addresses the fundamental business need of supplying product to meet demand in a complex world. The program introduces cadets to career opportunities through academic studies, extracurricular activities — such as the WISE conference — and internships.
To read the full fall 2022 Baker Business Blast, click here. To subscribe to the newsletter, click here.